A fashionable subject: how far will UK consumers go to tackle the true cost of cheap and fast fashion?
As we head into the 2019 Black Friday weekend, Joe Wheeler reflects on the darker side of "fast fashion" and how transparency is needed for consumers to make sustainable, ethical choices.
Three quarters (74%) of British consumers agree clothing brands should take responsibility for what happens in their manufacturing processes, and ensure it is done in an environmentally friendly way.
There is little doubt that consumer thirst for "fast fashion" is having a catastrophic impact on the environment, with the production of textiles for everyday garments accounting for a fifth of water processing and 10% of carbon emissions globally. Not to mention the impact of highly polluting and commonly used materials like Viscose, which have detrimental effects to local ecosystems and communities in developing countries. At this end of globalised supply chains, wages paid to manufacturing employees are amongst the very lowest in the world.
Now, as we hurtle towards another festive period and Black Friday weekend, we also enter the most crucial time of year for Britain's retailers. And consumer desire for fast fashion shows no sign of slowing down. In the UK alone we throw away 300,000 tonnes of textiles every year - that's the combined weight of 1,500 blue whales! Clothing consumption comprises 5% of our collective carbon footprint.
Can sustainable fashion gain a foothold?
Sustainability experts and the UK government clocked onto these issues a long time ago, but the general public has only sat up to it more recently. Perhaps thanks to the 2019 word of the year, "Climate Emergency", the prominence of Extinction Rebellion, and the spikes in sustainable behaviour such as veganism, the general public are now on higher alert.
There has recently been significant media coverage specifically addressing the issues around global fast fashion too, highlighting the consequences of everyday clothes shopping habits. The true extent of the fashion industry's impact may only just be coming to light.
This spotlight has led to recent commitment from some fashion giants to act in a more sustainable way. The UK Government recently published a report detailing leaders and slackers in taking steps to act more sustainably. Studies have been conducted into models that might allow fast fashion to move towards sustainability: using higher quality, organic or even recycled materials. Some fashion companies have been innovating in this market too, like the Swedish company re:newcell. They claim to be using technology that can decompose cotton and viscose to recycle it and make new garments.
The price of change
Any fundamental methods, of course, will come at a price. But what if there were another way? How important would sustainability be to British consumers?
In short, currently not that important. A recent Ipsos poll of UK consumers reveals that quality, design and price of clothing are deemed more important than ethical production. Moreover, while general concern about the environment is at a record high, only two in five (42%) Britons say they are concerned about the environmental impact of their clothing purchases, and just 14% have bought clothes made from sustainable materials in the past 12 months. While many consumers are worried about the environment, it seems a fresh wardrobe currently takes priority.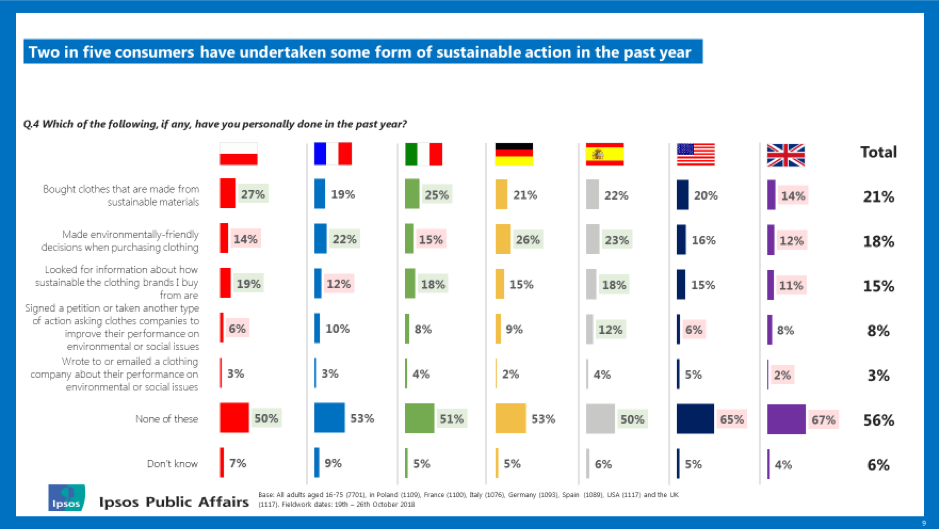 Are we in the dark?
A crucial existing barrier may be a lack of transparency from fashion companies about the sustainability of their supply chains. A recent Ipsos survey on behalf of Changing Markets Foundation asked UK consumers which of several large fashion companies they considered to have sustainable supply chains. 44% said they did not know if any of the well-known brands were associated with sustainability. This is likely linked to the fact consumers do not feel brands communicate what goes on in their supply chains – just 11% say they are well-informed about the environmental and social impacts of clothing manufacturing.
There is evidence to suggest that if consumers knew more, they might make different choices. For example, the majority of Britons (55%) say they would be put off buying clothes from a company that polluted the environment in its manufacturing processes. A further Ipsos Global Advisor poll recently found that three-quarters of UK adults say they would feel better about a brand that makes changes to achieve better environmental outcomes.
The time is now
This year's festive period promises to deliver mouth-watering spending on clothing. Crucially more and more of this will be done online, imported from global supply chains.
But the tide may be starting to turn on the fashion industry. There is an evident lack of trust in big fashion giants, particularly when it comes to communication about manufacturing processes. Brands are responding – but there is demand for them to do more, and be more transparent about the true cost of their supply chains.
As Urska Trunk from The Changing Market Foundation summarises:
When it comes to sustainability in the fashion industry, consumer mindsets are changing. People expect more from clothing brands, and companies can no longer turn a blind eye to unethical practices in their supply chain. Sustainability is no longer an "optional extra" for global fashion brands but a non-negotiable requirement for doing business in the 21st century.
Find out more about brand sustainability in the Changing Market Foundation's new report: "Dirty Fashion Disrupted: Leaders and laggards revealed".