Half of British workers finding it harder to do their job during COVID-19
While we adapt to big lifestyle changes as a result of the coronavirus outbreak, many are finding work and childcare more difficult.
In an online Ipsos survey, half (49%) of British workers say they are finding it more difficult to work now than they did before the outbreak of COVID-19. A further 46% say their ability to work has stayed the same. With the number of people working from home increasing from just 15% to 36% in the past week, this may be encouraging for the months ahead.
Younger workers are more likely to be struggling to work in the current situation. Three in five (58%) of those currently in work aged between 18-34 say they are finding it harder since the coronavirus outbreak, compared to nearer two in five 35-54-year-olds (45%).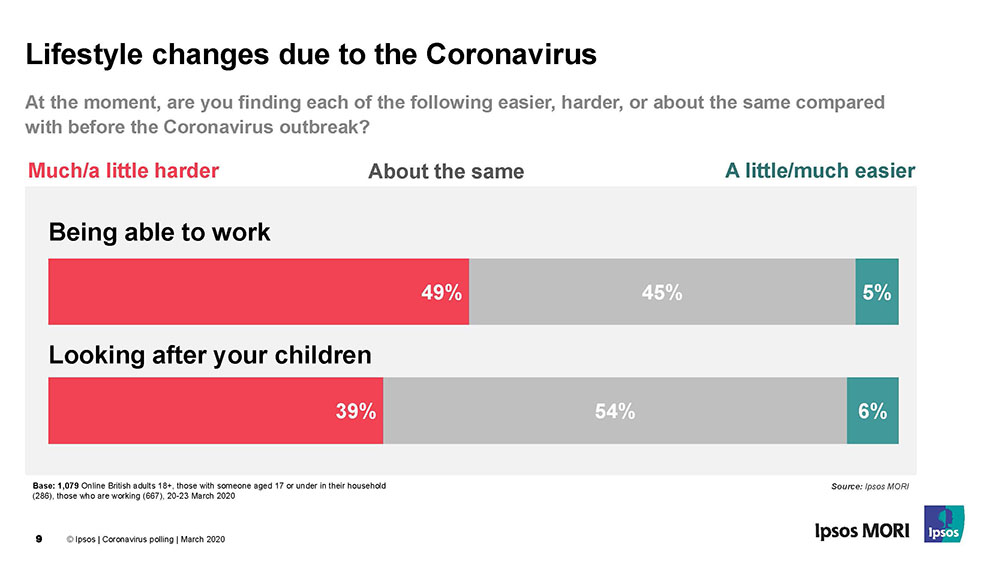 In the survey, conducted on the cusp of school closures and full "lockdown", 39% of British parents (with a child aged 17 or under living in their household) say that looking after their children has become more difficult since the outbreak of COVID-19, and that's before many of them had embarked on home schooling this week.
Younger parents and guardians are significantly more likely to be finding childcare more difficult as a result of coronavirus. Over half (51%) of parents aged between 18 and 34 say childcare is more difficult now while this jumps down to a third (32%) of those aged 35-54.
Kelly Beaver, MD of Public Affairs Ipsos, said:
Half of British workers have been finding it harder to do their job in recent weeks because of the coronavirus outbreak.  This could be for a host of reasons, such as the logistics of working from home, having to find safe ways to continue a job, the economic impact or purely the anxiety of the crisis impacting people's ability to do their job.
What I am pretty certain of is that this figure will undoubtedly go up once those with children start testing their skills as teachers, nannies, nursery workers and employees this week.
Technical Note
Ipsos interviewed a sample of 1,079 British adults aged 18-75 via our online omnibus. Among these interviews were 667 British adults aged 18-75 who are currently employed in work, and 286 British adults aged 18-75 who currently have a child aged 17 or under in their household. Interviews were conducted online: 20–23 March 2020.  Data are weighted to match the profile of the population. All polls are subject to a wide range of potential sources of error.
Download