The Illusion of Stability: What Worries the World?
Using 100 months of data, we go beyond the headline stats to uncover long-term trends and surprising developments in the reported social and political concerns around the world.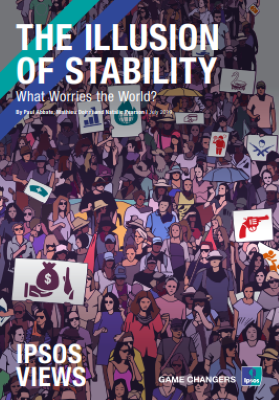 Ipsos' What Worries the World survey diagnoses the biggest social and political problems at both local and global levels, asking 19,000 citizens in 28 countries their opinion on the most worrying issues for their nation. It provides a snapshot of the national mood and serves as a tracker that identifies short or long-term shifts in public feeling.
Surprisingly, the top issues are remarkably stable since our study began in 2010. According to citizens across the world, the five biggest concerns in society are: financial/political corruption, poverty and social inequality, unemployment, crime and violence, and healthcare. In recent months there has been little separating the top three issues in terms of weight or urgency. 
This paper argues that this stability is illusive, as it masks a multitude of dramatic changes to the social and political context, not least the slow but steady economic recovery since the global financial crisis. As such, we try to understand why our global ranking of the top concerns has been so consistent over a decade, despite a reality of constant shifts and uncertainty.
In addition to asking about citizens' concerns, we also ask for their opinion on the direction of their country - whether they believe things are heading in the right direction, or off on the wrong track. Although the majority of respondents globally think that their country is heading in the wrong direction, there are record levels of optimism around the world today, which correlates with widespread economic improvement over the past nine years. On average, 42% of respondents across 28 countries believed their country was heading in the right direction in 2018, up from 40% in 2017 and 37% in 2016. 
This paper delves further into the What Worries the World data to find:
The illusion of stability is disrupted as we observe long-term trends, such as the steady and significant decline of unemployment as the one dominant global concern since 2010.
There is a rise in prominence of issues other than unemployment, such that the top three are now of near-equal weighting.
Poverty/social inequality emerges as a dominant economic concern (especially in developed countries) and worry about financial/political corruption is prevalent across all of the countries surveyed. 
A sense that some reported concerns may hinge on flawed perceptions of reality, for example around immigration and crime, and be influenced by the media. 
Early indications of increasing concern about environmental issues, which to date have failed to occupy a space amongst the top global concerns but are incrementally moving upwards in the ranks.