Ipsos Issues Index: November 2021
Pollution and climate change jumps to become Britain's biggest concern with its highest ever score
Four in ten say issues around pollution and climate change are a big issue for Britain; the highest score recorded for this issue since 1988 and just the third time it has topped the list of national concerns
Over a quarter see COVID-19 as a big issue, the same level as in October
Lack of faith in politicians and politics enters the top ten but remains a smaller-scale concern
The November 2021 Ipsos Issues Index reveals that worry about climate change is the biggest concern for the British public, with the issue recording its highest-ever score. Fieldwork was 5-11 November, covering the end of the COP26 climate conference in Glasgow. 
Four in ten of the public mention environmental issues as a concern this month, up 16 percentage points from October – and one in five say they are the single biggest issue for the country. This is the highest recorded score for this issue since it was first included in the Index in October 1988. The previous high was in July 1989, when it scored 35% and also topped the list. The environment was also joint-biggest issue in July 1990 on 30%, alongside the NHS and local government issues.
COVID-19 remains the second-biggest concern, with just over a quarter mentioning it as an issue. This is in line with the score recorded for this concern last month. The proportion worried about Brexit and the economy has fallen to just over two in ten which is also the level of concern about NHS this month.
Concerns about a lack of faith in politicians and politics has risen into the top ten this month, however the proportion concerned has barely risen, by just two percentage points compared with last month.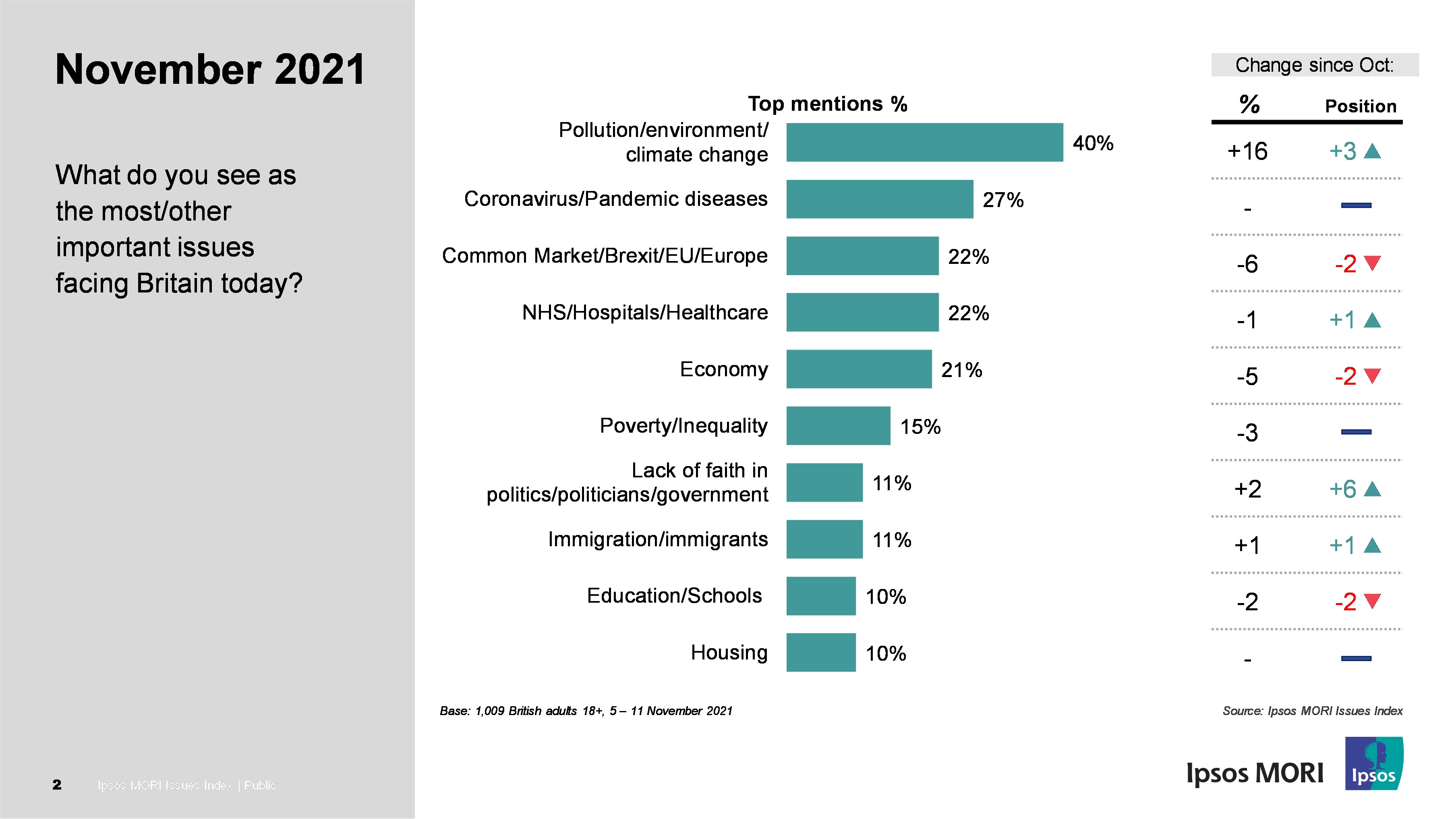 Concern about the environment and climate change is equally high across a wide range of demographic groups – for instance four in ten of both Conservative and Labour party supporters say this is a big issue. There is also a high level of agreement across people from different social grades.
The biggest gradient can be seen by age. Almost half of those aged 55 and say the environment is a big issue (47%), compared with just over four in ten of those aged 35-54 (43%) and a little over a quarter of those aged 18-34 (27%). In part this is due to younger people being less likely to say they are worried about most issues, but COVID-19 is seen as a bigger issue for the country by a marginally larger proportion of 18-34s (31%). Younger people are also more likely than average to be concerned about poverty and inequality, as well as housing.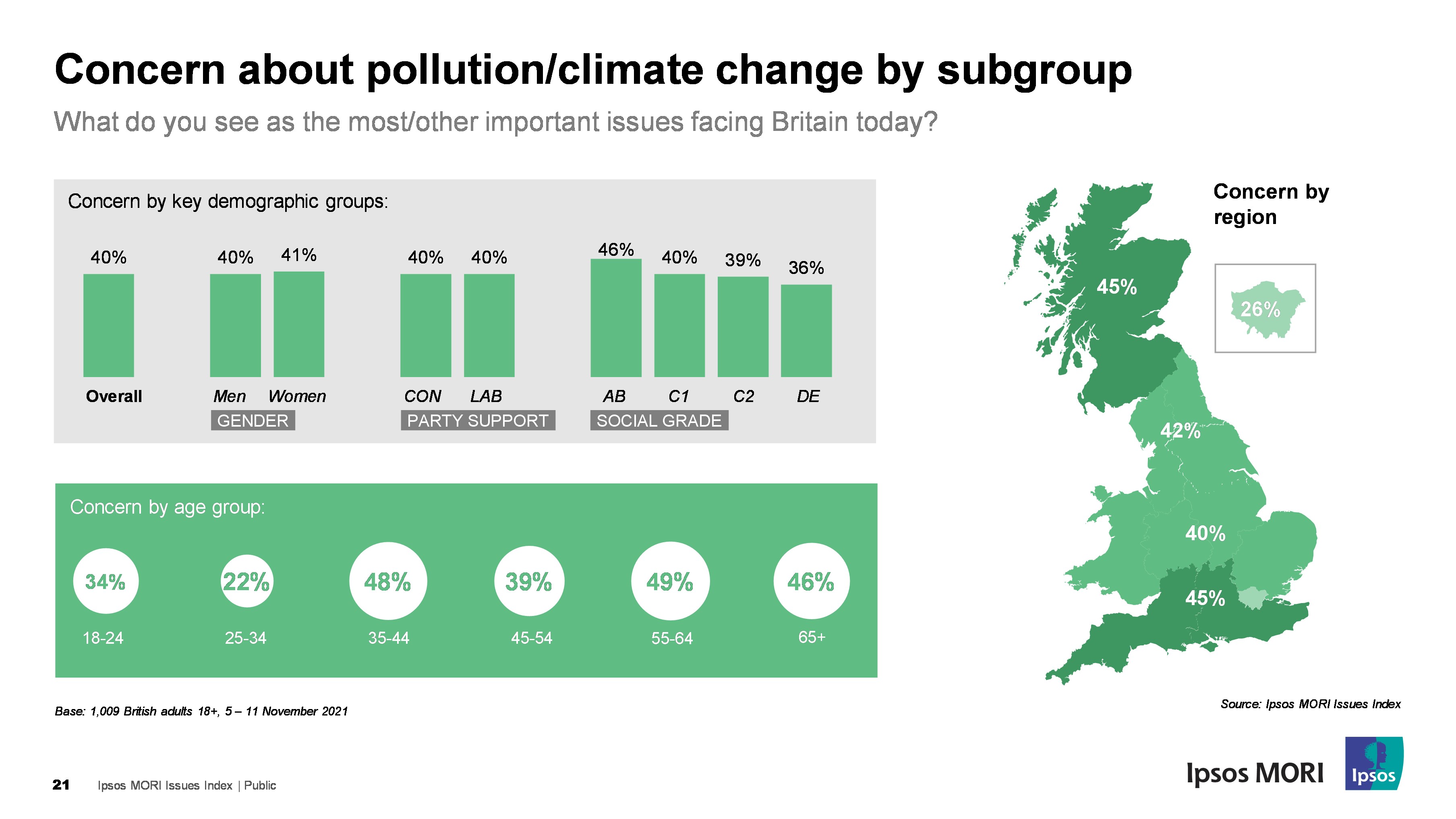 Mike Clemence, a researcher at Ipsos, said:
Concern about the environment and climate change has reached its highest-ever score in this month's Ipsos Issues Index – likely an impact of the COP26 conference. There is also widespread agreement on this priority across different groups including across supporters of both the Labour and Conservative parties, although younger people stand out as putting COVID-19 marginally ahead.
Technical note 
Ipsos's Issues Index is conducted monthly and provides an overview of the key issues concerning the country. Ipsos interviewed a representative sample of 1,001 adults aged 18+ across Great Britain. The answers are spontaneous responses, and participants are not prompted with any answers. 
Ipsos's telephone omnibus was used for this survey. Interviews were conducted between 5 and 11 November 2021 across Great Britain. Data are weighted to match the profile of the population.