Ipsos Levelling Up Index shows clear regional disparities in how the public feel about their local areas
Ipsos has devised a Levelling Up Index to measure public perceptions and regional differences against each of the 12 missions within the Government's Levelling Up White Paper.
Residents in Wales, Northern Ireland and the North of England in particular, feel left behind when it comes to government spending.
Inequalities are felt strongest away from the South-East of England across multiple missions including pay, employment and productivity; skills training; and feelings of pride and place.
Public priorities for Levelling Up vary by geography but, on the whole, the majority do not expect the government to be successful in reducing regional inequalities.  
Research conducted by Ipsos UK in February, shows widespread geographical inequalities in how the public feels when it comes to government spending, with residents in Wales, Northern Ireland, the North of England, and also in rural and post-industrial areas feeling most left behind. Two thirds of people in Wales (68%) and Northern Ireland (65%) feel that the Government in Westminster spends less on their area than other local areas. Within England, the perceived imbalance in spending is most acutely felt in the North-East (70% say government spends less in their area compared to 30% of residents in the South-East).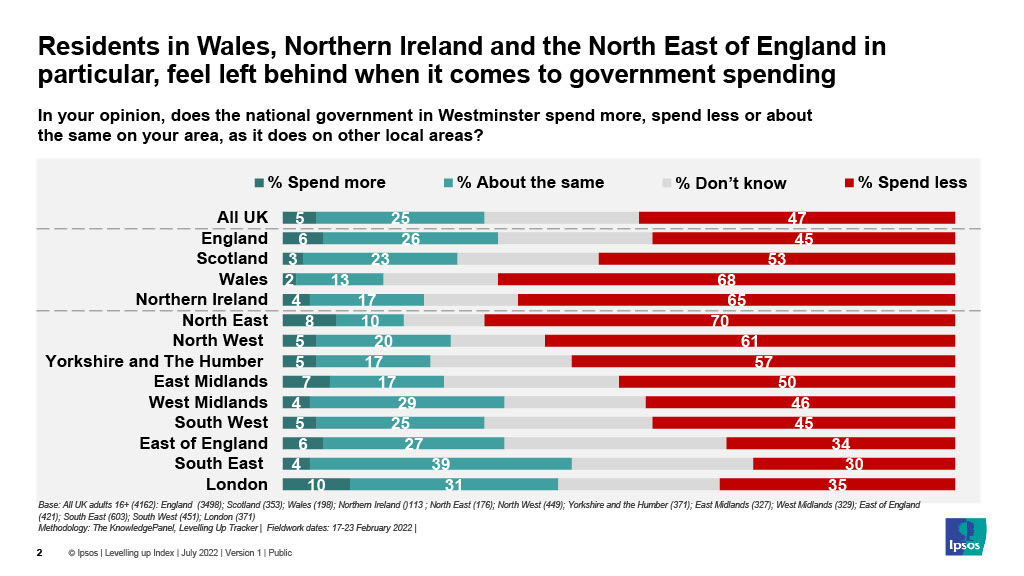 The Ipsos Levelling Up Index
The Ipsos Levelling Up Index has been devised to track the public's perspective on the Government's 12 Levelling Up missions.  The Index consists of a score (between +200 and -200) for each of the 12 missions, based on several different attitudinal and behavioural survey questions relevant to that mission.
In each case, the higher the score, the more positive the public perceptions associated with that mission. 
Overall, the baseline Index shows that the public is most positive about their local areas when it comes to internet provision, primary schools, wellbeing and life expectancy.  In contrast, the public is most negative about their local areas on devolution, R&D investment, crime, and housing.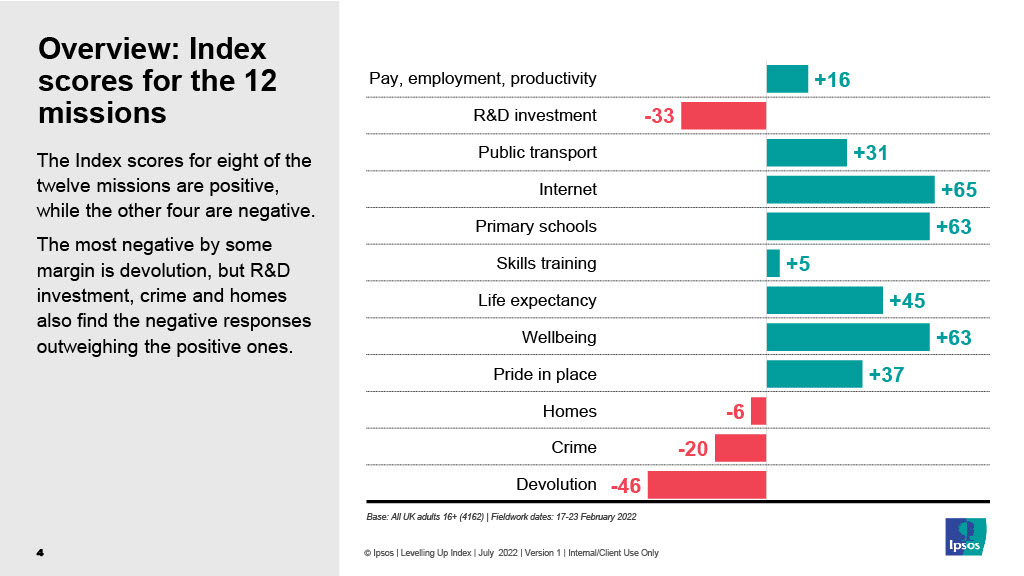 There are also clear national and regional differences in perceptions. By nation, scores on the questions relating to the economic missions such as pay, employment and productivity and  skills and training tended to be lowest in Wales. Within England, these Economic missions have a lower Index score in the North of England, with the South-East being the most positive. Perceptions of R&D investment are also lower in Scotland, Wales and Northern Ireland, and in the North of England.
Across England, pay, employment and productivity scores are mostly positive, but noticeably more so in the South-East (+32) and East (+31) outside London. Scores in the North-West (+2) and North- East (-4) are substantially weaker, with dissatisfaction just outweighing satisfaction in the North-East, reflecting the fact that increasing wages and improving job opportunities are seen as a priority in this part of the country. 
With regard to skills training, the South-East is the most positive (+20), the North-East and North- West are on balance negative (-10 and -7 respectively); but, as on several other indices, London stands out as being more like the Midlands (London +4, Midlands +8) than the South East.
Feelings of pride in place is another mission which shows a steady progression of scores falling as one moves from south and east to north and west, with London (+35) once more resembling the Midlands (+30) rather than the rest of the South (South-East +51 and East +54). Scores are again lowest in the North East (+23) and North West (+25) of England, and in Wales (+23).
Ipsos' levelling up Index shows inequalities are felt strongest away from the South East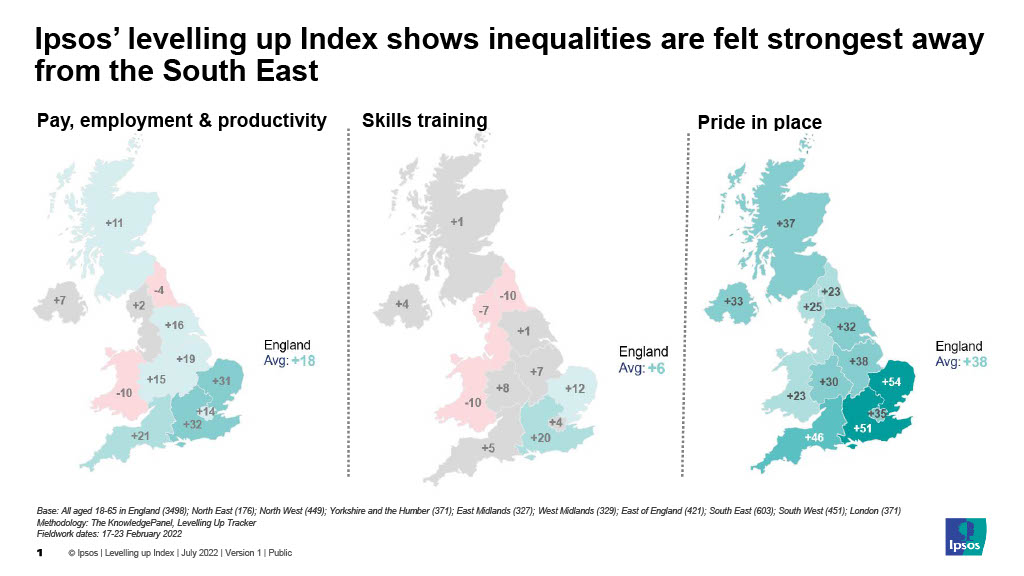 Overall, the improvements that the public would most like to see prioritised for their local areas are reducing crime (43%), improving mental health and wellbeing (42%), increasing wages (39%) and more jobs (37%).  However, public priorities for Levelling Up do vary by region, with increasing wages (48%) and improving job opportunities (50%) more of a priority for residents in the North-East (where this specific index score is one of the lowest), whilst tackling crime and anti-social behaviour are more of a priority for residents in the West Midlands (51%) and London (50%).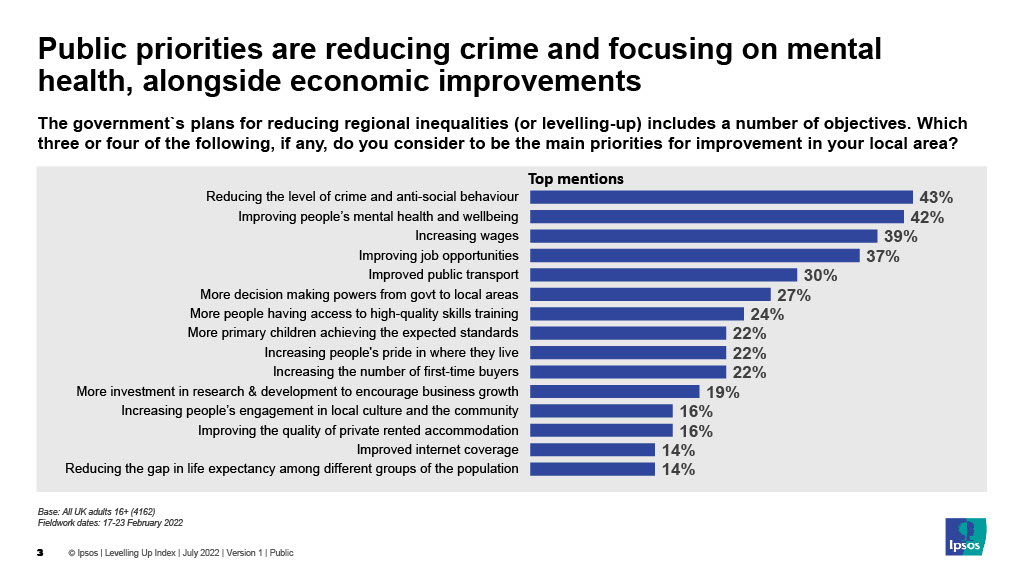 Few believe that the government's Levelling Up strategy will make a positive difference to their area in the next few years, and just a third (34%) think it is likely that the strategy will reduce inequalities within the next 20 years (compared with 56% who say unlikely).  More concerning, four in five members of the public do not think the government cares about them or their local areas. Instead, there is majority public support (63% vs. 13% oppose) for giving local authorities greater control over local decisions around public spending, public transport and policing. 
Trinh Tu, Managing Director of Ipsos UK Public Affairs, said:
Levelling Up was described as 'the greatest project that any government can embark on', and both Rishi Sunak and Liz Truss have expressed their commitment to continue with the policy.  Our new Levelling Up Index confirms that regional inequalities are keenly felt by the public across a range of missions and provides an important baseline for the incoming Prime Minister to show progress in reversing public perceptions – particularly around pay, employment and productivity; skills training; and feelings of pride and place.   Expectations that the government's Levelling Up will make a difference to local areas are, however, low and the new Prime Minister must somehow convince the public that the government, under their leadership, cares about their local areas and can be trusted to deliver on the opportunities promised.
This report is the first release of the Ipsos Levelling Up Index. We will track the Government's progress overtime to provide expert analysis on the 12 Levelling Up missions through the public lens.
Technical Note:
Ipsos interviewed online a representative UK sample of 4,162 adults aged 16+ between 17-23 February 2022. This data has been collected by the Ipsos UK KnowledgePanel, an online random probability panel which provides gold standard insights into the UK population, by providing bigger sample sizes via the most rigorous research methods. Data are weighted by age, gender, region, Index of Multiple Deprivation quintile, education, ethnicity and number of adults in the household in order to reflect the profile of the UK population. All polls are subject to a range of potential sources of error.  Details of the exact questions used to create the scores for each mission are available in the report.
Download