Ipsos COVID trends: public concern about COVID-19 rises again
A latest look at our trends including concern about the risks of COVID-19, the importance of face masks, comfort of returning to normality and more.
New research by Ipsos shows a rise in concern about the risks COVID-19 poses to oneself, from 58% in October to 65% now. This is the highest level of concern since February earlier this year.  When considering risks to the country, 80% now say they are concerned, 76% said the same in October.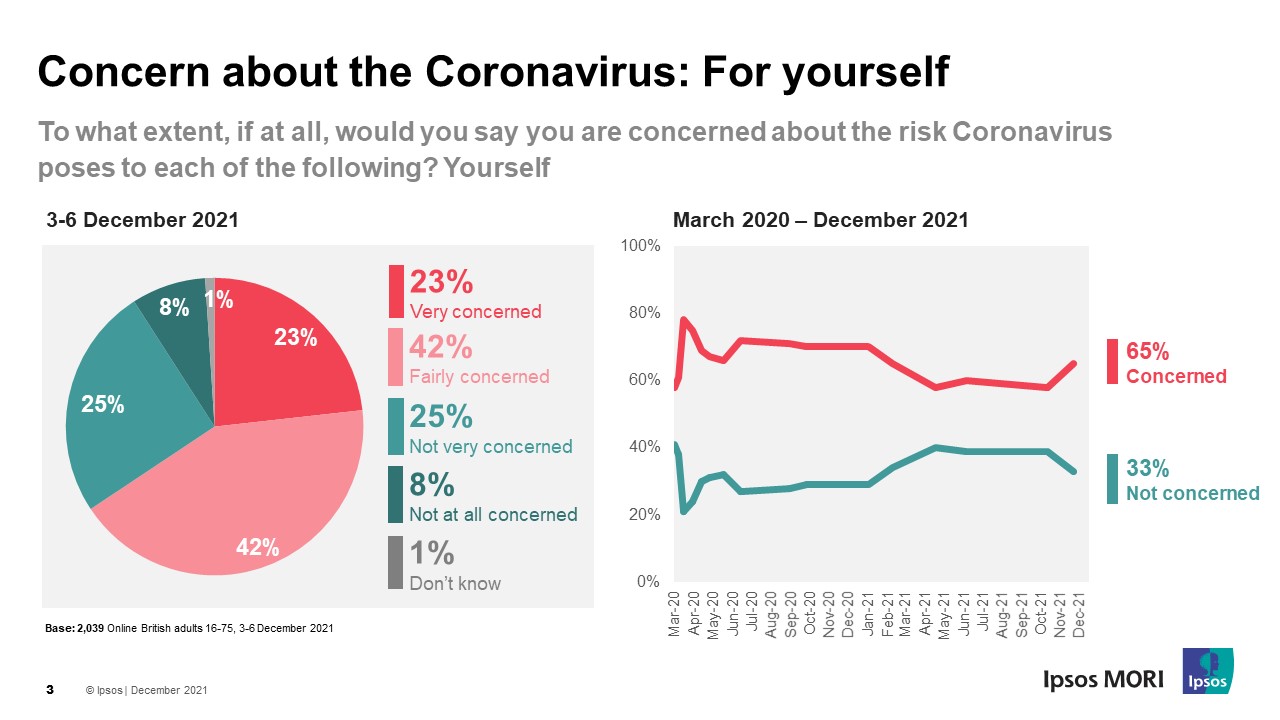 Despite concerns for the risks posed to individuals and the country, confidence in the NHS to deal with illnesses caused the virus has remained stable, in October 69% were confident the health service would be able to deal with those getting ill as a result of getting Covid, now 72% say the same. 
In line with increased concern there has been an increase in belief that we need to take whatever measures necessary to control the spread of the virus and reduce the number of deaths.  Now 63% say this comes closer to their view than the need to relax measures as they are doing more harm than good (21% say this is closer to their view).  This is up from 54% in July, and in line with the previous high in October 2020. 
Most Britons also still believe it is important to wear a face mask in public situations, such as shopping or going on public transport. Three in four (74%) say it is very important, including nearly half (46%) who say it is essential. Only 1 in 10 (10%) believe they are not very important.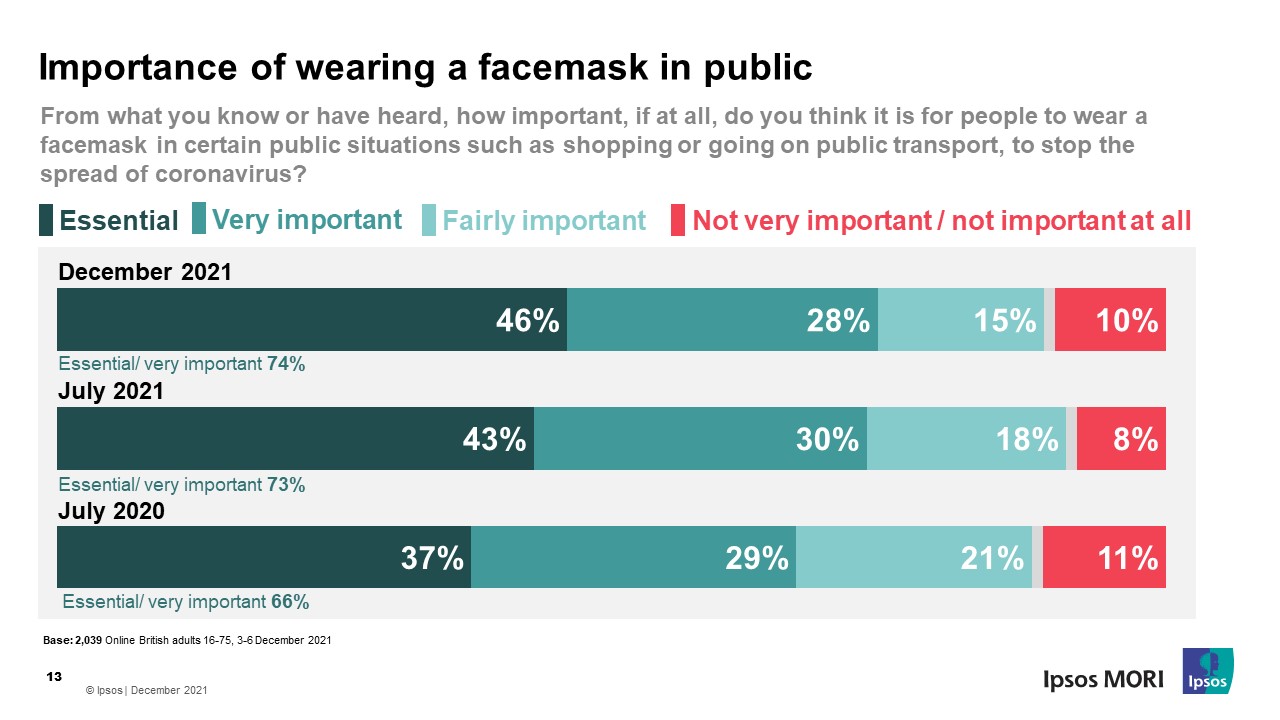 The public are though split in their views on the best government response.  Four in 10 (41%)  want to see the Government prioritise people's health over the economic health of the country in its response to the virus, while a similar proportion (37%) say the Government should prioritise both equally.  Less then 1 in 5 (16%) believe the economy should be the key focus. 
Opinion is split as to what long-term impact the virus will have on Britain. Forty-two per cent now say even though the Coronavirus outbreak will be tough, Britain will be stronger when it gets through (down from 47% in July), however a similar proportion (41%) disagree and expect it to be weaker for years to come. 
As the new variant becomes more prevalent, it comes as no surprise people are finding it harder to stay positive about the future now. Just over half (52%) say they are struggling to stay positive about the future compared with before the coronavirus outbreak, up from 44% in September. Day-to-day, 45% are finding it harder to stay positive than before, in September 41% said the same. 
People still feel relatively comfortable living certain aspects of their lives much in the same way as they did before the pandemic. People are comfortable, if not already behaving the same as normal, when it comes to shopping in supermarkets (78%), going to their place of work (75% of those currently employed), sending children to school (66% of parents) and shopping in other shops (74%) among  other aspects of life.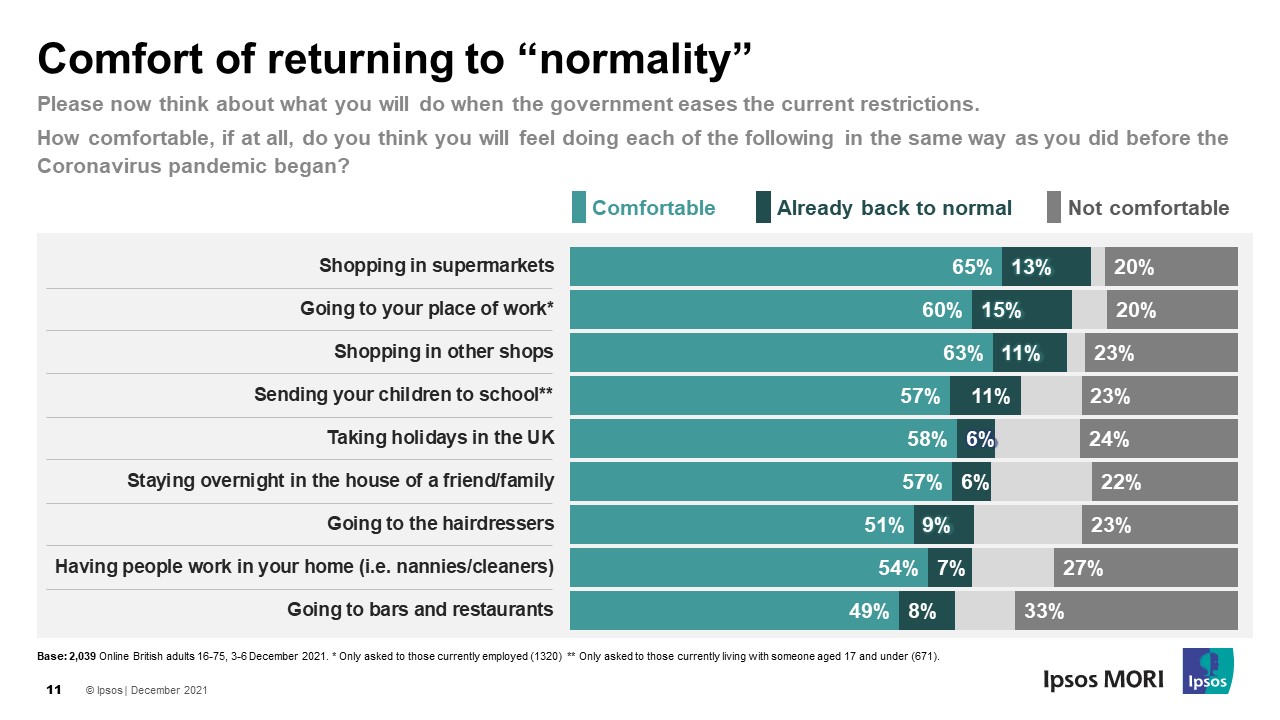 However, almost half of Britons would be uncomfortable greeting people with a handshake or hug (47%, up 7 points since July), going to large public gatherings (i.e. sports or music events) or taking holidays abroad (both 46%).   And concern has risen  for several aspects since July – more people would feel uncomfortable going to bars and restaurants (up 8 points), taking holidays in the UK, using public transport (all up 7), sending children to school, taking holidays abroad, visiting indoor museums, cinemas or theatres (all up 6), and going to the hairdressers (up 5),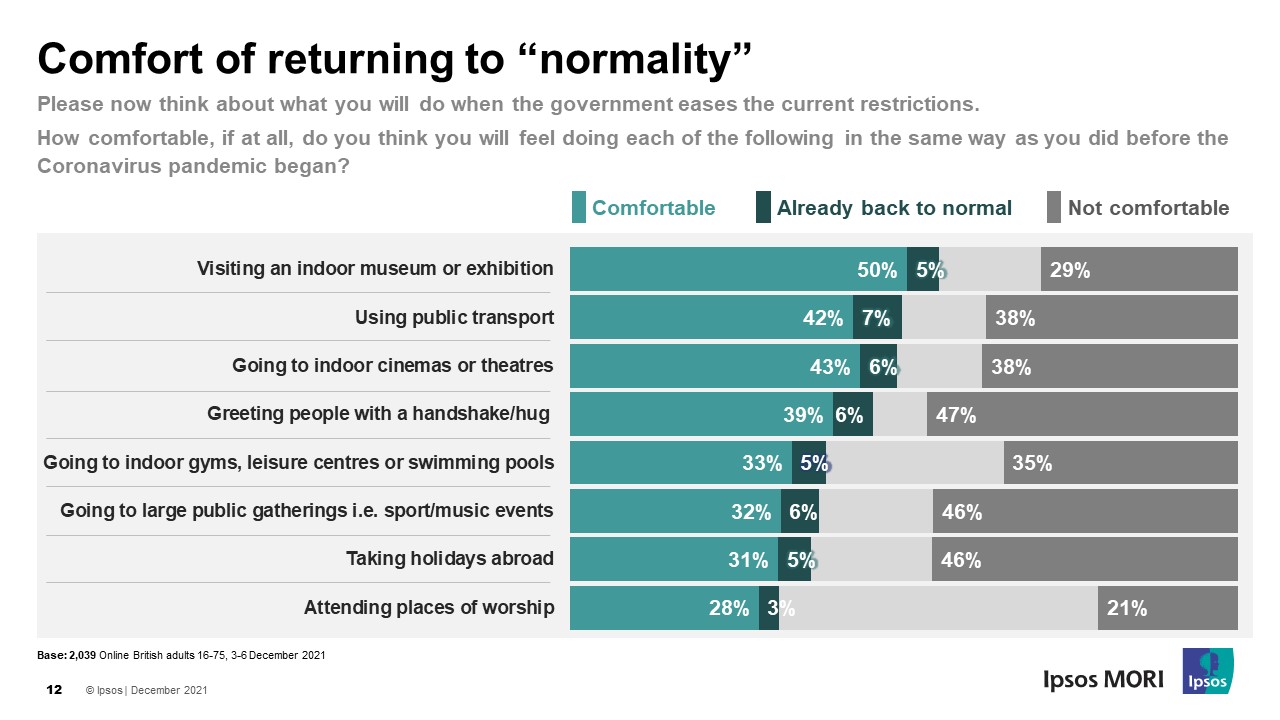 Gideon Skinner, Head of Political Research at Ipsos, said:
The news about the new Omicron variant seems to have shaken the public, with rises in concern about the risk of the coronavirus and more now finding it harder to stay positive about the future – although confidence in the NHS to deal with people getting ill remains high.  At the same time, the public continue to believe that restrictions are necessary and facemasks important, although they want attention paid to the economy too.  There are still many aspects of life where the public are relatively comfortable with things going back to normal, such as shopping, going to school and places of work, domestic holidays and staying with friends and family, but growing signs of unease for some sectors – going to bars and restaurants, using public transport, and even just greeting people with a handshake or hug.
 
Technical note
Ipsos interviewed a representative sample of 2,039 Britons aged 16-75. Interviews were conducted online between 3-6 December, 2021. Data are weighted to match the profile of the population. All polls are subject to a wide range of potential sources of error.
Download