Ipsos Issues Index: December 2021
Coronavirus returns as Britons' top concern before Christmas with its highest score since February 2021
Six in ten say COVID-19 is an important issue for Britain; more than double the November score and the highest level recorded since February 2021
Concern about the environment dropped by 27 points after one of its highest ever scores in November during COP26
Around a fifth are concerned about Brexit and the NHS, as in November
The December 2021 Ipsos Issues Index showed a renewed public focus on the pandemic, with concern more than doubling since November. 
Fieldwork was 10-23 December, following the emergence of the Omicron variant.
In the run-up to Christmas, a steep increase in concern about COVID-19 has put it back at the top of Britons' list of important issues facing the country. More than six in ten (62%) mentioned it as a concern – double the proportion recorded in November and October (both 27%) and the highest score recorded since February 2021. Similarly, the proportion who say it is the single biggest issue for the country has increased more than a threefold, from 13% in November to 45% in December 2021. 
Concern about the environment, pollution and climate change has also shifted dramatically. This month 13 per cent mention it as a big issue for the country, down sharply from one of its highest ever scores of 40% in November (as the UK hosted the COP26 summit on climate change). It is now the joint-sixth biggest issue, ranking alongside immigration.
By contrast, the other issues in the top five have moved much less: the economy is the second-biggest concern (24%), close to the 21% recorded in November. Brexit and the NHS are both mentioned by 21%, scores which have not shifted significantly from the previous month.
The proportion mentioning worries about politicians and politics has risen to 14% this month, putting it fifth in the ranking (although similar numbers are concerned about climate change, immigration and poverty/inequality). Although it remains a secondary issue there has been a gradual increase in concern, doubling from 7% in July 2021.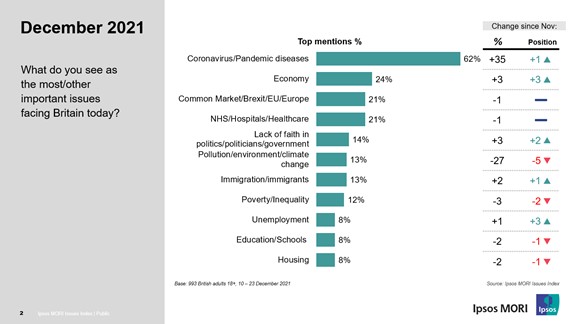 Catriona Millar, Senior Research Executive at Ipsos, said:
Following news of the Omicron variant of coronavirus we have seen a sharp rise in public concern about COVID-19. After dropping over summer and autumn, worry has returned to levels last seen in February of 2021.
Environment and climate change has dropped dramatically down the public's priorities compared with last month, suggesting that November's new high score was in part driven by the COP26 climate conference in Glasgow.
Technical note
Ipsos's Issues Index is conducted monthly and provides an overview of the key issues concerning the country. Ipsos interviewed a representative sample of 993 adults aged 18+ across Great Britain. The answers are spontaneous responses, and participants are not prompted with any answers. 
Ipsos's telephone omnibus was used for this survey. Interviews were conducted between 10 and 23 December 2021 across Great Britain. Data are weighted to match the profile of the population.