Ipsos Issues Index: September 2020
Concern about Brexit returns to near General Election levels according to Ipsos's September 2020 index of issues concerning Britons
Seventy-seven per cent of the British public see coronavirus as one of the biggest issues facing Britain, a similar proportion to the past few months
Concern about Brexit and the EU has risen sharply, with half of the public now mentioning it as a concern
One in five cite unemployment as a concern, a small increase from July
The September 2020 Ipsos Issues Index reveals a sharp increase in the proportion of the British public worried about Brexit. Half are now concerned (51%), an increase of twenty-one percentage points since July. Fieldwork occurred between 11 and 18 September, covering the period during which the Internal Market Bill was voted on in Parliament.
Concern about coronavirus has remained at the same, historically high level for another month. Seventy-seven per cent see it as one of the biggest issues facing the country, close to the scores recorded in July (75%) and June (72%) but still below the level recorded in April this year (85%).
Public worry about unemployment has risen again this month, by three percentage points to 19%. This is the highest score in almost five years, driven by higher concern among those aged 18-34 (22%) and particularly people in part-time employment (31%).
Economic concerns have fallen again compared with the summer: 31% mention the economy as a big issue for Britain, which is a decline of eleven percentage points since June. Similarly, the proportion who see the NHS as a major worry (outside of coronavirus-related concerns) has dropped to 18%.
There has been a significant rise in concern about pollution, climate change and the environment this month, yet still it is mentioned as a concern by just twelve per cent of the public; half the level recorded immediately prior to the pandemic (25% in February 2020).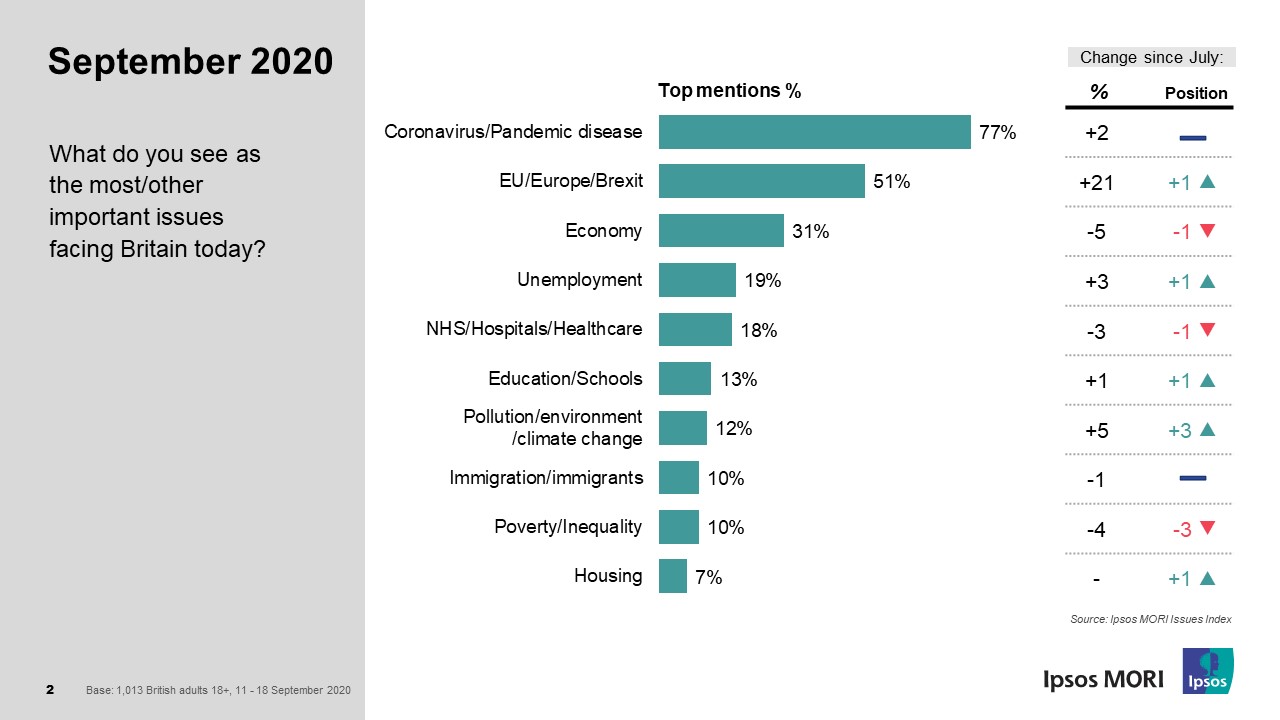 Public concern about Brexit has risen across many groups: men and women share a similar level of worry (54% to 48%), as do supporters of the Conservative and Labour parties (57% and 54% respectively).
Some groups appear less concerned, although in all cases Brexit remains the second-largest issue for these groups:
Younger people are less likely to mention Britain's exit from the EU as a big issue for Britain: 36% of those aged 18-24 see it as a concern, as do 44% of people aged between 25 and 34.
There are large differences between social grades, with 59% of those in grades AB worried about Brexit, compared with 39% among people in grades DE
People who do not identify with a political party are also less likely to see it as a big concern: 39% of this group mention Brexit as a worry.
Mike Clemence, a researcher at Ipsos, said:
Public concern about Coronavirus shows no sign of declining, with the proportion mentioning the pandemic as a big issue slightly above where it was in June.
We have seen big movement when it comes to Brexit, with public concern up twenty-one percentage points compared with July. Half now mention our exit from the EU as a big issue for Britain, which is a near-return to the levels recorded at the time of the 2019 General Election. This is likely related to the vote on the Internal Market Bill in Parliament, which occurred during fieldwork.
We have also seen worry about the NHS, outside of coronavirus issues, decline further this month, with 18 per cent concerned. This is the lowest level of worry about the health service in almost a decade.
Technical note
Since May 2020 the Issues Index has been conducted over the phone; lockdown conditions mean face-to-face fieldwork is currently not an option for public opinion polling. Mode effects should be kept in mind when comparing the new data points with previous months.
Ipsos's Issues Index is conducted monthly and provides an overview of the key issues concerning the country. Ipsos interviewed a representative sample of 1,013 adults aged 18+ across Great Britain. The answers are spontaneous responses, and participants are not prompted with any answers.
Ipsos's telephone omnibus was used for this survey. Interviews were conducted between 11 and 18 September across Great Britain. Data are weighted to match the profile of the population.