It's beginning to look a lot like Christmas… may be very different this year
Lots might be different during the festive season this year, but Britons are still looking forward to it.
In a new survey by Ipsos, conducted before the announcement of a 4-week national lockdown, almost 9 in 10 (85%) said they expect to celebrate Christmas this year, even though this is a decrease from the 95% who say they normally celebrate the holiday.
Overall, less than half of Britons expect Christmas to go ahead as normal this year (46%) while only a third (34%) expect to be allowed to socialise with people from other households over the season. 
The proportion who expect to celebrate Christmas at home with people they live with is no different to normal, at 46% (47% say they normally do so).  However, while half (51%) of Britons normally visit the homes of friends or family who they do not live with for the festivities, this has now halved to a quarter (23%) who expect to do so in 2020.  Similarly, while normally just over a third (36%) would host visitors over the Christmas period, only 1 in 5 (20%) expect this to be the case this year. One in ten (10%) say they normally spend Christmas alone, similar to the 12% who think they will be on their own this year.
Looking at other regular Christmas activities, while 19% would usually go to a pub or restaurant to celebrate, only 6% believe they will do so next month. Only 3% of people think they will be attending a pantomime or theatre show, and the same expect to go to a carol concert/ service this year, normally 14% would go to a pantomime/theatre, and 12% would go out to listen to carols. The proportion who expect to go to church or a religious service is also half that of normal, at 6%.
Spirits aren't entirely dampened yet though, with almost two-thirds (63%) still looking forward to the holiday, however one in three (32%) are not, rising to 43% of older people, aged 55-75. Four in ten (40%) believe they will enjoy Christmas the same as normal, with a similar proportion expecting to enjoy it less (39%). One in ten (11%) expect to enjoy it more than usual.  Again, there is an age difference, with those aged 55-75 more pessimistic than 16-34-year olds (44% vs 34% respectively saying they expect to enjoy Christmas less this year).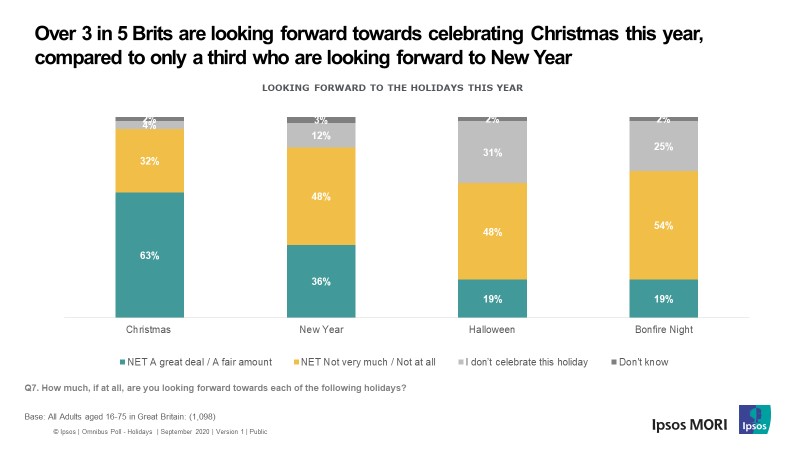 The large majority of the nation – around three in four - plan to abide by the rules in place on Christmas day, even if this includes a lockdown. However, around one in five say they are unlikely to.
Gideon Skinner, Head of Political Research at Ipsos, said:
COVID-19 isn't leading Britons to cancel Christmas, but it seems pretty likely that the way we celebrate it will change this year, with many expecting restrictions on socialising to impact on their ability to see friends and family from other households.  Most say they are going to follow any rules in place, but this also means a predicted fall in traditional Yuletide treats like going to the pub, carolling or going to church.  The good news is that over six in ten are still looking forward to the holidays, but there are signs that older people in particular may not enjoy it as much as normal, so steps to maintain the wellbeing of vulnerable groups will be crucial.
Technical note:
Ipsos interviewed a sample of 1,098 adults aged 16-75 in Great Britain using its online i:omnibus between 23rd and 24th September 2020.  Figures for the data on obeying the rules at Christmas is based on an online sample of 1,067 British adults aged 18-75 between 16-19 October 2020.  Data has been weighted to the known offline population proportions for age, working status and social grade within gender, government office region and education.  All polls are subject to a wide range of potential sources of error.
 
Download