Latest Political Monitor shows movement for Lib Dems
The Labour Party and Liberal Democrats are running neck-and-neck according to the latest Ipsos Political Monitor voting intention figures.
Labour and the Liberal Democrats neck-and-neck according to latest voting intention figures
Britons becoming more aware of Lib Dem leader Jo Swinson – her satisfaction and dissatisfaction ratings up
The Labour Party and Liberal Democrats are running neck-and-neck according to the latest Ipsos Political Monitor voting intention figures. As it stands, the Labour party are currently on 24% with the Liberal Democrats on 23%. The Conservatives lead on 33%. Meanwhile, one in ten (10%) say they would vote for the Brexit Party and 4% for the Greens.
Headline voting intention (changes from July)
Conservative 33% (-1)
Labour 24% (nc)
Lib Dems 23% (+3)
Brexit Party 10%  (+1)
Greens 4% (-2)
Other 5% (-2)

This month's poll also shows that British voters are becoming more familiar with Liberal Democrat leader Jo Swinson. When asked if either satisfied or dissatisfied at how she is doing her job as leader of her party a third (35%) say that they are satisfied (up 7 points from July) while two in five (40%) say they are dissatisfied (up 12 points) – leaving her with a net satisfaction score of -5 (compared to zero in July). However, the proportion saying 'don't know' now stands at 25% - a significant drop from July when 44% offered no opinion. The number that are satisfied is the largest the Ipsos series has seen for a Lib Dem leader since Nick Clegg scored 35% in April 2011 (although Vince Cable reached a similar 33% in his last month). Meanwhile, four in five (79%) Liberal Democrat supporters are satisfied with their new leader while 12% are dissatisfied and 9% don't know.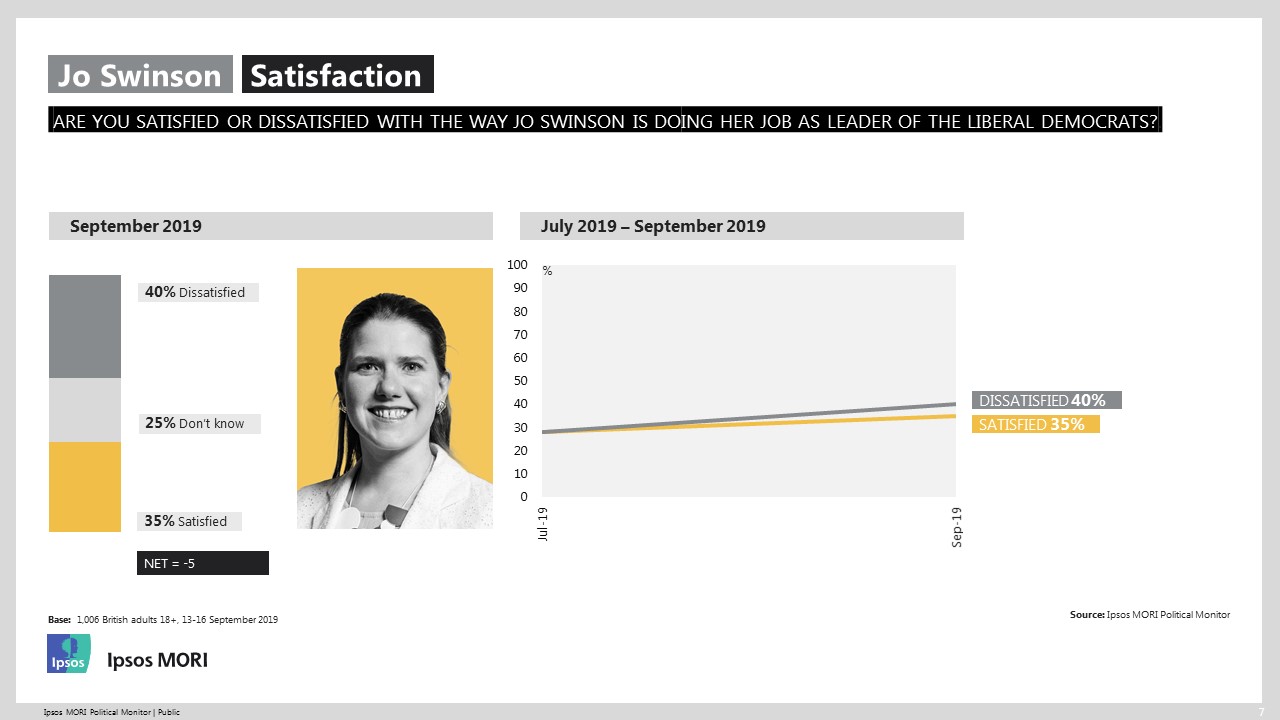 The poll also reveals that Britons remain pessimistic when it comes to the health of the national economy. Three in five (59%) say it will get worse in the next year (up 1 point) while 15% say it'll improve (down 3) giving an Economic Optimism Index score of -44 (down 4 points). A fifth (20%) say it will stay the same (up 1 point).
Keiran Pedley, Research Director at Ipsos, said:
Jo Swinson appears to be making her mark as Lib Dem leader. Although her strong anti-Brexit stance will not appeal to everyone, reflected in her net satisfaction scores having actually fallen this month, the Lib Dems now sit just a point behind Labour in headline voting intention figures. The key question, in such volatile political times, is will the party be able to sustain such levels of support, or even improve upon them, during a General Election campaign.
Technical Note
Ipsos interviewed a representative sample of 1,006 adults aged 18+ across Great Britain. Interviews were conducted by telephone 13th – 16th September 2019.  Data are weighted to the profile of the population. All polls are subject to a wide range of potential sources of error. On the basis of the historical record of the polls at recent general elections, there is a 9 in 10 chance that the true value of a party's support lies within 4 points of the estimates provided by this poll, and a 2 in 3 chance that they lie within 2 points.