Loved-ones struggle to keep in touch during latest lockdown
TV watching and social media use has increased during lockdown 3 while exercise and going for walks falls.
In a new survey by Ipsos, 6 in 10 Britons say they are finding it harder to stay in touch with their friends and family now than before the coronavirus outbreak, up from 42% when asked in July 2020. 
A majority of people are also struggling to keep themselves entertained in comparison to pre-COVID days, 54% say they are finding this more difficult now. This has also seen an increase, in July last year only 42% said they were finding it harder to stay amused.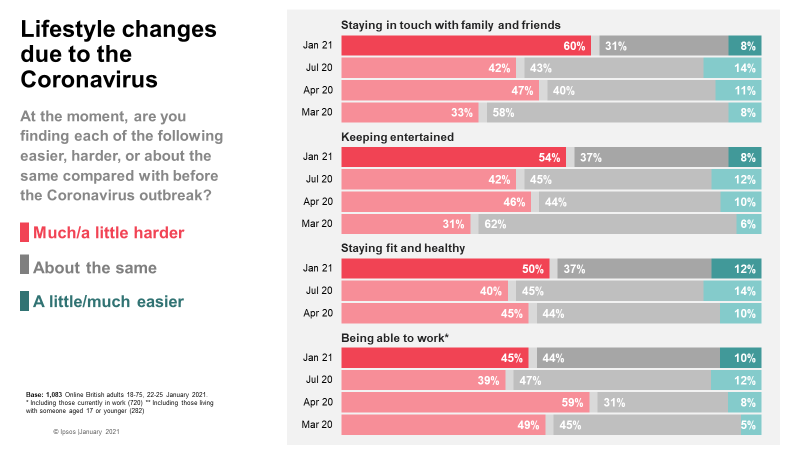 Half of Britons say they are finding staying fit and healthy harder compared with before the Coronavirus outbreak, up from 40% who said the same in July last year. 
Looking after children remains difficult for parents and carers, with 44% finding this harder than before the outbreak.  Almost half of workers (45%) say being able to work is harder now than before the pandemic, up from 39% when asked in July. 
However, getting what they need from the shops is not as hard as it was at the beginning of the pandemic, when over three-quarters (77%) said it was more difficult to get their items in April 2020, now only 43% agree. Half say it is the same as it was before the coronavirus outbreak. 
How are Britons keeping busy in lockdown 3?
This winter lockdown appears to have had an impact on the ways in which people are passing the time. Compared with previous lockdowns, people say they are more likely to have increased the amount of time they're spending watching TV (37%), on social media (31%) and baking/ cooking (24%) than decreased the time they spend on these activities. On the other hand, time spent going on walks and exercising is more likely to have decreased, 26% have gone on fewer walks this lockdown while 27% are exercising less.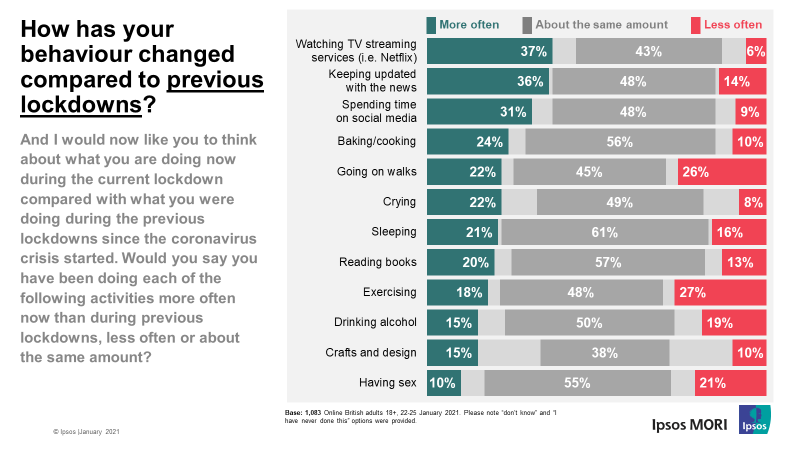 Over a third of people (36%) say they are spending more time keeping updated with the news compared to previous lockdowns. Over 1 in 5 (22%) have seen an increase in the amount of time they spend crying this lockdown while a similar proportion have seen their alcohol consumption decrease (19%) and 21% are having less sex. 
Two in ten have seen the amount of time they spend sleeping (21%) and reading (20%) during this lockdown increase compared to last year's. Fifteen per cent are doing more crafts and design.
However, in each case the difference to previous lockdowns is not as big as the difference compared with before the pandemic started, for example almost half are watching more TV than before the coronavirus outbreak (49%) and keeping updated with the news (47%), while 41% are spending more time on social media.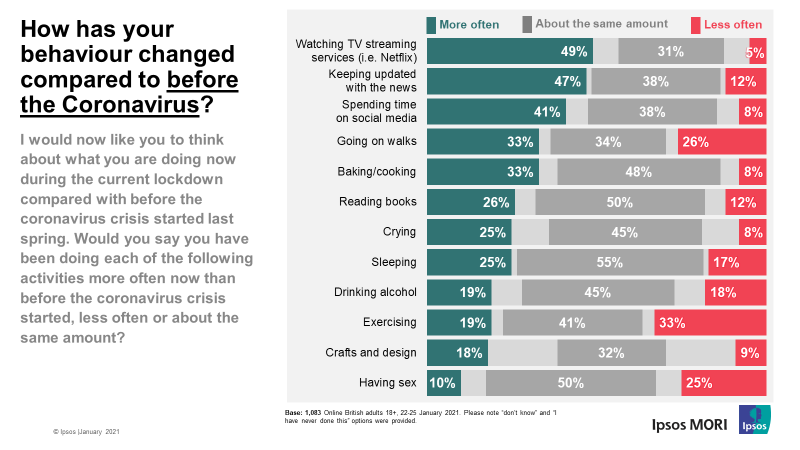 Gideon Skinner, of Ipsos, says:
Lockdown three, in midwinter, is certainly challenging and our latest polling shows that there are some significant differences to the first.  We are finding it increasingly difficult to stay in contact with our loved ones and keep ourselves entertained, compared to the first lockdown.  We are also struggling to keep fit and healthy, with over a quarter of people finding it harder to exercise this time compared to last – potentially as a result of the change of season.
Technical note:
Ipsos interviewed a representative sample of 1,083 Britons aged 18-75. Interviews were conducted online from 22nd – 25th January 2021. Data are weighted to match the profile of the population. All polls are subject to a wide range of potential sources of error.