Majority of Britons say wearing 'smart' clothes only on their top half is acceptable for work video calls, but wearing pyjamas is a no-go
New research shows what people deem acceptable, or not, on work video calls
New polling by Ipsos shows over half (54%) of Britons believe it is acceptable for people to only wear "smart" clothes on the top half of their body when on work video calls. 
Britons who have actually made work-based video calls since the start of the coronavirus outbreak tend to be more lenient on video call etiquette, 66% of them say it is acceptable to join a video call late due to internet connection, compared to only 56% of Britons in general.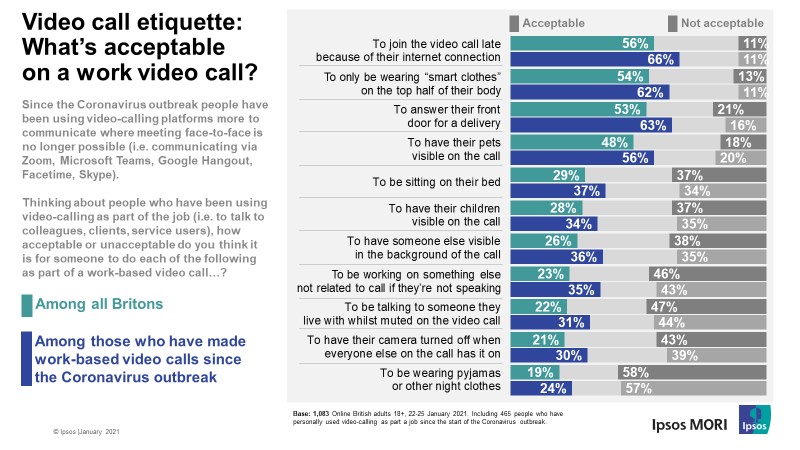 Other findings include:
Over half (53%) of Britons say it's ok to answer their front door for a delivery while on a work call, whilst 21% disagree. Again, there is a difference in acceptability between those who have been on work video calls during COVID-19 compared to those who haven't (63% vs 53% respectively);
Around half (48%) of Britons say it is acceptable to have pets visible on a work video call, which is considerably higher than the proportion who say the same about people's children (28%);
Three in 10 (29%) have no issue with people sitting on their bed during work video calls, while nearly 4 in 10 (37%) believe this unacceptable. There is an age divide here with 2 in 5 of those aged 18-34 (40%) saying this is acceptable, compared to just 16% of those aged 55-75;
Britons are most likely to take issue with people wearing pyjamas on a work video call, around 6 in 10 (58%) deem this unacceptable compared to only 1 in 5 who (19%) believe it is fair;
Opinion is split when it comes to having someone else in the background of the call, especially among those who have made work-based video calls where 36% say this is acceptable and another third (35%) disagree.
Technical note:
Ipsos interviewed a representative sample of 1,083 Britons aged 18-75. Interviews were conducted online from 22nd – 25th January 2021. Data are weighted to match the profile of the population. All polls are subject to a wide range of potential sources of error.
 
Download