The majority of Britons think gender inequality will not be addressed as Britain recovers from the pandemic
As we continue in our recovery from the COVID-19 pandemic, we ask Britons what they expect to happen to gender inequalities
New research by Ipsos shows Britons are split when it comes to predicting the potential effects (e.g. economic, social and health) the coronavirus pandemic will have on different genders. Most expect that both men and women will be impacted as negatively as each other (61%) while 1 in 10 predict men with be the gender effected worse and 15% say women will suffer more.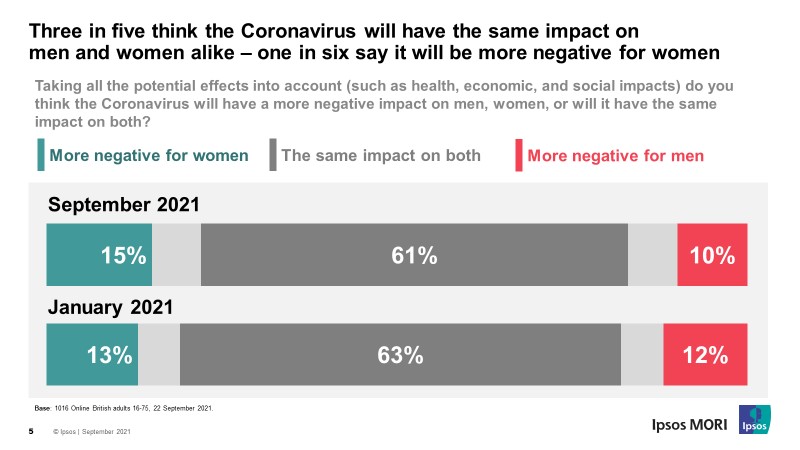 Perhaps unsurprisingly, men are more likely to expect their own gender to be the most negatively affected (12% vs. 8% who say women) while women are also more likely to choose their own gender (18% vs 8% who say men). 
Those with children or in bigger households are more likely to predict a more negative effect on men. Those with households of 3 or 4+ (14% and 13% respectively) are twice as likely to say this compared to those in households of 1 or 2 (7% and 6% respectively). 
Looking to the future, many doubt the equality agenda will have progressed throughout the pandemic, instead 53% expect the level of equality to be the same as it was pre-pandemic, showing little change since January when 55% said the same in our International Women's Day survey.  More than 1 in 10 expect to see women become less equal with men as they were before the COVID-19 outbreak (13%) while a similar proportion think they will become more equal (10%). Nine per cent say women and men were already equal before the pandemic began.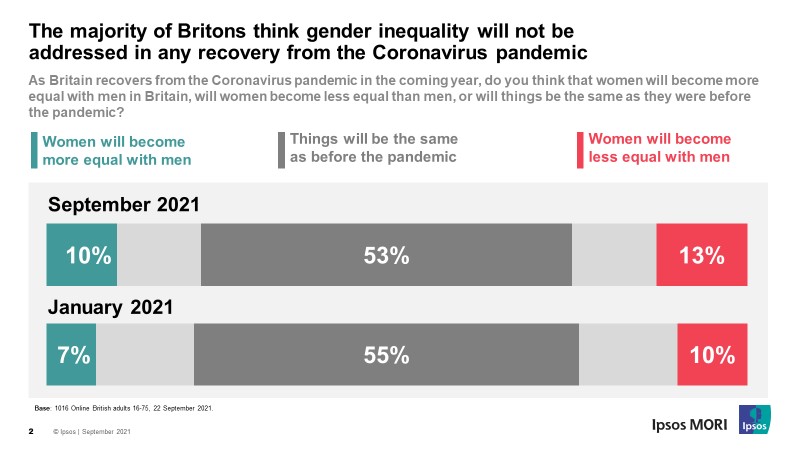 The study finds that women are less optimistic than men about whether equality will improve. Only 5% of women think they will become more equal with men compared to before COVID-19 while 6 in 10 (58%) say things will stay the same and 15% predict they will become less equal. On the other hand, 14% of men predict equality will improve, 49% say it will stay the same and 11% expect it to get worse. 
Britons want to prioritise flexible working practices and mental health services when looking considering how to ensure the issues facing women are addressed during recovery from COVID-19. Four in 10 Britons (41%) say there should be more flexible working practices, such as working from home and working part-time.  Around a third say they should be better mental health services (35%) and better social care services for the elderly or vulnerable (32%). These options also made up the top 3 in May's International Women's Day report.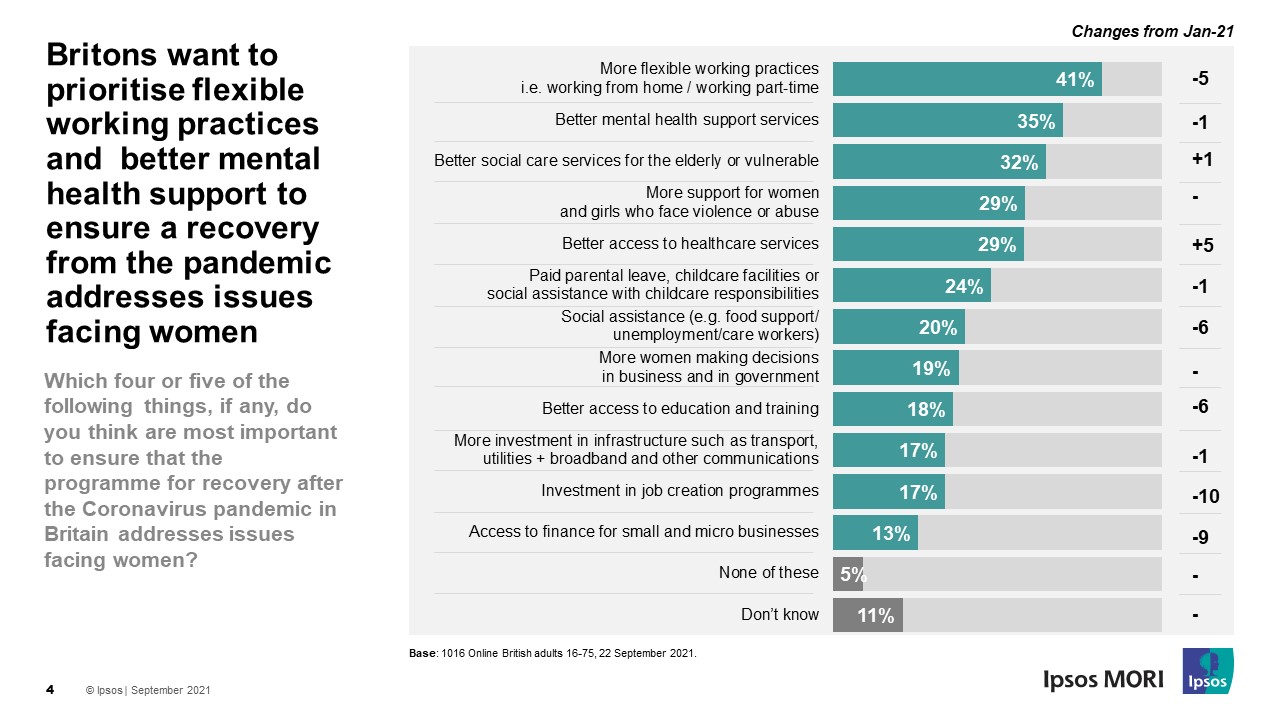 Britons also want to address the issues facing women in the recovery from COVID-19 by increasing support for women and girls facing violence and abuse (29%), improving access to healthcare services (28%), the provision of paid parental leave or childcare facilities (24%), or social assistance, e.g. food, cash, healthcare (20%) among other options.
Kelly Beaver, Managing Director of Public Affairs at Ipsos, said: 
This latest data shows the gap between the perception of how COVID has affected men and women vs the reality. While the majority of Britons believe that men and women will be impacted negatively as one another, we know that women have borne the brunt of additional caring work brought about by the pandemic as well as being more likely to be placed on furlough, an issue affecting younger women in particular. Today's release highlights the need to take a holistic view when it comes to gender equality as the Government seeks to build back better after COVID.
Technical note:
Ipsos interviewed a representative sample of 1,043 Britons aged 16-75. Interviews were conducted online on 22nd September 2021. Data are weighted to match the profile of the population. All polls are subject to a wide range of potential sources of error.
 
Download