Many Britons self-policing to save their Christmas from COVID as just over 4 in 10 say current measures aren't strict enough
With the threat of another lockdown looming, how are Britons adapting their behaviours to save Christmas from COVID?
As the Omicron variant continues to spread throughout the country, it seems as though most Britons are taking matters into their own hands and self-policing in order to avoid catching COVID before the festive weekend. Nine in 10 (89%) say they have already or plan to wear their face mask more while the same proportion are already or will start sanitising/washing their hands more regularly.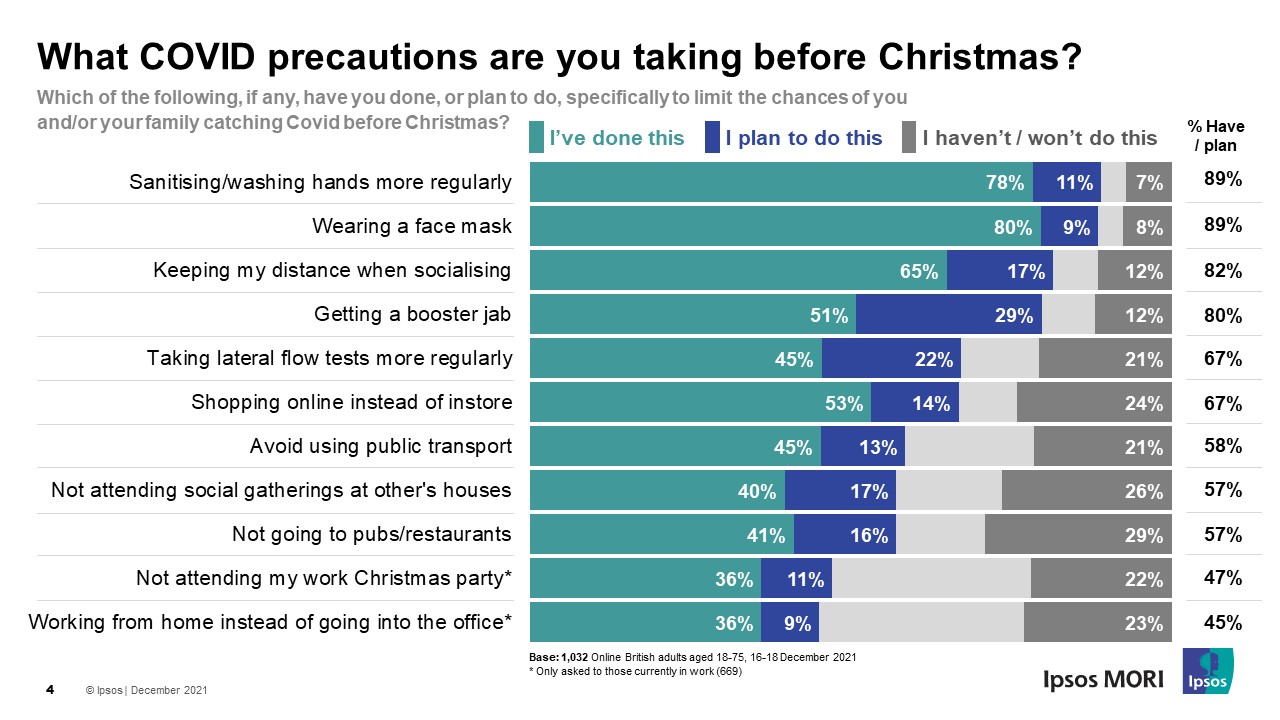 Eight in 10 (81%) are keeping or plan to keep their distance while socialising (such as not hugging or shaking hands with people), and a similar proportion have already or plan to have their booster jab (80%). 
Two-thirds say they have/will test themselves with lateral flow tests more regularly (67%) while the same proportion are shopping online rather than in store in order to avoid catching the virus. 
A majority of Britons are also taking matters into their own hands by avoiding public transport (58% have done so or plan to), not attending social gatherings in friends or family's houses and not going to pubs or restaurants (both 57%). Just under half, 45%, of workers say they are or are going to work from home instead of the office, while 47% that they have not/plan not to attend their work Christmas party. 
When asked to consider the restrictions currently in place to limit the spread of the coronavirus, just over four in ten say they are not strict enough (44%) while 36% say they are about right and another 16% that they are too strict.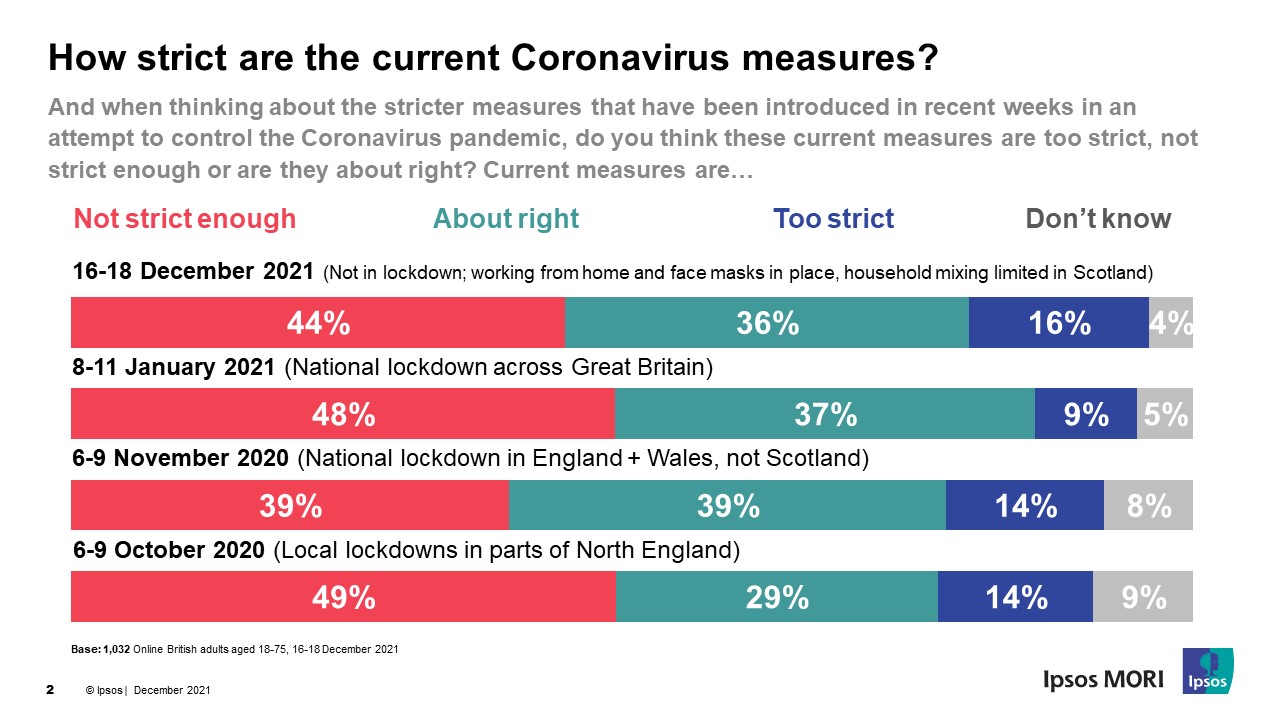 Half (52%) of older people aged 45-75 believe the restrictions are not strict enough, compared with 34% of under 35s.  There is little difference by 2019 vote: 44% of Conservatives and 48% of Labour voters believe the current measures are not strict enough. 
Attitudes towards restrictions have only moved slightly from January 2021, when 48% felt measures were not strict enough while the proportion of Britons who feel restrictions are too strict has risen from 9% in January to 16% now (37% then felt they were about right, the same as now). 
A third of Britons (34%) think we will have to wait until July 2022 or after for life to return to "normal" while a further fifth (22%) think it will be never. Only 13% think life will be back to normal in three months' time (March 2022), and another 18% that we will be by June 2022.
Gideon Skinner, Head of Political Research at Ipsos, said:
As the debate continues on the best approach to deal with the rapid spread of the Omicron variant, Britons themselves say they are taking steps to avoid a COVID Christmas, such as wearing masks, washing hands and keeping their distance when socialising – and many are planning to get a booster jab if they haven't already got one.  Around four in ten say they have avoided social gatherings at others' houses or going to pubs and restaurants, and another one in six say they plan to do so.  
Few expect there to be a quick return to normality, and on the restrictions themselves as throughout the pandemic most people think they are about right or not strict enough – only a small minority (although a slightly increasing one) think they are too strict.  But views are split – not quite half think the restrictions are not strict enough, and there is a clear age divide, with older people more in favour of tighter restrictions than the young.
Technical note
Ipsos interviewed a representative sample of 1,032 British adults aged 18-75. Interviews were conducted online between 16-18 December 2021. Data are weighted to match the profile of the population. All polls are subject to a wide range of potential sources of error.
Download