Motivation for NHS seven-day services misunderstood by many
Our new poll shows that many misunderstand motivation behind NHS seven-day services.
The message about why NHS seven-day services are needed is not clear to the public, a new survey by Ipsos released today suggests. Most people think seven-day services are being implemented for reasons of convenience rather than improving weekend mortality rates.
While the new data shows that provision of seven-day services – part of planned NHS reforms announced by the Health Secretary, Jeremy  Hunt - is important to the public, many misunderstand the primary problems that the policy is designed to solve.
The survey shows a quarter of adults in England (25%) believe some services not being available at the weekend is one of the biggest problems facing the NHS. While this concern is fairly widespread it comes lower than a list of other concerns, which is topped by 'Long waiting times' (44%), 'A lack of resource generally' (43%) and an ageing population (36%). 'Some services being worse on some days than others' was only seen as an important issue by 15% of the population, despite this being the primary problem that a seven-day health service is designed to solve.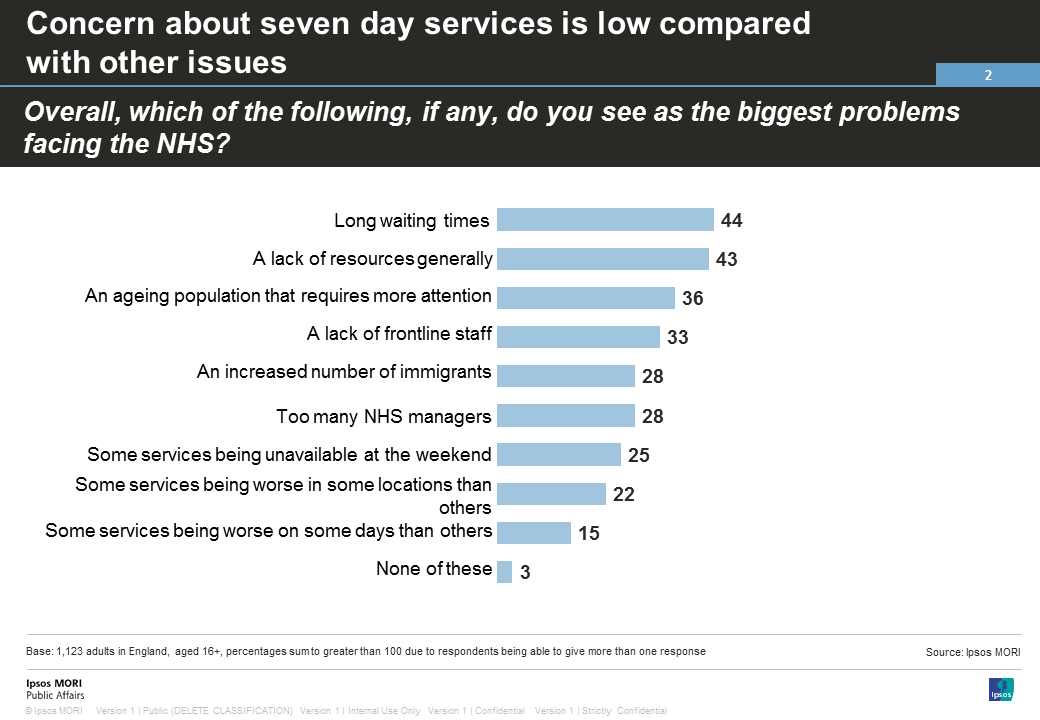 Nearly four in five (79%) adults in England think the NHS should provide the same standard of service to patients at the weekend as during the week. Over half (54%) strongly agree with this. One in ten (11%) disagree that the NHS should provide the same standard of services at the weekend.
When asked to spontaneously name reasons why seven-day services might be needed, nearly six in ten (59%) mention reasons relating to convenience, while four in ten (43%) think that the purpose of seven day services is related to quality. Three in ten (31%) gave reasons that did not relate to either convenience or quality.
Within the categories of convenience, quality and other reasons were other spontaneously mentioned responses:
Anna Quigley, Head of Health Research at Ipsos, said:
"While a seven-day health service is generally something that the public would welcome, it's not clear they yet grasp the main motivation for doing so. The public are in favour of weekend services that match week-day ones, but at the moment their main interest is in convenience rather than safety."
Notes to editors: Ipsos interviewed a representative sample of 1,123 adults in England, aged 16+. Interviews were conducted face-to-face between 14 and 23 August 2015. Data are weighted to match the profile of the population.