No grasses here! Just 3 in 10 Britons say they would report neighbours breaking a hosepipe ban
Most hosepipe users say they would comply with a ban while many think a ban should cover washing, watering lawns and filling pools – but not watering homegrown produce or cooling down pets
As more parts of the country are given hosepipe bans by their water providers, new research by Ipsos shows three in ten Britons (31%) say they are likely to grass-up their neighbours by informing local authorities or water providers if they spotted a neighbour or someone in their local area breaking the ban. Around half (49%) say they would be unlikely to do so.
Britons are just as unlikely to confront their neighbours personally, 30% say they are likely to confront them in person, while half say they are unlikely to do so (51%).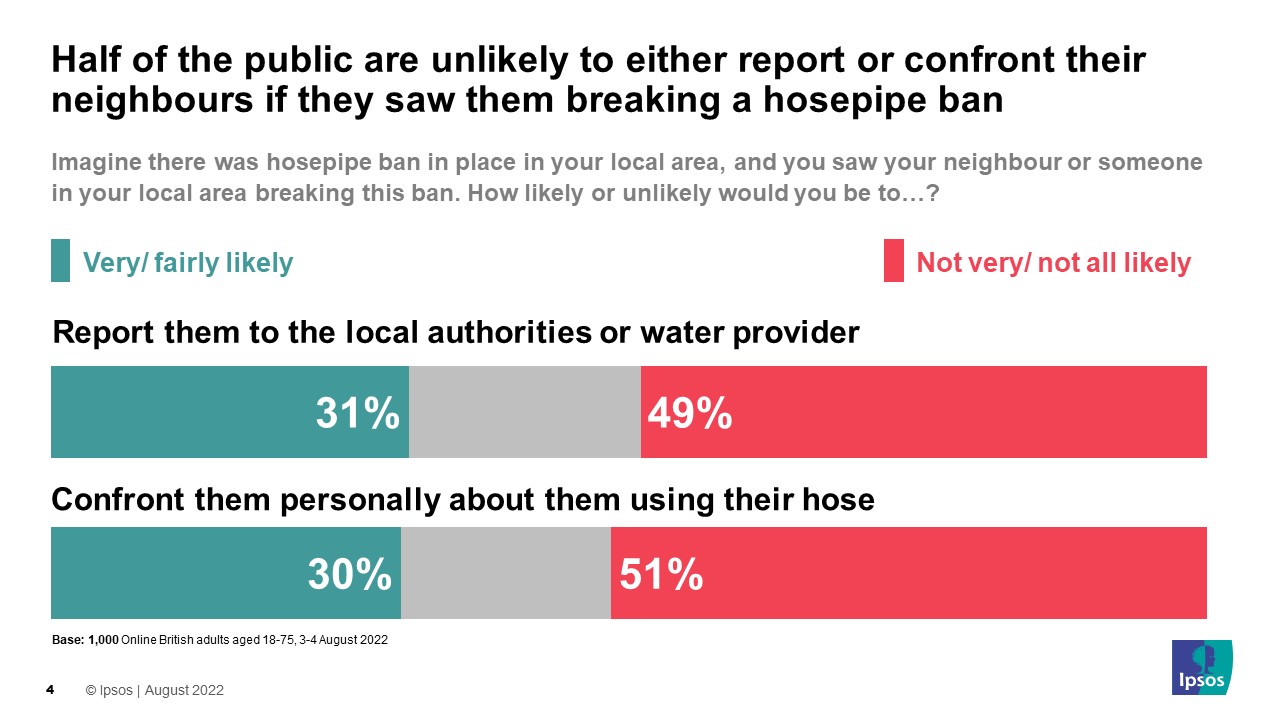 Most Britons who use a hosepipe in summer months when there is not a ban (78% of the general public) say   they would comply with any potential ban. Six in 10 hosepipe users (58%) say they are unlikely to use their hosepipe should their local area be given a ban, while around a third (32%) say they are likely to do so. However, opinion is split when it comes to expectations for others. Four in 10 (40%) believe most people in their local area would be likely to use their hosepipe despite a ban, but the same proportion (39%) expect them to comply with the ban. 
Considering any hosepipe ban itself, many believe watering home-grown vegetables, fruits and herbs should not be included (60%), while just over a third (36%) believe that this should be covered by a ban. Half (52%) say watering plants, tree and shrubs in general should be included in any ban, while three in four (73%) say the same for watering a lawn/using a sprinkler. 
While using a hosepipe to wash your car (74%) or fences/patios/decking (79%) should be included in any ban according to many Britons, the public believes that washing or cooling down a pet should be allowed (61% say it this not be covered by a ban while 31% disagree). 
Few believe filling a pool/paddling pool/hot tub is acceptable during a hosepipe ban, as 73% say these activities should be included in any ban. Similarly, 64% say people should not be allowed to fill a pond or water feature while a hosepipe ban is in place. 
Thinking about other advice which might be suggested in response to a potential drought the majority say they already do or would be likely to turn the tap off while brushing their teeth (52% already do this, 36% likely to follow this advice if it was suggested), take shorter showers (33% already do, 49% likely to if it was advised), wash clothes less frequently (22%, 43%), use a water butt to collect any rainwater (25%, 39%), and avoid flushing the toilet after every use (25%, 37%).  However, 1 in 5 or more said they would be unlikely to follow potential advice to share bathwater with other household members (33% unlikely), avoid flushing the toilet after every use (28%), wash clothes less frequently (23%), reuse bathwater for other purposes (22%) or stop using a dishwasher (21%).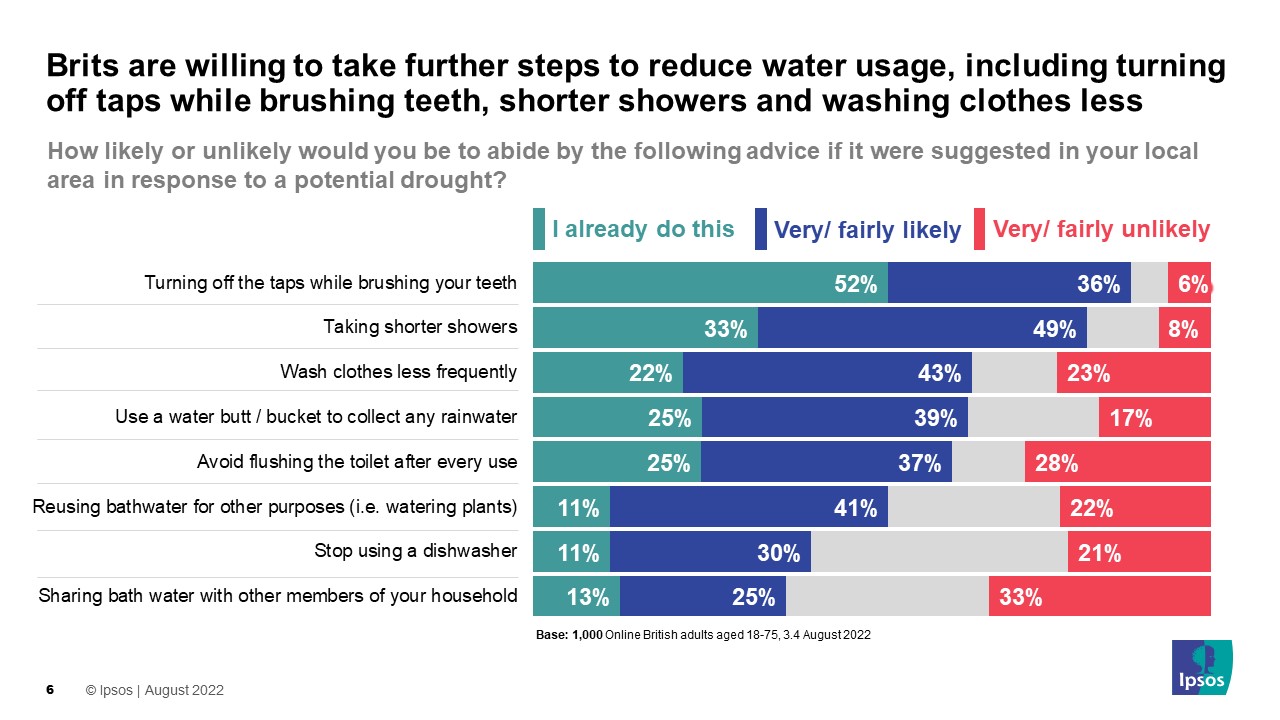 Gideon Skinner, Head of Political Research at Ipsos UK, said:
Most British hosepipe users say they themselves would follow a hosepipe ban, although they are less convinced all their neighbours will do so – but still only a minority would inform on rule breakers anyway.  Britons also think that some activities should be excused from any ban – specifically watering home grown produce and cooling down pets, although using a hosepipe for washing, watering lawns and filling paddling pools are definite no-nos. 
After the recent record temperatures public concern about climate change is at high levels, so Britons are also prepared to play their part in other ways to ease the pressure of the dry weather – from taking shorter showers to avoiding flushing the toilet after every use.
Technical note
Ipsos interviewed a representative quota sample of 1,000 adults aged 18-75 in Great Britain. Interviews took place on the online Omnibus on 3rd-4th August 2022. Data has been weighted to the known offline population proportions. All polls are subject to a wide range of potential sources of error.
 
Download