Only 1 in 5 think Boris Johnson is handling the situation between Russia and Ukraine well, but few think Keir Starmer would do a better job
Opinion is split as to whether Boris Johnson or Keir Starmer would do a better job at handling the situation in Ukraine while Britons are most likely to say neither
As talks continue to try and stop Russia invading Ukraine, new research by Ipsos shows 1 in 5 Britons think Boris Johnson has done a good job of handling the ongoing situation (19%) while 2 in 5 (41%) think he's done a bad job. 
In comparison, a quarter (23%) say the UK Government has so far handled the situation well while a third (33%) say they have done a bad job. Thinking about how well President Job Biden has responded, 19% think he has done a good job while 3 in 10 (29%) disagree. 
Despite an overall negative view of Boris Johnson's response to the situation in Ukraine, few believe the leader of the opposition would do a better job. One in 5 (22%) say Keir Starmer would do a better job than the current PM in responding to the situation between Ukraine and Russia, the same proportion say Boris Johnson would so a better job than the leader of the opposition. Among their own supporters, Boris Johnson receives more support. Half of 2019 Conservative voters say Johnson would do a better job while 42% of Labour voters say Starmer would do better.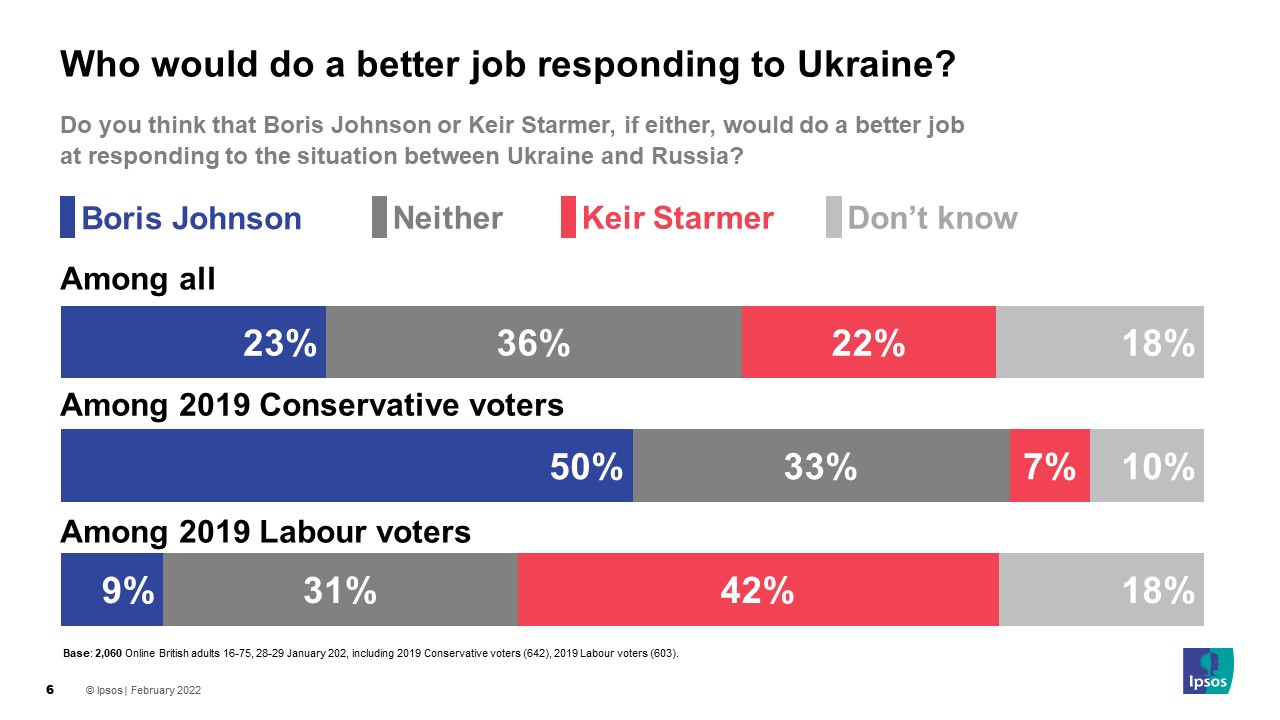 Considering what actions Britain should take should Russia invade Ukraine, Britons are most in favour of diplomatic and economic sanctions (40%) while around a third (36%) support humanitarian interventions, such as supporting any Ukrainian refugees. Less than 1 in 5 (17%) would be in favour of military intervention while 21% say Britain should not intervene at all.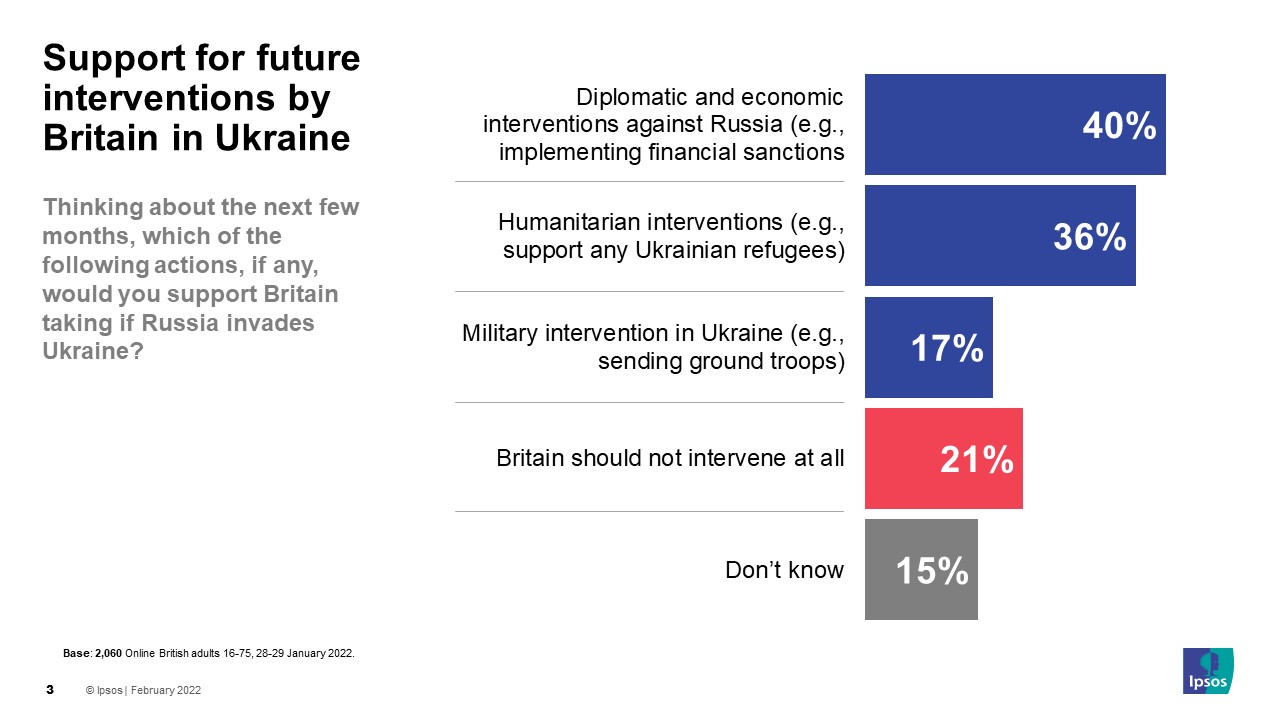 When thinking about the role played by the British military around the world, a third (33%) of Britons say the British Armed Forces should intervene abroad only when British interests are directly threatened. A similar proportion (30%) say intervention should only take place when other people's rights and freedoms are threatened. One in 5 (22%) say British Armed Forces should not intervene abroad and only be used to defend British territory. 
Keiran Pedley, Research Director at Ipsos in the UK, says:
The public are twice as likely to think Prime Minister Boris Johnson is doing a bad job handling the situation in the Ukraine rather than a good one, which reflects his deteriorating poll ratings of late. However, when asked to choose who would handle the situation better, roughly equal numbers choose Starmer and Johnson, with more than half saying neither or don't know. in terms of the government's response, there is support for diplomatic and humanitarian efforts but little appetite for a potential military confrontation with Russia. Some one in five think Britain should not intervene at all.
Technical note:
Ipsos in the UK interviewed a representative sample of 2,060 British adults aged 16-75. Interviews were conducted online between 28-29 January 2022. Data are weighted to match the profile of the population. All polls are subject to a wide range of potential sources of error.