Public see Rachel Reeves as more capable Chancellor than Jeremy Hunt
Ahead of the Autumn Statement, first lead for a Labour Shadow Chancellor since June 2013
7 in 10 think economy will worsen in next 12 months
The latest Ipsos Political Monitor, taken 9-16 November (before the Autumn Statement) shows Shadow Chancellor Rachel Reeves preferred as Chancellor to the Conservatives' Jeremy Hunt as high levels of economic pessimism persist and Labour retains a healthy poll lead over the Conservatives.
Reeves vs Hunt
When asked who would make the most capable Chancellor, 35% opted for Labour Shadow Chancellor Rachel Reeves and 29% for the current Conservative Chancellor Jeremy Hunt.
This is the first time a Labour Shadow Chancellor has led since June 2013 when Ed Balls led George Osborne by 38% to 35% (though note this question was not asked during Kwasi Kwarteng's short period in office).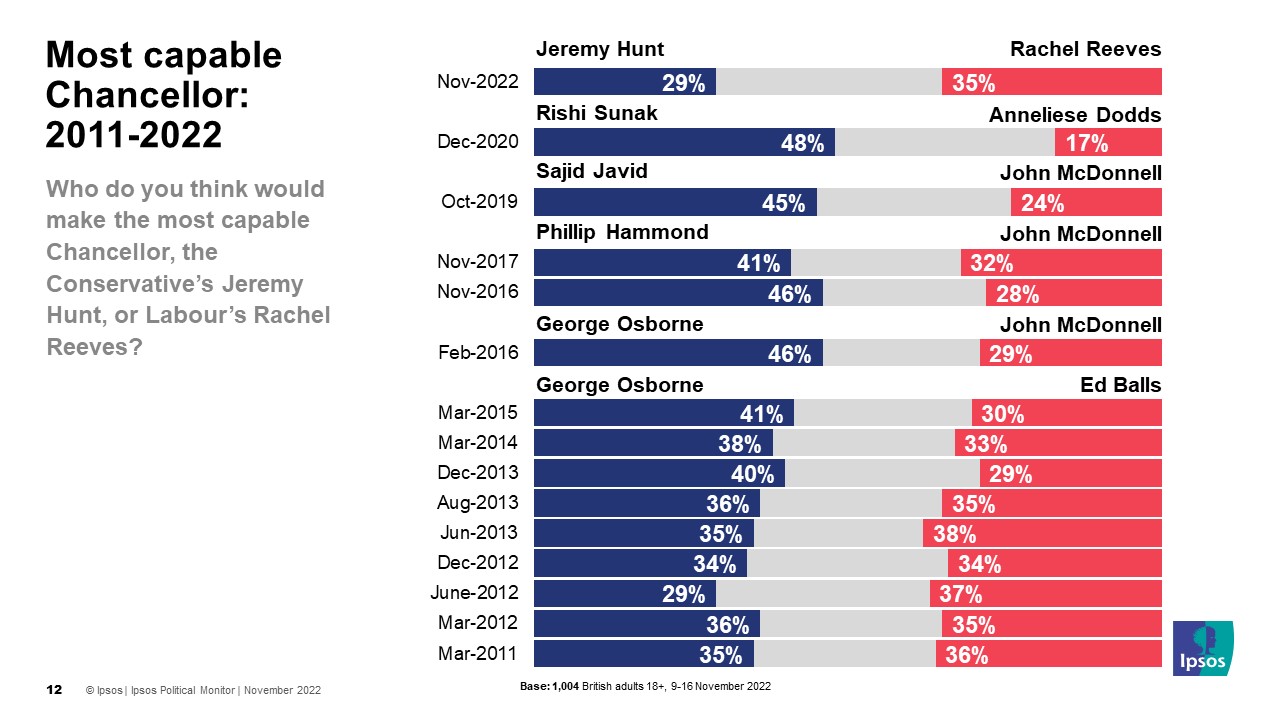 Mr Hunt's individual satisfaction ratings are though stronger than his predecessor Kwasi Kwarteng received after his controversial mini-budget . 29% are satisfied with the job Mr Hunt is doing as Chancellor and 40% are dissatisfied. In October, 12% were satisfied with the job Mr Kwarteng was doing and 65% dissatisfied. Among Conservative supporters, 60% are satisfied with Mr Hunt.
Nevertheless, apart from his immediate predecessor the current Chancellor's satisfaction ratings are the lowest since Philip Hammond in November 2018.
The economy
Economic optimism remains low, with 72% expecting the economy to get worse over the next year, 16 per cent saying it will improve, giving an Ipsos Economic Optimism Index score of -56, showing very little change from last month. Economic optimism ratings this year have consistently been some of the lowest since the 2008 financial crash.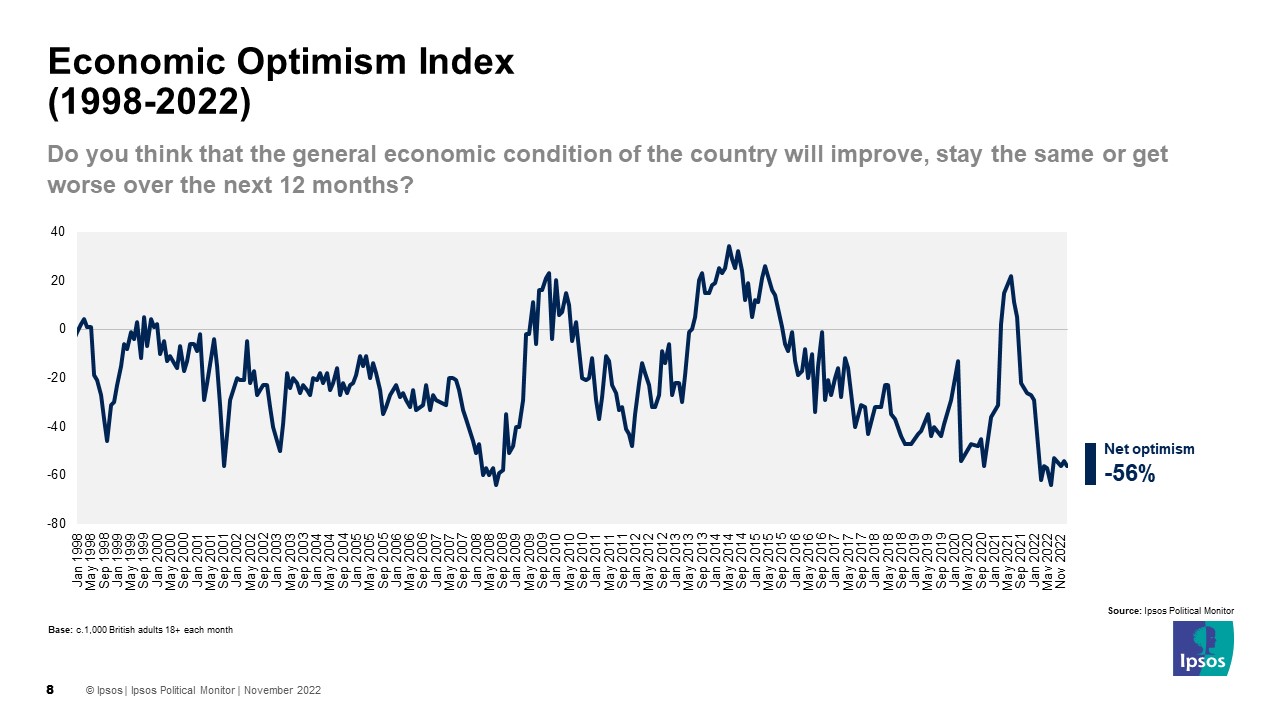 Voting intention
Meanwhile, in terms of voter preferences, Labour retains a 21-point lead, similar to last month:
Labour 50% (+3 on October)
Conservatives 29% (+3)
Lib Dems 7% (-3)
Greens 3% (-5)
Others 10% (+1)
Gideon Skinner, Head of Political Research at Ipsos UK, says of the findings:
Jeremy Hunt will be hoping his Autumn Statement can turn around public confidence in the economy and in the Conservatives' stewardship of it, because both are starting in a pretty precarious position. He stood up in Parliament yesterday against a backdrop of public economic pessimism as entrenched as it had been during the 2008 crisis, despite the new occupants in Nos. 10 and 11. Mr Hunt said "Conservatives win elections when they are trusted on the economy", but this means he will also need to overcome the legacy that has left his party behind Labour on having the most capable Chancellor for the first time since 2013.
Technical note
Ipsos interviewed a representative sample of 1,004 adults aged 18+ across Great Britain. Interviews were conducted by telephone: 9th to 16th November 2022. Data are weighted to match the profile of the population. All polls are subject to a wide range of potential sources of error. On the basis of the historical record of the polls at recent general elections, there is a 9 in 10 chance that the true value of a party's support lies within 4 points of the estimates provided by this poll, and a 2 in 3 chance that they lie within 2 points. This is especially important to keep in mind when calculating party lead figures.