Sustainable Fashion and Textile Policy: Aligning Public Opinion with Industry Actions for a Greener Future
A while ago, WRAP released a report on textile policy options accompanied by a cost-benefit analysis, providing detailed insights into measures that can be taken towards a more sustainable future. Recent Ipsos data has highlighted the level of public concern regarding the environmental impact of the textile industry, reinforcing the significance of WRAP's report and the need for action towards a more sustainable future.
A while ago, WRAP released a report on textile policy options accompanied by a cost-benefit analysis, providing detailed insights into measures that can be taken towards a more sustainable future.
The report emphasises the need to shift towards a circular economy, where materials are kept in use for longer, products are refurbished, and waste is minimised. It presents an array of policy options, including product design and material selection, circular economy measures, and regulatory interventions. One of its crucial takeaways is the importance of product design and material selection. By promoting the use of sustainable materials and encouraging design for durability and repair, the environmental impact of textiles and clothing can be reduced, while providing consumers with products that last longer. 
Overall, the WRAP report highlights the need for collaboration across the industry to achieve a more sustainable and circular textile economy. By implementing a combination of measures and working together between designers, manufacturers, retailers, and policymakers, it is possible to create a better future for the fashion industry.
But how does the public feel about the importance of sustainable fashion?
A recent Ipsos Synthesio report has revealed that online consumers in the UK, US, and France have taken to social media to express concern over the entire fashion industry's impact on the environment, from textile waste to pollution and CO2 emissions. Online conversations about fast fashion have increased by 52% between 2020 and 2022 – and negative sentiment related to the topic has steadily risen. Cheap, trendy clothing is under the microscope in social media conversations, not only because of its impact on the environment, but because of fast fashion brands' treatment of workers.
Sustainable brands, alternatives, and shopping behaviours are top of mind for social media users. Between 2020 and 2022, sustainable fashion comprised 37.6% of fashion-related conversations in the three countries, while upcycling contributed 16.9%. In 2022 alone, the volume of sustainable fashion mentions increased by an average of 13%, with the greatest increase in the UK (16%).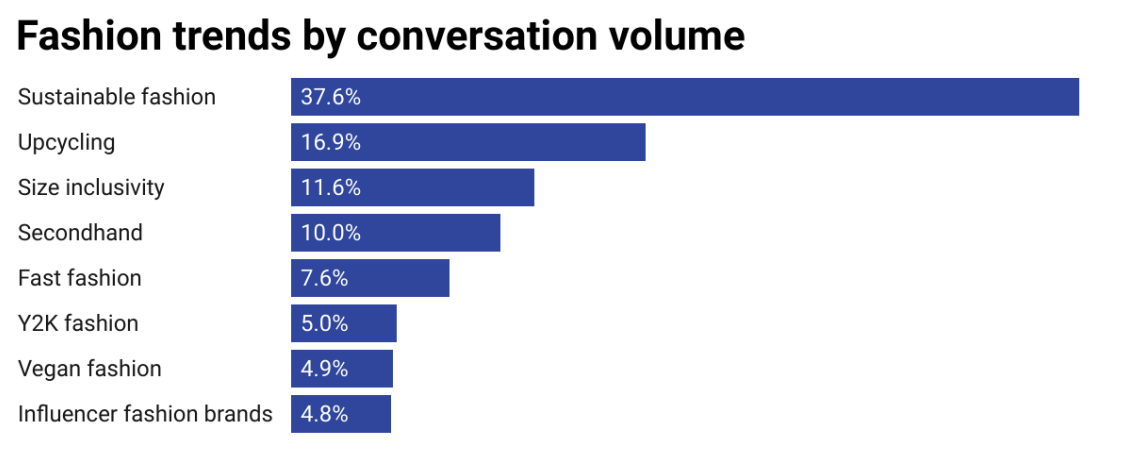 What this means for policy
There are several measures which can favour a textile circular economy. Initiatives such as textile recycling, product reuse, and extended producer responsibility (EPR) schemes can help keep materials in use for longer and reduce waste. 
Many actors from across the textiles sector are committed to reducing their environmental impact. Textiles 2030 is a voluntary initiative led by WRAP which seeks to engage UK fashion and textile organisations in joint climate action. So far seventeen businesses, making up more than half of UK clothing and textile sales, have signed the agreement, committing themselves to reduce their carbon impact by 50% and water impact by 30%. The initiative also provides a 'Roadmap to 2030' which guides signatories on how they can achieve these ambitious targets. While the initiative does not yet include targets around textile waste, it aims to develop a target around reducing the amount of virgin textiles use by 2025. Signatories to the agreement include the UK Department for Environment, Food and Rural Affairs (Defra), as well as a number of brands and retailers and reuse and recycling organisations. 
Within the retail sector, these commitments are turning into action. For example, the number of in-store and online clothing and textile take back schemes, as well as bring banks, have increased since 20191.  These actions support the move towards a more circular economy by helping to extend the useful life of textile products and increase reuse and recycling. However, there are currently some limitations to such schemes implemented by retailers. Firstly, uptake of retailer takeback schemes by the public is low, with only 2% of people choosing this method to donate their unwanted clothing2.  Additionally, in a consumer survey by WRAP, 15% of respondents who had disposed of an item via a retailer take-back scheme in their last big clear out stated that they always bought new clothing at the time of dropping off their unwanted clothing items, and a further 20% stated that they often did so3. This suggests that such schemes may inadvertently encourage further textile consumption.
In addition to the ambitious targets and commitments pledged through Textiles 2030 (and conscious of the fact that currently there are some limitations to current voluntary action taken under such initiatives by retailers), the government is taking action to reduce the waste carbon footprint of the textiles sector.
The government's Resources and Waste Strategy identifies textiles as a key area of policy priority. Whilst the nature and details of a textiles policy are not yet fully established, the government are considering options including an Extended Producer Responsibility (EPR) scheme. 
---
An EPR scheme places responsibility for the environmental impact of a product on producers by ensuring that they pay the full costs of the goods they produce, even at the post-consumer stage of a product life cycle. In the textiles sector, this will help to boost circularity and reduce its environmental footprint.
---
The government are also considering actions such as eco-design and consumer information. 
Defra has contacted Ipsos to evaluate the impact of this policy as part of a wider evaluation of twelve different policies within the Strategy, such as a Deposit Return Scheme (DRS). The DRS adds a deposit to the price of products sold in drinks containers which can then be redeemed when the container is returned to a return point. The evaluation includes a process evaluation of the twelve policies as well as impact and economic evaluations of the overall Strategy. More information about this research can be found on the DEFRA website.
Olivia Brajterman, Associate Director of the Energy and Environment team at Ipsos and Manager of the Evaluation of the Resources and Waste Strategy, says:
The resources and waste crisis is as deep and complex as the climate crisis. It requires action from all parts of the society and calls for deep changes in behaviours and business practices. The Resource and Waste Strategy has the potential to provide a clear market signal to society and markets, but reliable evidence and interpretation are required to ensure that the Strategy is going in the right direction. We are excited to be the chosen suppliers to do just that: provide the government with insights that will inform better resource and waste policy delivery.
---