Vaccine confidence grows month-on-month in latest Ipsos KnowledgePanel poll
Latest findings from Ipsos UK KnowledgePanel shows a large increase in willingness to take a COVID-19 vaccine among all groups, including those who have been more hesitant.
The proportion of adults who say they would not be likely to take a vaccine has more than halved in the four months from December 2020 to March 2021 – from 14%-6%. The survey of over 8,000 adults in the UK (including 3,522 who have taken part in every round) shows that in addition to the 60% who report having at least one dose of the vaccine, a further 34% say they would now either definitely or probably take the vaccine when offered. 
The pace of change in attitudes towards COVID-vaccine take up is evident in longitudinal tracking conducted as part of the KnowledgePanel study. Between January and March, 53% of adults shifted to a more positive view – either already receiving a jab or reporting that they are now more likely to do so.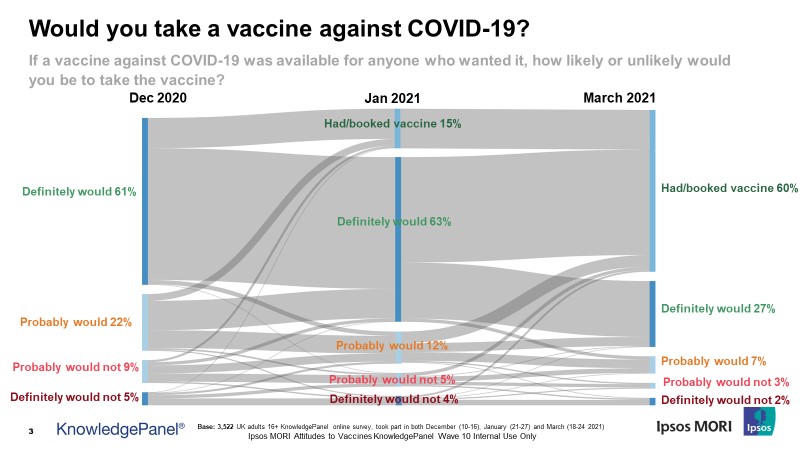 As part of our longitudinal tracking, the survey asked those who have changed their mind between December 2020 and March 2021 why they now had a more positive view. The four most common reasons were: i) expectation that evidence of vaccine will be required for travel and other leisure activities; ii) safety of the vaccine proved through experience of friends and family; iii) greater understanding and evidence that it will be effective in helping reduce rates of COVID-19; iv) encouragement and pressure from friends, family and colleagues. 
More than a quarter (27%) of adults who haven't yet received the vaccine say they need more information on the vaccine before making a decision on whether to get it.  The top area of information needed by those most hesitant to get the vaccine was more information about the long-term side effects of taking the vaccine. Other common requests for more information related to greater clarity on the impact on transmission rates, and on the value to society for those least at risk of severe illness. 
Willingness to take a vaccine is not universal, but the gaps in vaccine acceptance are closing among all groups who are typically more hesitant. The most dramatic improvement is among ethnic minority Britons. Though many fewer have already had the vaccine compared to white Britons, the overall proportion of ethnic minority Britons who have either had or are likely to have the vaccine has jumped from 77% in January to 92% in March 2021. Further progress has also been made among young adults (up 6 percentage points from 83% -86%) and adults from the most deprived areas in the UK (up 8 percentage points from 81%-89%).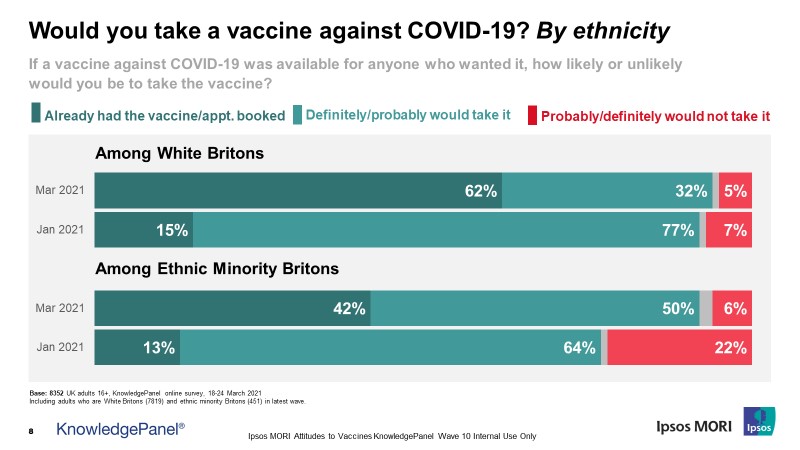 Though key differences remain between groups in society, the findings show that the successful delivery of the vaccine rollout has had a major impact on attitudes towards COVID-19 vaccines.  Overall, the proportion who agree that the vaccine will be distributed fairly has increased from 77%-87% between January and March; and the proportion who are unsure whether the vaccine will be effective has fallen from 62% to 46%.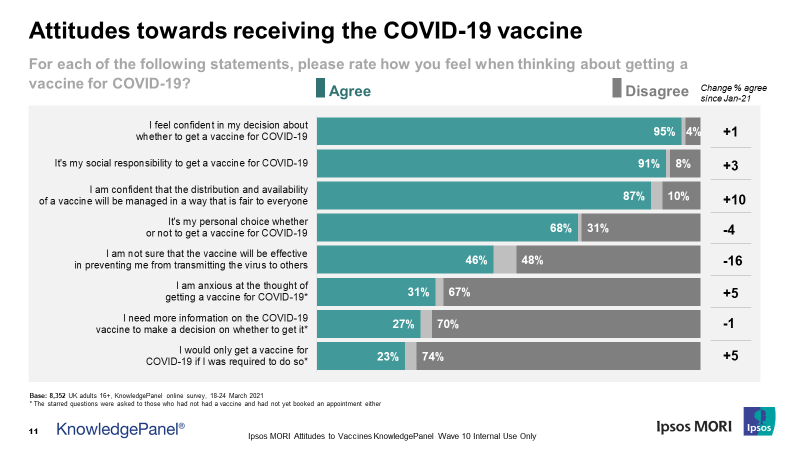 Kelly Beaver, Managing Director of Ipsos said:
It is extraordinarily encouraging to see the steady progress being made with vaccine confidence across the UK. The increase in vaccine confidence among ethnic minority Brits is a particularly welcome sign given the disproportionate impact that COVID has had on ethnic minority communities.
Technical note:
This data has been collected by Ipsos's UK KnowledgePanel, a random probability panel which provides gold standard insights into the UK population, by providing bigger samples sizes via the most rigorous research methods
Ipsos interviewed a representative sample of 8,352 people over 16 in the UK. Interviews were conducted online from 18 to 24 March 2021.  
Data are weighted to match the profile of the population. All polls are subject to a wide range of potential sources of error.