What makes us proud to be British?
What are the best and worst characteristics of British people?
A new Ipsos poll finds the NHS remains top of the list of reasons to be proud to be British, despite losing some of the boost it received in April 2022, after Britons' experiences of the Covid-19 pandemic.  Over half (55%) of British citizens say that the NHS is what makes them proud to be British, down seven percentage points since April, but still slightly above the 50% in 2016.  A third (33%) also state British history as what makes them proud (particularly the middle-aged and older people, Conservative and Leave voters), followed by the Royal Family (28%) and the armed forces (24%).   These are followed by our culture (21%) and our system of democracy (20%).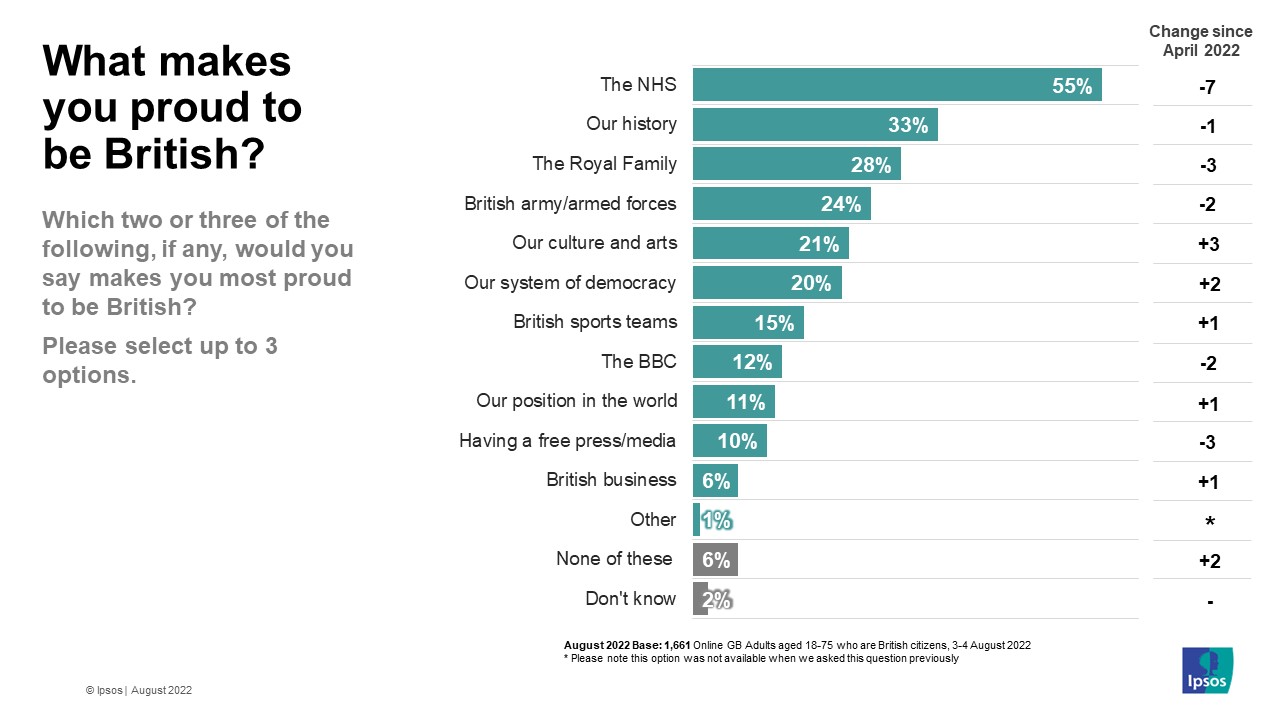 Humour remains the Brits' greatest characteristic – we think
When it comes our self-perceptions as British people it is our sense of humour which stands the test of time, with 47% of British citizens selecting it as one of our best attributes, the same as in 2016.  Four in ten (38%) also identify our good manners as one of our best characteristics, and a growing number also think we are a friendly nation, up eight percentage points to 33% (25% in 2016).  A quarter of Britons think that our hardworking attitude (26%), tolerance to other sections of society (25%) and our patriotism (24%) are the best attributes of the British.  Whilst 18% say one of the best characteristics is that we are law abiding and 13% say we keep to ourselves. 
Ignorance and drinking top the list of worst attributes
On the flip side, 41% of British citizens say one of our worst characteristics as a nation is our ignorance of other cultures, little changed from 37% in 2016.  Our drinking culture is also seen to be one of our biggest negative attributes, with 35% citing this as an issue, though this is down seven percentage points – and more likely to be mentioned as a negative by older than younger people (39% of 35-75s, vs 24% of 18-34s, while younger people are more likely to mention ignorance of other cultures, at 49%).  Meanwhile, according to 29% of Brits, we continue in the footsteps of Victor Meldrew by complaining too much, whilst a quarter (24%) said one of our worst attributes was our intolerance towards other sections of society is one of our negative characteristics (the same proportion as those who think tolerance is one of our best attributes).  
Gideon Skinner, Head of Political Research at Ipsos in the UK, said:
These trends show that the NHS remains top of the lists of reasons to be proud to be British and many remain proud of our history, despite a recent focus on our colonial past and the re-evaluation of how we portray our history. When we look at ourselves in the mirror, it is the British sense of humour that holds its place as our most treasured characteristic, but we are more embarrassed by our lack of knowledge of other cultures.  Meanwhile although our reputation for drinking too much may still be seen as one of our worst characteristics, it has fallen over the last 6 years – maybe partly a reflection of our changing culture and drinking habits among younger generations.
Technical note:
Ipsos interviewed a representative quota sample of 1,759 adults aged 18-75 in Great Britain. 1,661 respondents were British citizens. Interviews took place on the online Omnibus on 3rd-4th August 2022. Data has been weighted to the known offline population proportions. All polls are subject to a wide range of potential sources of error.