Electrification adoption will accelerate but self-driving acceptance may slow
The Covid-19 crisis has changed what people are looking for in a vehicle. That's partially because it's changed how they use their vehicles. Cars aren't just for commuting; the uses and purpose of the vehicle is evolving. We have seen numerous new activities created in response to the pandemic such as drive through take out, drive through stores, drive-in movies and drive through graduations and celebrations. The vehicle creates an area of protection and creates an outlet to explore and get out of the home, while still being protected.
New polling from the Ipsos Coronavirus Consumer Tracker shows that the perception of safety for vehicles is changing as it is about protection from the Covid-19 versus protection from accident. Consumers value features that will keep them safe such as an air filtration system, touchless doors and anti-bacterial resistant surfaces that create this safe haven.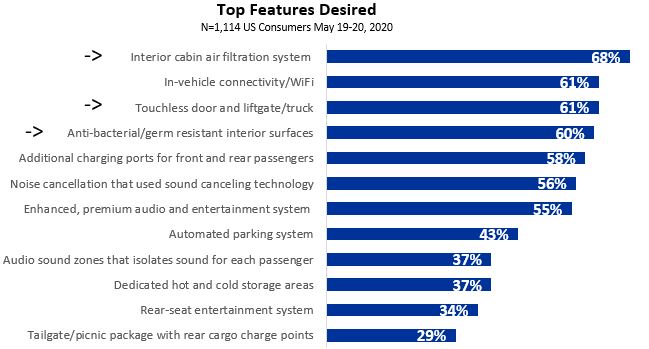 Beyond safety, people desire a fuel-efficient vehicle that can be flexible across the variety of uses they plan. From our recent polling, people are mostly positive on electric cars at 58% while 34% are negative. This trend of electric vehicle acceptance has been growing the last few years as the awareness of EVs grows, more competitive EV options become available, and with the build out of the charging infrastructure. This positive view is expanding beyond early adopters and now exists among non-car owners, younger generations, males and those living in urban areas.
This is interesting despite the weakness in gas prices in recent weeks during which gas prices dipped to their lowest price in the last 5 years. However, we are seeing those average gas prices increase a bit back to typical levels for the US. This is contributing to the preference for fuel efficient vehicle and is consistent with efficiency during past recessionary periods.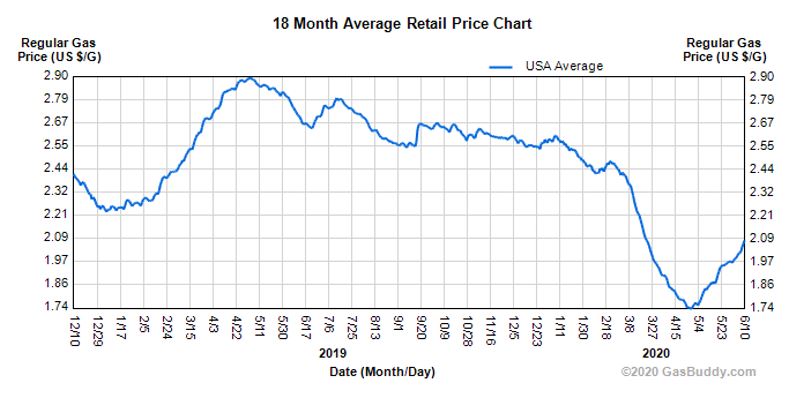 Consumers are not accepting of all new technology. They are more negative towards self-driving cars, where 37% of people say they are positive, but 52% are negative.
It appears the majority of people aren't ready for self-driving yet, with only Gen Y/Z indicating over a 50% positive impression versus the other key demographic groups.

The question is why? We have seen from other polling we have done from our Ipsos COVID-19 Impact on Auto study that people are interested in improving the efficiency of their vehicle including shifting their powertrain to be electric and going with slightly smaller multiple function vehicles such as Compact and Midsize SUVs and Crossovers. This is consistent with previous recession period preferences back in 2009.
However, vehicle owners desire to use the self-driving mode from time to time such as during commuting but not all the time, just 28% of the time on average US consumers would use the self-driving mode. The benefit of the technology isn't as strong as the improved efficiency that electrification can provide.

People appreciate the notion of driver assist features which helps improve the safety while driving, as we have seen the interest of Accident Avoidance is at 58% per our same 2019 Mobility Navigator study.
Between the two technologies we anticipate more of a delay in investment and support for self-driving than electrification. Electrification will continue to grow but self-driving will stall. 
Continued testing, development and education are needed for self-driving for broader adoption. The funding for this will be likely limited with the post COVID-19 impact. To help with broader acceptance is to educate clearly the difference of full self-driving versus enhanced driver assist features to help avoid accidents. People also need to be comfortable with the advancements of the self-driving technology. This can happen as drivers get further experience with the automated driver assist features.  
If more aspects of the drive are automated with visual confirmation, people can be reassured that the drive is safer and can get more comfortable with the vehicle doing more tasks for them. We anticipate post COVID-19, that there will be changes with people using more bikes, scooters and even walking. As a result, there will be more unexpected obstacles on the roads and pathways. Drivers will need to be alert and any additional assistance to minimize accidents will be welcomed to improve driver safety and avoid accidents.
These are issues we will study and address in our upcoming release of the syndicated 2020 Mobility Navigator next month.
John Kiser
Senior Vice President
U.S., Automotive & Mobility
Ipsos
+1 925 577 3743
[email protected]