High income households more likely to want business to reopen even if COVID-19 isn't contained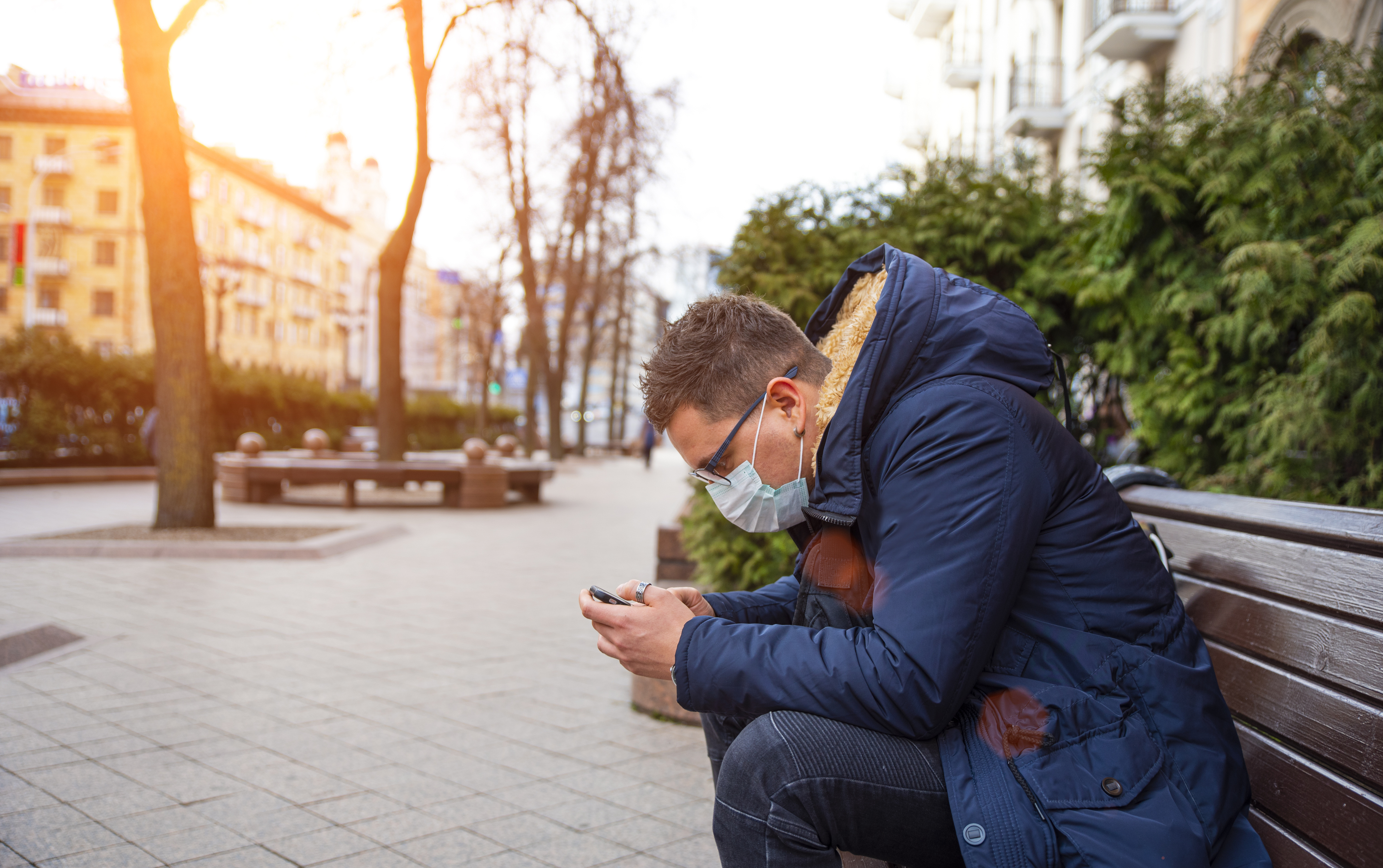 Whether or not to reopen the economy and to what extent is the debate that is top of mind for policymakers right now as some governments embark on this experiment despite evidence that the coronavirus pandemic is not fully under control.
Fears of a second wave of infections, an economic relapse, more deaths, and no vaccine add to the uncertainty of what life will be like after the initial lockdown is lifted.
Public opinion on this action is also divided, according to our latest survey , where a majority of respondents in eight out of 14 countries are against opening the economy and businesses if the virus is not fully contained.
But if you take a closer look at the data, people in high income households (42%) are most likely to want the economy and businesses to reopen despite the virus. That compares to just over a third (36%) of low-income households.
Majorities of high-income respondents in Russia (61%), China (59%), India and Italy (55%) and Germany (53%) agree with this.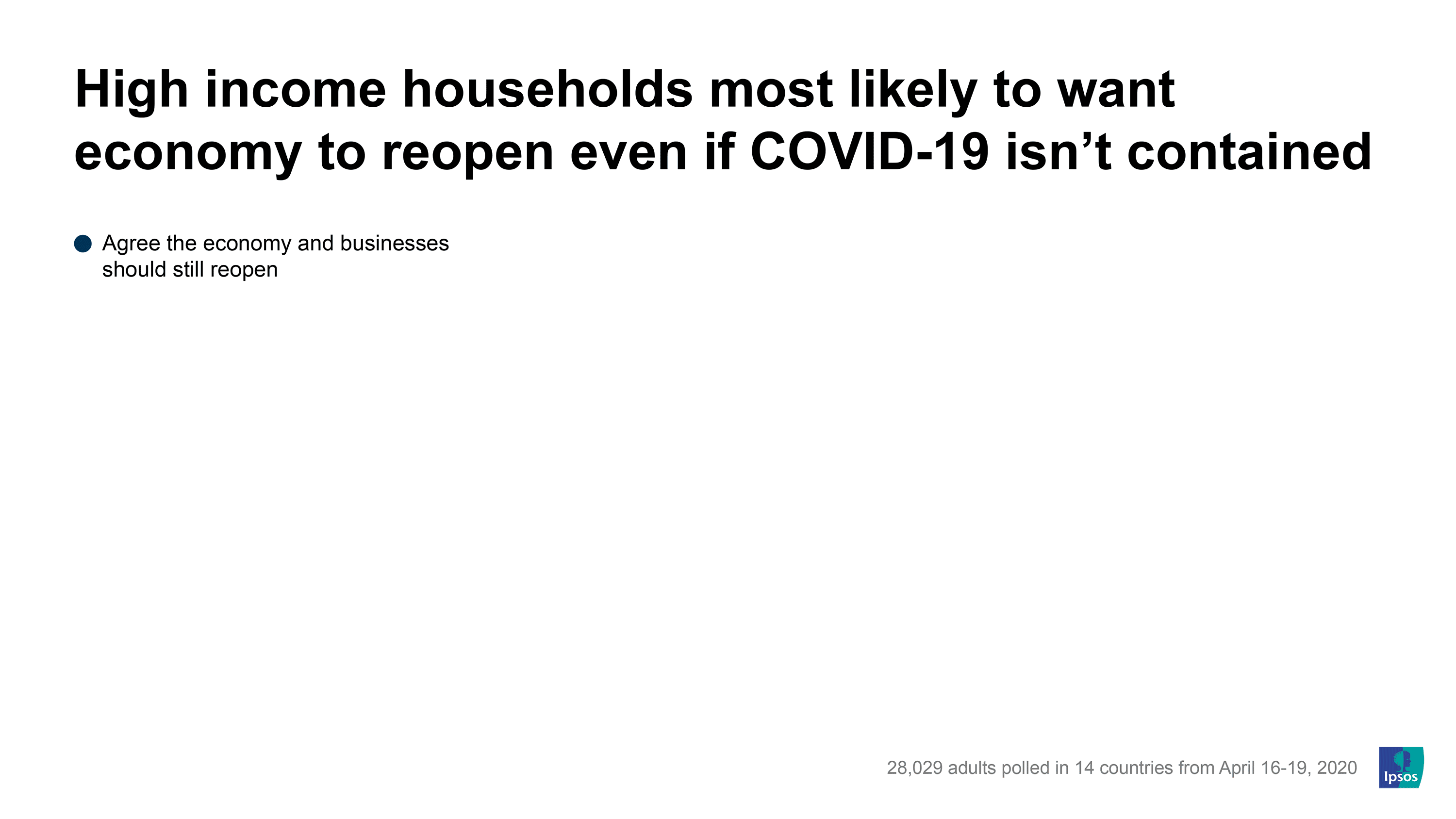 Economist Harry Holzer, Professor of Public Policy at Georgetown University in Washington, D.C., said while there isn't a substantial difference between the number of high- and low-income households that want the economy to reopen, there could be a combination of factors contributing to the high-income response.
"They own businesses that are hurting; they want their stocks to recover, or they have less to lose from a reopening ̶ as their health is not in danger from exposure to co-workers and ̶ or customers," said Holzer.
Richard Florida, Professor of Economic Analysis and Policy at the Rotman School of Management at the University of Toronto, agreed adding that higher income people have been able to socially distance or isolate and are not at as much under threat from the outbreak.
"They have information and can control their behavior. They can pick and choose where they want to go," said Prof. Florida.
Risk to COVID-19 vs. rewards of easing closures
Economists say low income people are most at risk given the jobs they do, where they live, and how they get to work including using public transit.
"The closure hurts the low-income folks the most ̶ unless unemployment insurance compensates them very well," said Holzer, a former chief economist at the U.S. Department of Labor.
Governments around the world have introduced a series of unemployment measures to support workers affected by the COVID-19 outbreak with higher payments for low income workers versus those with higher incomes. However, in Europe, some governments are paying up to 80% or more of the income of laid off workers.
Darrell Bricker, CEO of Ipsos Public Affairs, points out that the composition of the low-income group also matters – especially if it contains a disproportionate number of retirees on fixed income.
"Given that older people are most at risk and they also have reliable incomes, there is less incentive for them to want the economy to open up," said Bricker.
About 39% of the low-income respondents are between the ages of 45 and 74 – which is the highest among all age groups, but that is still lower than the medium (48%) to high income (47%) respondents that are aged 45 and older.
In terms of employment, 12% of the low-income respondents are retired, compared to 9% in the high-income group. However, there is also a substantial difference in the number of people that said they are employed full-time with almost two-thirds (64%) of high-income respondents qualifying for this, while only one in five (20%) of the low-income respondents hold this status.
"They [high income households] are probably concerned about their retirement accounts and investments as well as their incomes, and would like things to return to normal as soon as is feasible," said Prof. Florida.