Americans' mood connected to perceived quality of skin
Washington, DC, April 28, 2022 - A new Ipsos poll conducted on behalf of Bodewell finds many American adults experience some sort of skin ailment, and that their perception of their skin impacts their mood. Furthermore, on days when those with skin ailments are experiencing symptoms it impacts the decisions they make on everyday activities, like what to wear and where they go. The poll also finds that that a majority consider skin care products an essential purchase and budget for them accordingly.
Detailed Findings
1. Americans suffer from a variety of skin ailments, particularly in the winter months. For those that do, on days when they have symptoms it impacts the decisions they make on what to wear and where to go.
From a list of skin ailments ranging from dry or sensitive skin to specific conditions like eczema, just a third (32%) say they have not experienced some sort of skin condition.
Of those that report having been impacted by some kind of skin condition, a majority (52%) indicate winter is the worst season for their condition. Nearly three in ten (29%) report experiencing their skin condition throughout the year.

Those in the Mid-Atlantic, East North Central, and West North Central part of the country are more likely than those in the South Atlantic and Mountain regions to suffer during winter.
Those in the East South Central region are more likely to suffer during the summer than those in the East North Central, Mountain, or Pacific region.

When those that report having suffered from a skin condition are experiencing symptoms, nearly one in four (23%) indicate they wear clothing that covers up their skin more than usual. Nearly one in five (18%) report limiting the amount of time they are out in public.

Gen Z and millennial sufferers are more likely than Gen X and baby boomer sufferers to avoid socializing with family and friends, limit the amount of time they are in public, avoid personal care appointments, avoid exercise, and wear clothing that covers up their skin when experiencing symptoms.
Similarly, those that report having eczema or psoriasis are more likely than those with a broader skin ailment to wear clothing that covers up their skin and avoid socializing with family and friends, personal care appointments, and exercise when experiencing symptoms.
2. How Americans feel about the quality of their skin on a given day impacts their mood.
One in five (22%) indicate their skin prevents them from doing the things they enjoy in life.
More than half (55%) report feeling confident when their skin is at its best.
Conversely, more than four in ten (43%) report feeling self-conscious when their skin is at its worst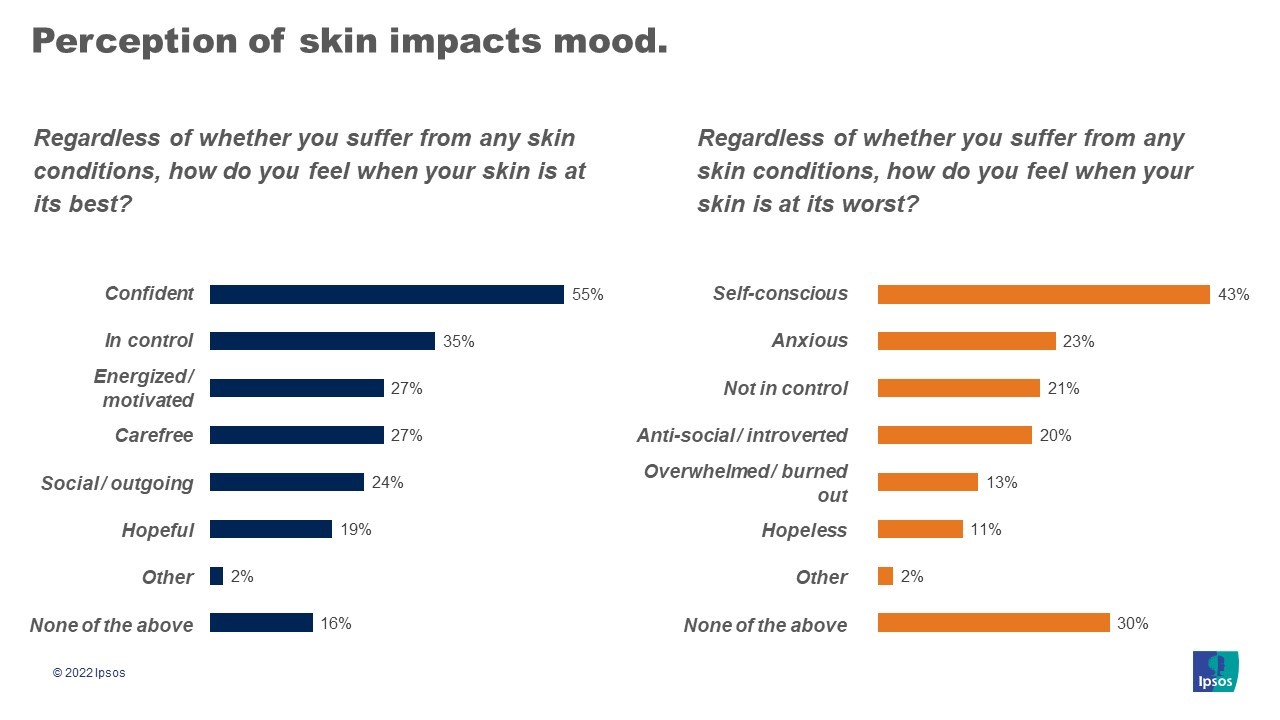 3. Many enjoy trying new skin care products and budget for them as an essential purchase.
Nearly six in ten enjoy trying new skin care products (58%) and consider them an essential purchase they budget for (58%). This is particularly true for women, millennials, and Black and Hispanic Americans.
Four in ten (40%) enjoy researching the latest skin care trends.

Here too, women enjoy researching more than men (45% vs. 35%); Gen Z (56%) and millennials (55%) more than Gen X (42%) and Baby Boomers and older generations (22%); Black (55%) and Hispanic (56%) Americans more than white (33%) ones.

Most want a skin care product that is effective (61%). One that is a good value (39%), gentle (31%) and has no harsh chemicals (29%) is of secondary importance.
4. A majority of Americans consider representation in advertising an important element when deciding what skin care brand to buy but are divided on whether people with skin conditions are accurately portrayed in advertising.
Six in ten (60%) indicate it is important that a skin care brand's advertising shows diversity of skin types/condition.
Just over half (51%) say it is important that a brand's advertising shows a diversity of skin tones.
A majority (56%) of Americans also indicate it is important that a skin care company shares their values.
Diversity in advertising and shared company values are more important to women, Gen Z and millennials, and Black and Hispanic Americans.
Roughly half (53%) agree people with skin conditions are accurately portrayed in media/advertising.

About the Study
These are some of the findings of an Ipsos poll conducted between February 8-10, 2022 on behalf of Bodewell. For this survey, a sample of 2,010 adults age 18+ from the continental U.S., Alaska, and Hawaii, was interviewed online in English.
The sample was randomly drawn from Ipsos' online panel, partner online panel sources, and "river" sampling and does not rely on a population frame in the traditional sense. Ipsos uses fixed sample targets, unique to each study, in drawing a sample. After a sample has been obtained from the Ipsos panel, Ipsos calibrates respondent characteristics to be representative of the U.S. Population using standard procedures such as raking-ratio adjustments. The source of these population targets is U.S. Census 2019 American Community Survey data. The sample drawn for this study reflects fixed sample targets on demographics. Post-hoc weights were made to the population characteristics on gender, age, race/ethnicity, region, and education.
Statistical margins of error are not applicable to online non-probability polls. All sample surveys and polls may be subject to other sources of error, including, but not limited to coverage error and measurement error. Where figures do not sum to 100, this is due to the effects of rounding. The precision of Ipsos online polls is measured using a credibility interval. In this case, the poll has a credibility interval of plus or minus 2.7 percentage points for all Americans. Ipsos calculates a design effect (DEFF) for each study based on the variation of the weights, following the formula of Kish (1965). This study had a credibility interval adjusted for design effect of the following (n=2,010, DEFF=1.5, adjusted Confidence Interval=+/-4.2 percentage points).
For more information on this news release, please contact:
Mallory Newall
Vice President,
Public Affairs, U.S.
[email protected]
James Diamond
Senior Research Manager,
Public Affairs, U.S.
[email protected]
About Ipsos
Ipsos is the world's third largest Insights and Analytics company, present in 90 markets and employing more than 18,000 people.
Our passionately curious research professionals, analysts and scientists have built unique multi-specialist capabilities that provide true understanding and powerful insights into the actions, opinions and motivations of citizens, consumers, patients, customers or employees. We serve more than 5000 clients across the world with 75 business solutions.
Founded in France in 1975, Ipsos is listed on the Euronext Paris since July 1st, 1999. The company is part of the SBF 120 and the Mid-60 index and is eligible for the Deferred Settlement Service (SRD).
ISIN code FR0000073298, Reuters ISOS.PA, Bloomberg IPS:FP www.ipsos.com