Ipsos Core Political Survey: Presidential Approval Tracker (07/15/2021)
President Biden's approval remains steady with a little over half of Americans approving of his job in office
Washington, DC, July 15, 2021 – Overall, 53% of Americans approve of President Biden's performance in office, and he gets the biggest approval on his handling of COVID-19, the environment, and racial inequality.
Americans are most concerned about the economy (18%), the health care system (11%), crime or corruption (10%) and public health (9%).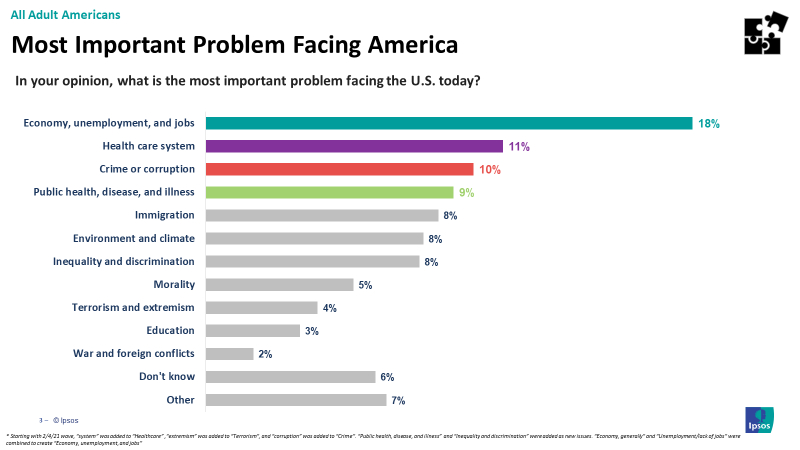 Democrats are increasingly concerned about public health (14%) and the health care system (15%), possibly due to recent news of rising COVID-19 Delta variant cases. The economy (13%) is now only the fourth most important issue for Democrats. Among Republicans, the economy (25%) remains most pressing, with immigration (18%) in second place and crime or corruption (12%) in third.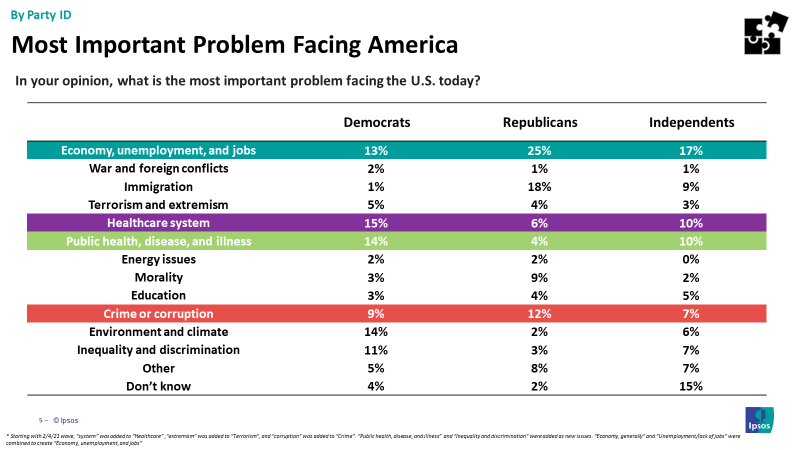 Approval of President Biden remains stable, at 53% this week.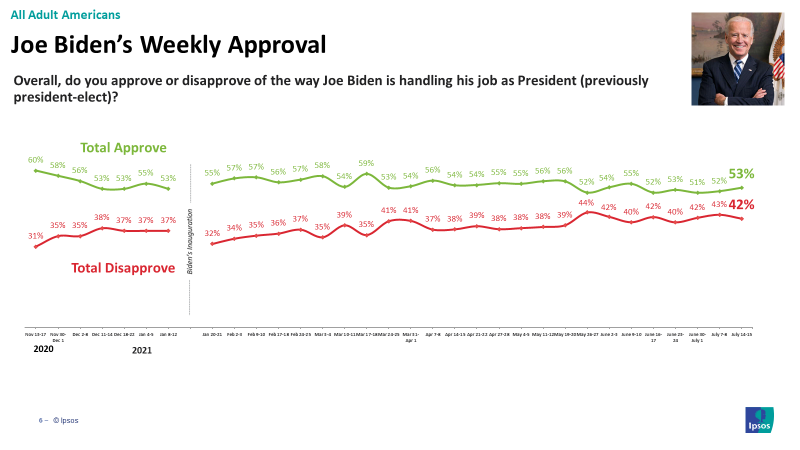 Nearly nine in 10 Democrats approve of President Biden's performance in office, while only half of independents, and less than one-fifth of Republicans do.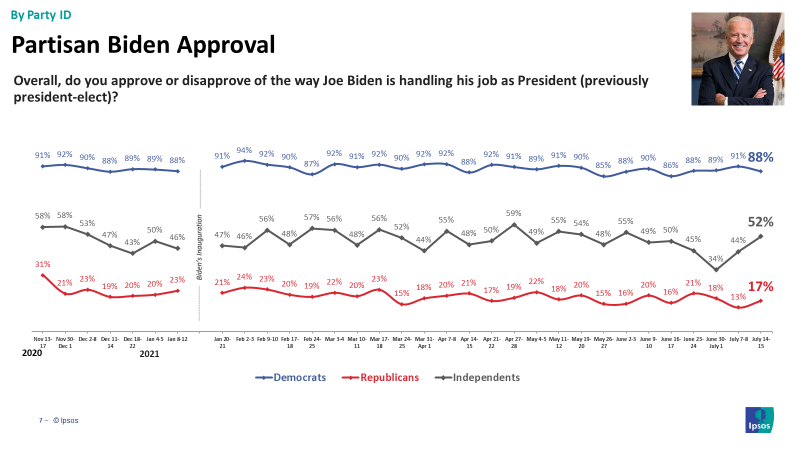 The economy (32%) and COVID-19 (23%) remain the top two issues Americans want President Biden to prioritize, followed by employment and jobs (23%) and unifying the country (19%).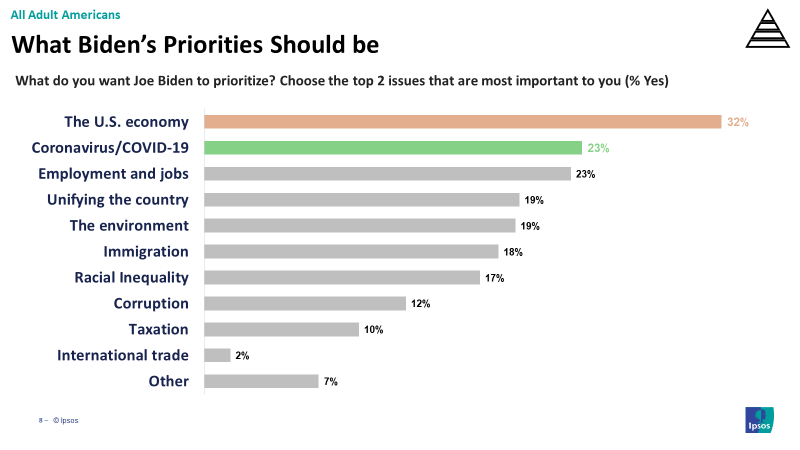 Democrats would like President Biden to prioritize dealing with COVID-19 (31%), racial inequality (29%), and the environment (28%), before turning to the economy (22%). Republicans however, would like Biden to focus on the economy (43%) first, as well as immigration (34%) and then employment (24%).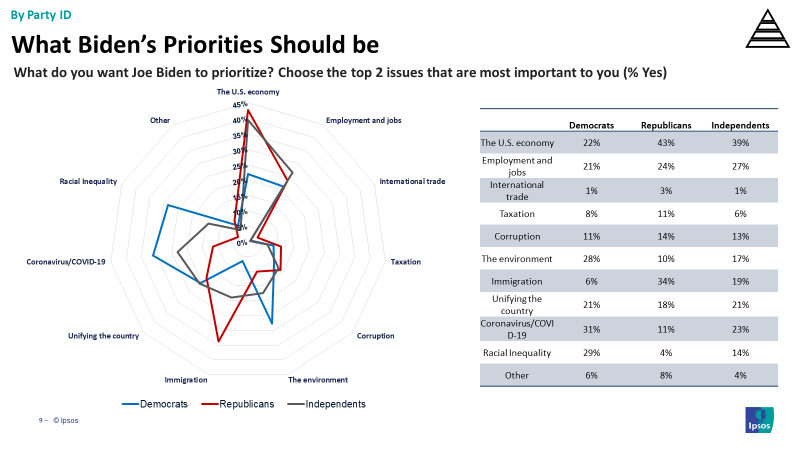 On the country's main issues, President Biden receives the highest approval rating on his handling of COVID-19 (59%), followed by the environment and racial inequality (both 50%).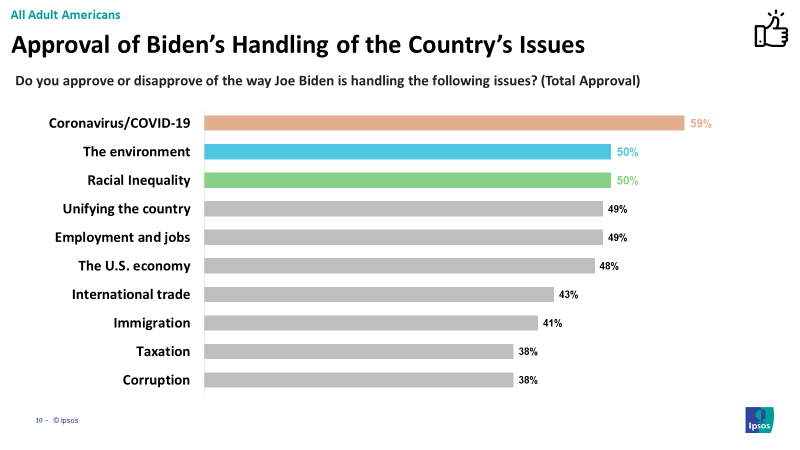 A closer look at these approval ratings reveals that Americans rate President Biden along party lines on these issues, with members of his own party, Democrats, rating him higher than Republicans and independents.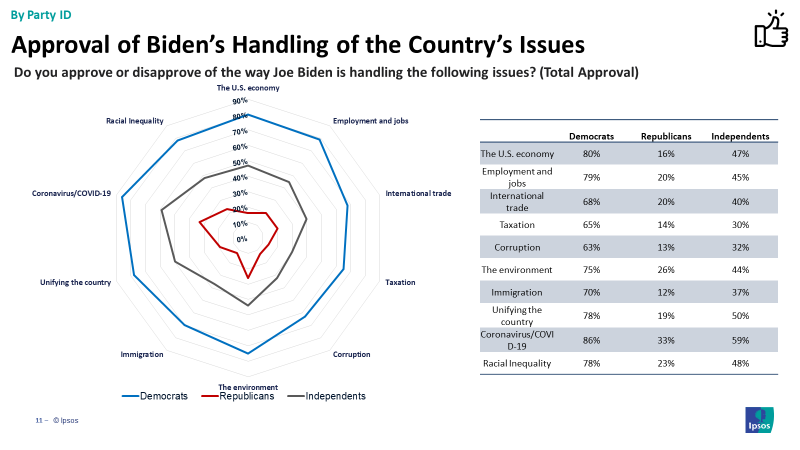 About the Study
These are some of the findings of an Ipsos poll conducted between July 14-15, 2021. For this survey, a sample of 1,005 Americans age 18+ from the continental U.S., Alaska, and Hawaii were interviewed online in English. The sample includes 465 Democrats, 366 Republicans, and 100 independents. Weighting was then employed to balance demographics to ensure that the sample's composition reflects that of the adult population according to Census data and to provide results intended to approximate the sample universe. The precision of Ipsos online polls is measured using a credibility interval. In this case, the poll is accurate to within ± 3.5 percentage points, 19 times out of 20, had all Americans been polled. The credibility interval will be wider among subsets of the population. All sample surveys and polls may be subject to other sources of error, including but not limited to coverage error and measurement error. The poll also has a credibility interval of ± 5.2 percentage points for Democrats, ± 5.8 percentage points for Republicans, and ± 11.2 percentage points for independents.  
For more information on this news release, please contact:
Chris Jackson
Senior Vice President, US
Public Affairs
+1 202 420-2025
[email protected]
Kate Silverstein
Media Relations, US
Public Affairs
+1 718 755-8829
[email protected]
About Ipsos
Ipsos is the world's third-largest Insights and Analytics company, present in 90 markets and employing more than 18,000 people.
Our passionately curious research professionals, analysts, and scientists have built unique multi-specialist capabilities that provide true understanding and powerful insights into the actions, opinions, and motivations of citizens, consumers, patients, customers, or employees. We serve more than 5,000 clients across the world with 75 business solutions.
Founded in France in 1975, Ipsos is listed on the Euronext Paris since July 1st, 1999. The company is part of the SBF 120 and the Mid-60 index and is eligible for the Deferred Settlement Service (SRD).
ISIN code FR0000073298, Reuters ISOS.PA, Bloomberg IPS: FP www.ipsos.com
Download