LGBT+ Pride 2021 Global Survey points to a generation gap around gender identity and sexual attraction
Laws to protect LGBT people from discrimination laws and equal marriage and adoption rights have majority support in most but not all of the 27 countries surveyed
New York, NY, June 9, 2020 — Ipsos' LGBT+ Pride 2021 Global Survey points to a wide generation gap around gender identity and sexual attraction. On average, across the 27 countries surveyed, those who identify as transgender, non-binary, non-conforming, gender-fluid, or other than male or female make up 4% of Gen Z (born since 1997) compared to 1% among all adults. Younger adults are also significantly more likely to identify differently from heterosexual and to say they are equally attracted to both sexes.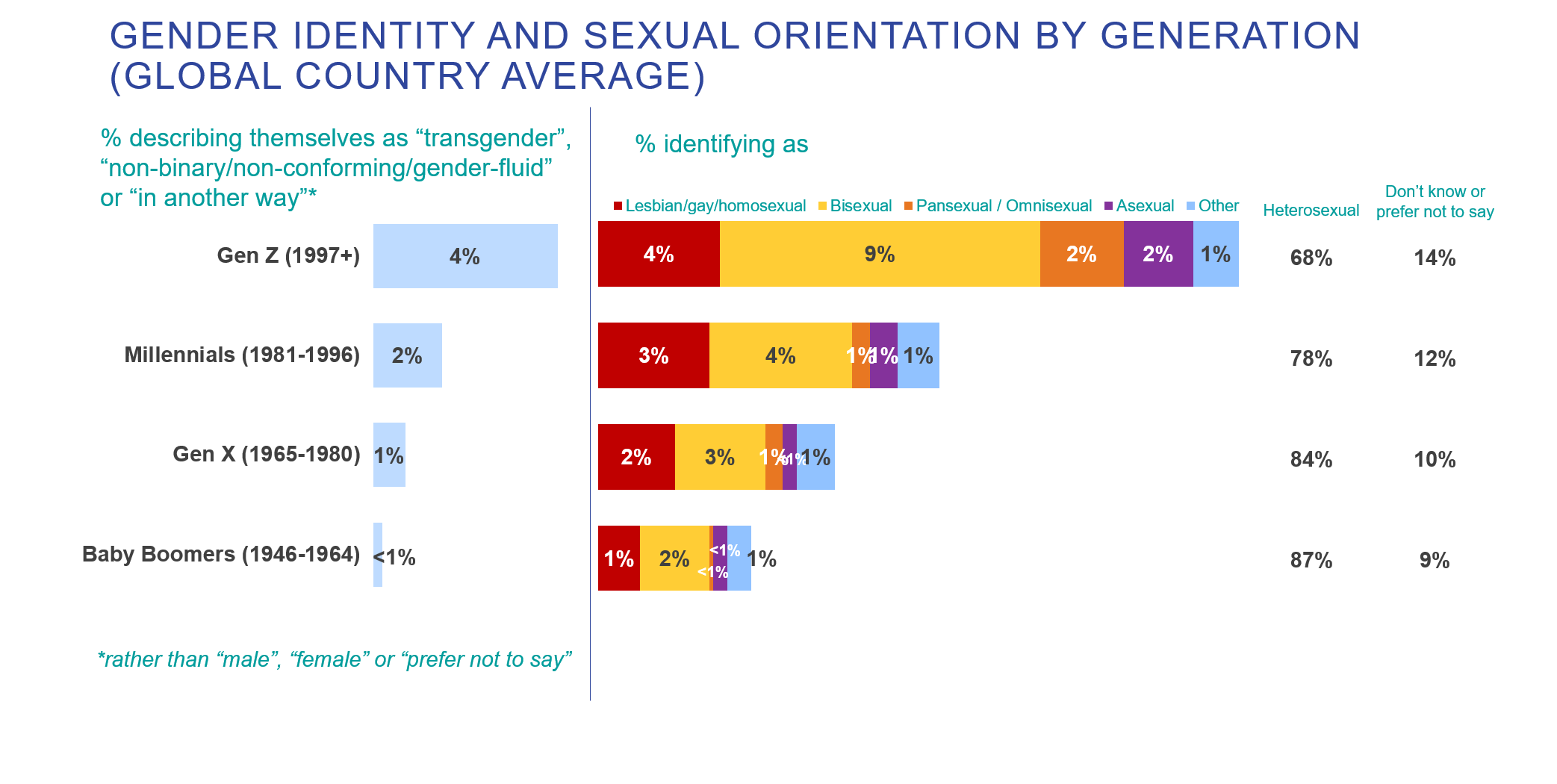 The survey, which was conducted on Ipsos's Global Advisor online platform among more than 19,000 individuals aged 16 (or 18, depending on the country) to 74 between April 23 and May 7, 2021, shows how much exposure to LGBT+ people and engagement with the LGBT+ community varies across the world. For example, 66% in Brazil report having a gay or lesbian relative, friend or colleague vs. 7% in Japan and South Korea.
In the United States, 57% say they have a relative, friend or co-worker who is lesbian or gay, 30% one who is bisexual, 14% one who is transgender, and 14% one who is non-binary, non-conforming or gender-fluid.
Anti-discrimination laws and equal marriage and adoption rights for LGBT people are supported by majorities in most of the 27 countries, including the U.S., but are fiercely opposed in several countries. In the U.S.:
72% say same-sex couples should be allowed to marry or to obtain some legal recognition (15% say they should not be allowed any legal recognition),
72% agree that same-sex couples should have the same rights to adopt children as heterosexual couples do (22% disagree), and
60% support laws banning discrimination against LGBT people when it comes to employment, access to education, housing and social services (21% oppose them).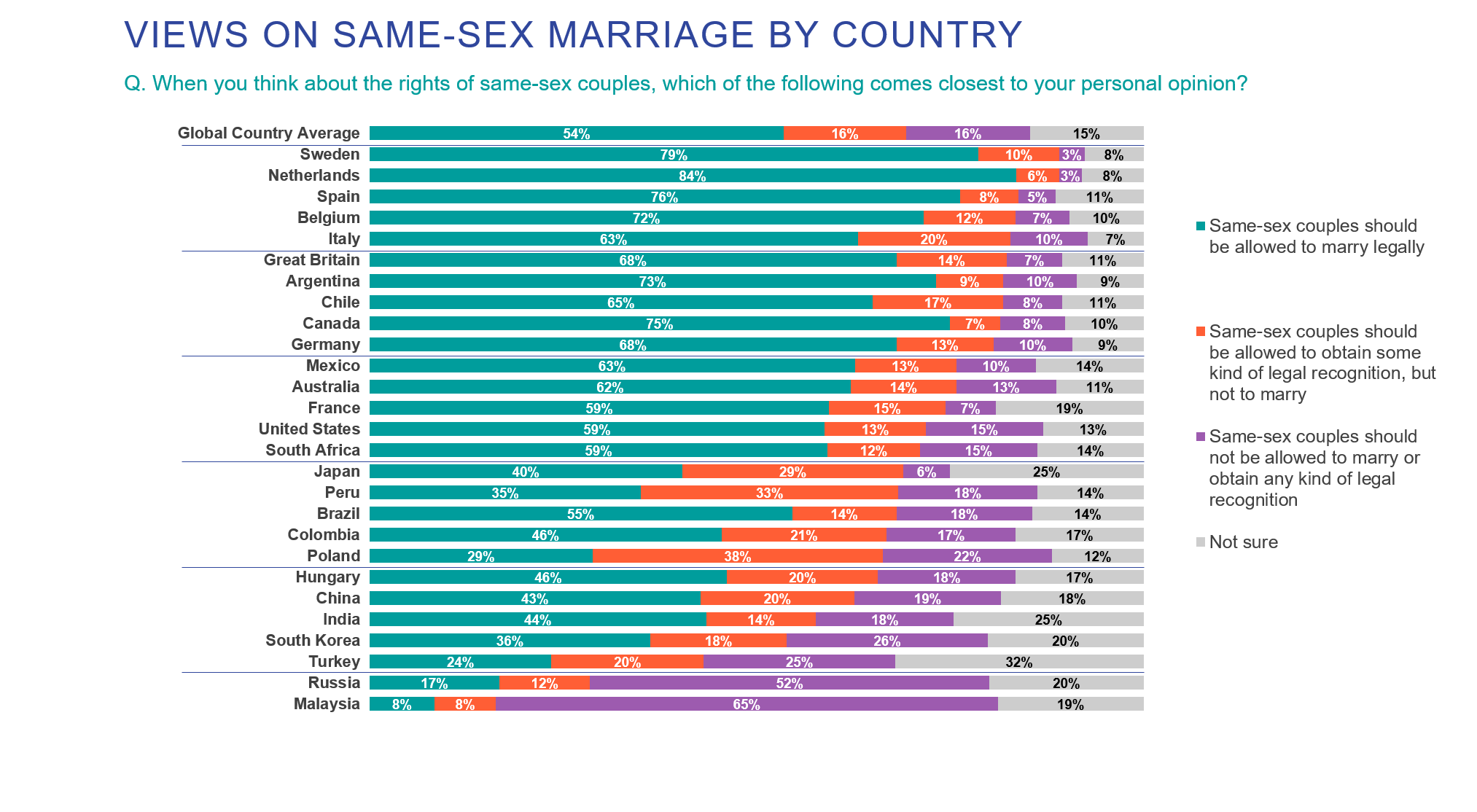 The survey also finds a lot more support than opposition toward corporate activism promoting equality – 47% support vs. 19% opposition on average globally, 48% vs. 20% in the U.S.
Majorities in most – but not all – countries support LGBT people being open about their sexual orientation or gender identity with everyone. And there is generally more support than opposition toward LGBT people displaying affection in public (37% support vs. 27% opposition globally, 41% vs. 27% in the U.S.) and more LGBT characters on TV, in films and in advertising (35% support vs. 25% opposition globally, 39% vs. 27% in the U.S.).
There is a great deal of support in most countries for lesbian, gay and bisexual athletes in sports teams being open about their orientation. On the other hand, when it comes to allowing transgender athletes to perform according to the gender they identify, public opinion is divided and varies widely across countries. On average globally, 32% support it, 32% oppose it and 36% are neutral. In the U.S., 27% support it, 45% oppose it, and 28% are neutral.
Americans' opinion on whether to allow transgender athletes to perform based on the gender they identify with largely reflects their political party identification: more Democrats support it than oppose it (42% vs. 24%), while most Republicans oppose it (75% vs. 11% who support it).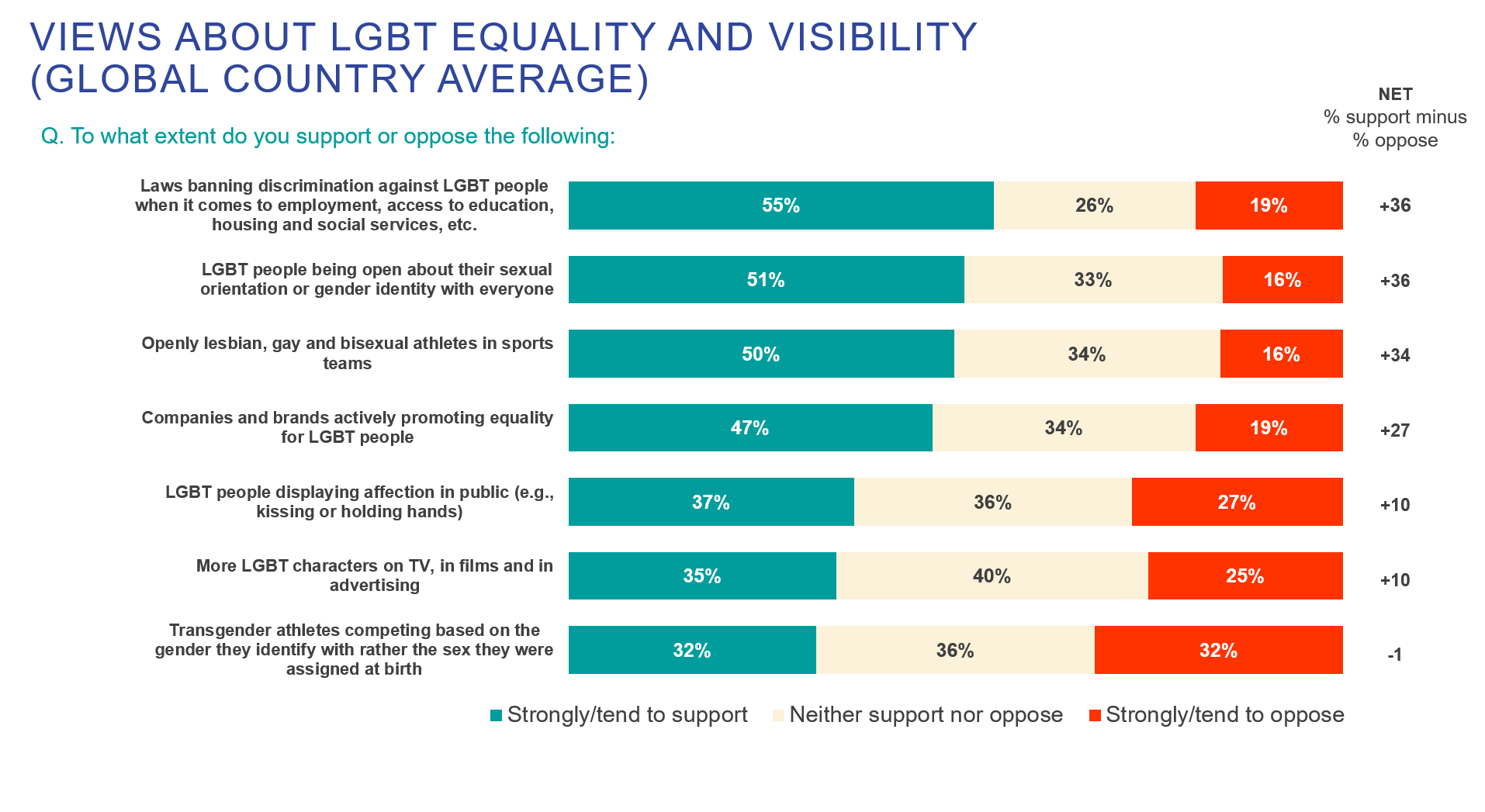 About the Study
These are the results of a 27-market survey conducted by Ipsos on its Global Advisor online platform. Ipsos interviewed a total of 19,069 adults aged 18-74 in the United States, Canada, Malaysia, South Africa, and Turkey, and 16-74 in 23 other markets between April 23 and May 7, 2021.
The sample consists of approximately 1,000 individuals in each of Australia, Belgium, Brazil, Canada, China (mainland), France, Germany, Great Britain, Italy, Japan, Spain, and the U.S., and 500 individuals in each of Argentina, Chile, Colombia, Hungary, India, Malaysia, Mexico, the Netherlands, Peru, Poland, Russia, South Africa, South Korea, Sweden, and Turkey.
The samples in Argentina, Australia, Belgium, Canada, France, Germany, Great Britain, Hungary, Italy, Japan, the Netherlands, Poland, South Korea, Spain, Sweden, and the U.S. can be taken as representative of these countries' general adult population under the age of 75.
The samples in Brazil, Chile, China (mainland), Colombia, India, Malaysia, Mexico, Peru, Russia, South Africa and Turkey are more urban, more educated, and/or more affluent than the general population. The survey results for these countries should be viewed as reflecting the views of the more "connected" segment of their population.
The data is weighted so that each country's sample composition best reflects the demographic profile of the adult population according to the most recent census data.
Where results do not sum to 100 or the 'difference' appears to be +/-1 more/less than the actual, this may be due to rounding, multiple responses or the exclusion of don't know or not stated responses.
The precision of Ipsos online polls is calculated using a credibility interval with a poll of 1,000 accurate to +/- 3.5 percentage points and of 500 accurate to +/- 4.8 percentage points. For more information on the Ipsos use of credibility intervals, please visit the Ipsos website.
The publication of these findings abides by local rules and regulations.
For more information on this news release, please contact:
Nicolas Boyon
Senior Vice President, Public Affairs, U.S.
[email protected]
Kate Silverstein
Media Relations Specialist, Public Affairs, U.S.
[email protected]
About Ipsos
Ipsos is the world's third largest Insights and Analytics company, present in 90 markets and employing more than 18,000 people.
Our passionately curious research professionals, analysts and scientists have built unique multi-specialist capabilities that provide true understanding and powerful insights into the actions, opinions and motivations of citizens, consumers, patients, customers or employees. We serve more than 5000 clients across the world with 75 business solutions.
Founded in France in 1975, Ipsos is listed on the Euronext Paris since July 1st, 1999. The company is part of the SBF 120 and the Mid-60 index and is eligible for the Deferred Settlement Service (SRD).
ISIN code FR0000073298, Reuters ISOS.PA, Bloomberg IPS:FP www.ipsos.com