Ipsos Study Finds Brand of Audio System Drives New Car Buying Decisions
Top-Rated Audio System Brands Influence Half of Car Purchase Considerations
Detroit, MI - The inaugural Ipsos RDA 2016 U.S. Audio and Infotainment Brand Study, released today, examines the importance of branded audio among new vehicle owners. Consumer perceptions of audio brand awareness, familiarity, impression, etc. can help auto manufacturers with key decisions around which brands to put in their vehicles.
Commenting on the study, Frank Forkin, executive vice president at Ipsos RDA, says: "One of the key findings from this study for vehicle manufacturers is that the audio brand matters. Overall, about one-third of new car buyers indicate that the audio brand in their next new vehicle will have a significant impact on their purchase consideration. If the vehicle is equipped with a top-rated brand such as Bose, Bang & Olufsen (B&O) or Bowers & Wilkins (B&W), the percentage who indicate the audio brand will have a significant impact on their purchase consideration can rise to as high as 50%."
According to the Ipsos RDA Study, audio brands fall into one of three tiers of awareness. Brands such as Bose, Sony, Pioneer and Panasonic fall into the first category of high awareness, with at least two-thirds of new vehicle owners indicating awareness. The next tier of medium, or 25% - 50% awareness, includes emerging audio brands like BeatsAudio and Fender, as well as many brands with long traditions in the automotive industry such as Alpine, JBL, Infinity and Harman/Kardon. Many of the smaller, niche audio brands like Bang & Olufsen, Revel and ELS Studio have low awareness levels of 20% or less.
"The typical vehicle owner spends an average of 11 hours per week in their car, proving why it's so important for auto manufacturers to consider these awareness levels when deciding which brands to partner with for their audio systems. For instance, partnering with one of the four top tier awareness brands provides instant brand recognition across gender and all age groups. On the other hand, brands in the low awareness tier are mostly ultra-premium brands that can add to the prestige of luxury vehicles," adds Forkin.
In the world of automotive branded audio, awareness is only part of the picture. Brands such as Panasonic or Sony have high awareness, but may primarily be known for other products outside of automotive. Unique to the Ipsos RDA Study, the familiarity question determines if a consumer is familiar with the brand in the automotive sector, or simply as a general consumer electronics brand. When asked about familiarity of brands in the automotive industry, overall familiarity drops below 50%, even among the top awareness brands. What should be concerning for both auto and audio manufacturers is that only a dozen brands have greater than 10% familiarity as an automotive audio brand.
Brand impression and impact on purchase decision are other key consideration factors when selecting an audio brand to partner with. According to the study, Bose ranks highest for both impression and impact. The majority of the remaining brands rated high on impression have low awareness. Clearly, these brands have made a very favorable mark on the small niche of consumers who are familiar with the brand. Interestingly, many of the first and second tier awareness brands are at the bottom of the list when it comes to purchase decision impact.
Additionally, the study found that consumers understand the value of having a premium branded audio system in their vehicle and are willing to pay for it. Over 50% of new car buyers tend to upgrade to a premium audio system when selecting a vehicle and 65% believe it increases the resale value of their vehicle.
The study also explored awareness of the infotainment system brands currently provided in vehicles. Infotainment brands that incorporate the vehicle name have the highest percentage of owners who can correctly identify the brand (e.g., MINI Connected, AcuraLink, HondaLink). There appears to be much confusion in the marketplace due to so many similar brand names (i.e., frequent use of the word "link"). Overall, less than half of the owners can identify their infotainment brand and yet more than half want a branded infotainment system in their vehicle.
"Given there are so many infotainment brands available, it is not surprising that over 70% would have their purchase decision impacted if their next new vehicle came with an infotainment system designed and branded by Apple or Google," commented Forkin.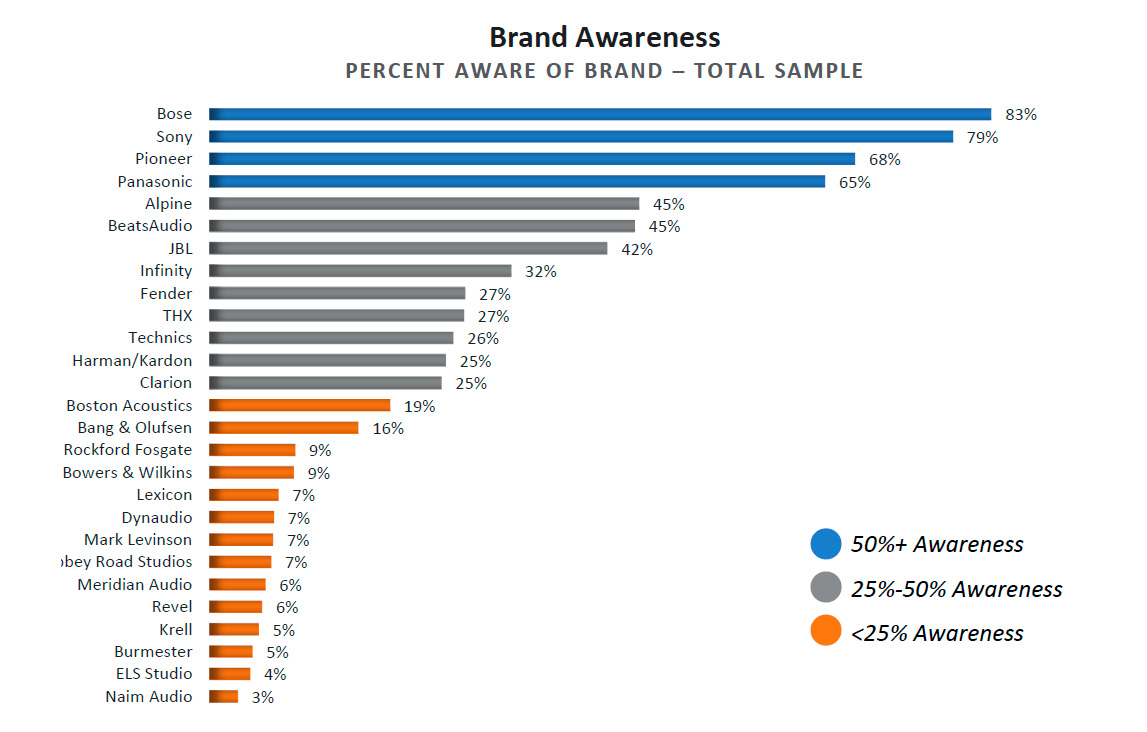 About The Study
The Ipsos RDA U.S. Audio and Infotainment Brand Study is a web-based survey of over 4,000 consumers who have purchased or leased a new vehicle within the past 5 years covering 29 vehicle makes. The study was conducted in August and September of 2015 using SSI's national online panel and the results weighted based on estimated total automotive sales by vehicle make.
To assess audio brand awareness levels, survey respondents were provided a list of 27 brands and asked to identify the brands available in vehicles today. Of the mentioned audio brands, respondents were asked to select one statement out of four that best describes their level of familiarity. Purchase intent was measured by providing the list of audio brands, and asking what impact the brand would have in their next new vehicle purchase decision (negative impact, no impact, some positive impact, significant positive impact).
About Ipsos RDA
Ipsos RDA is a full-service Michigan-based market research and consulting firm. Founded in 1969, Ipsos RDA is a top 5 U.S. automotive research firm with conducting research in over 50 countries. Ipsos RDA is built around four areas of research--Customer Satisfaction and Loyalty Research, New Product Development, Brand Research, and Product Quality Research. RDA Group joined Ipsos in July 2015 becoming Ipsos RDA.
About Ipsos
Ipsos is an independent market research company controlled and managed by research professionals. Founded in France in 1975, Ipsos has grown into a worldwide research group with a strong presence in all key markets. Ipsos ranks third in the global research industry.
With offices in 87 countries, Ipsos delivers insightful expertise across five research specializations: brand, advertising and media, customer loyalty, marketing, public affairs research, and survey management.
Ipsos researchers assess market potential and interpret market trends. They develop and build brands. They help clients build long-term relationships with their customers. They test advertising and study audience responses to various media and they measure public opinion around the globe.
Ipsos has been listed on the Paris Stock Exchange since 1999 and generated global revenues of e1,669.5 ($2,218.4 million) in 2014.
Visit www.ipsos.com to learn more about Ipsos' offerings and capabilities.
For more information on this news release, please contact:
Elen Alexov Director, Marketing Services, North America Ipsos (778) 373-5136 elen.alexov@ipsos.com
Frank Forkin Partner and Executive Vice President Ipsos RDA (248) 836-5975 fforkin@rdagroup.com
Download