More than four in five physicians/pharmacists believe that longer prescriptions could increase patient adherence and improve chronic condition management
New RO Pharmacy/Ipsos poll finds that most physicians would write longer prescriptions if they could
Washington, DC, November 18, 2021
A new RO Pharmacy/Ipsos poll among pharmacists, primary care physicians, cardiologists, and endocrinologists finds that 84% agree that prescribing 6 to 12 month prescriptions to patients on stable regimens of long-term maintenance medications could increase patient adherence and improve chronic condition management. In fact, 93% of physicians say that they would write 6-month prescriptions to some patients if they could, and nearly eight in ten (78%) say the same thing of writing 12-month prescriptions. An overwhelming majority of physicians surveyed see fewer trips to the pharmacy, less frequent prescription refills, and improved medication adherence as some of the benefits of providing their patients with extended supply prescriptions.
---
Detailed Findings
1. Most physicians and pharmacists have a favorable view of providing patients on stable regimens of long-term maintenance medications with longer prescriptions (6 to 12 month). Many also believe adopting this practice can lead to a range of benefits for patients.
Improved medication adherence is seen as being a benefit of prescribing longer prescriptions by 83% of all respondents. Nearly all physicians are also likely to view fewer trips to the pharmacy (98%), less frequent refills (97%), and a reduced administrative load for their practice (91%) as benefits to writing longer prescriptions. Most pharmacists, in turn, view improved convenience (96%) and cost savings (80%) as being beneficial when it comes to longer prescriptions.
Most (86%) say that they would like to be able to dispense/write 6 to 12 month prescriptions for patients, though this is especially true for physicians compared to pharmacists (89% vs. 74%).
Another 84% agree that longer prescriptions could increase patient adherence and improve chronic conditions.
Nine in ten physicians (89%) and 73% of pharmacists believe that writing these types of prescriptions would be safe for patients. The vast majority of pharmacists also agree that 6 to 12 month prescriptions could save a patient time (92%) and money (81%).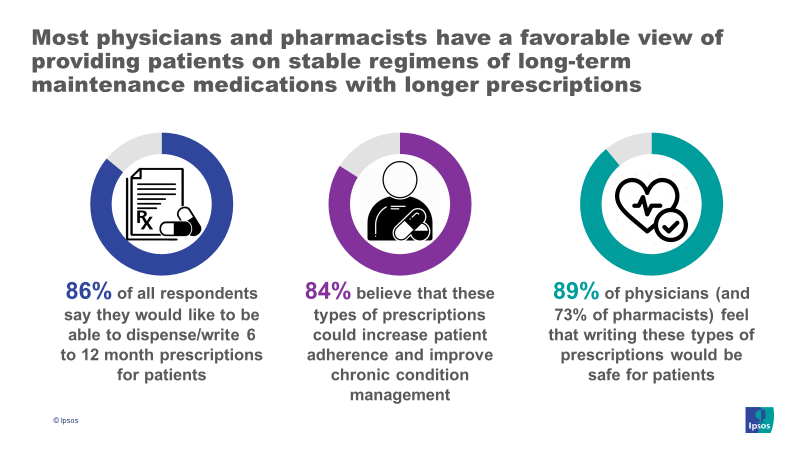 2. There are, however, some undesirable aspects of writing/dispensing longer prescriptions, with most respondents agreeing that that if the medication is not effective, the patient would have too much left over (92%) and 87% recognizing the lack of cost reimbursement for unused medication.
Nearly two thirds also agree that having extended supply prescriptions (6-12 month) may result in not properly storing the medication (65%) or the costs of larger quantity of medication being too high. Six in ten (61%) also think that patients will not want to deal with insurance/coupons.
The majority also believe that larger amounts of medication are unwieldy for patients to manage (56%) and that patients would forget to refill (51%).
About the Study
These are the findings from an Ipsos poll conducted May 24 – June 4, 2021 on behalf of RO Pharmacy. For the survey, a sample of 400 cardiologists, endocrinologists, primary care practitioners, and pharmacists from the continental U.S., Alaska and Hawaii was interviewed online in English. To qualify, cardiologists, endocrinologists, and primary care practitioners had to report initiating prescription medication regimens for their patients and have patients currently prescribed a stable maintenance medication regimen. The poll has a credibility interval of plus or minus 5.6 percentage points for all respondents.
About Ipsos
Ipsos is the world's third largest Insights and Analytics company, present in 90 markets and employing more than 18,000 people.
Our passionately curious research professionals, analysts and scientists have built unique multi-specialist capabilities that provide true understanding and powerful insights into the actions, opinions and motivations of citizens, consumers, patients, customers or employees. We serve more than 5000 clients across the world with 75 business solutions.
Founded in France in 1975, Ipsos is listed on the Euronext Paris since July 1st, 1999. The company is part of the SBF 120 and the Mid-60 index and is eligible for the Deferred Settlement Service (SRD).
ISIN code FR0000073298, Reuters ISOS.PA, Bloomberg IPS:FP www.ipsos.com