Majority of Americans favor increasing funding for immigration enforcement
New Spectrum News/Ipsos poll shows Americans support both increased border enforcement and providing a legal pathway to citizenship
Washington, DC, June 7, 2021 — A majority of Americans support increasing federal funding for immigration enforcement and are in favor of harsher penalties for smugglers and economic sanctions to reduce the flow of migrants and illegal drugs at the U.S-Mexico border, according to a new Spectrum News/Ipsos poll. At the same time, however, most Americans are also in favor of allowing any undocumented immigrant to follow a legal process to obtain U.S. citizenship. While providing a pathway to citizenship has been a key component of the Biden administration's immigration reform plan, President Biden and Vice President Harris earn mixed reviews for their handling of the issue.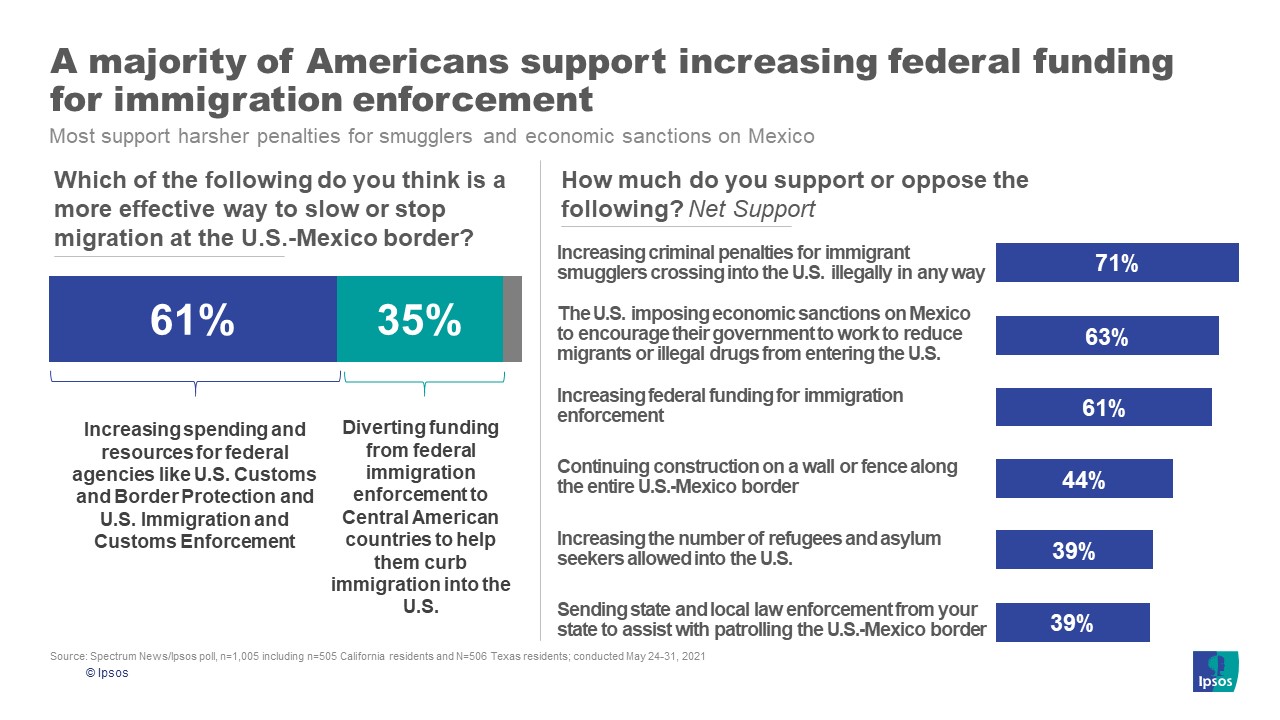 About the Study
This Spectrum News Ipsos poll was conducted May 24 to 31, 2021, by Ipsos using the KnowledgePanel®. This poll is based on a representative sample of 1,005 U.S. adults, 505 California adult residents, and 506 Texas adult residents.  
The study was conducted in both English and Spanish. The data were weighted to adjust for gender by age, race/ethnicity, education, household income, and English proficiency. The national data were also weighted to adjust for region. The demographic benchmarks came from the 2019 American Community Survey (ACS).
The margin of sampling error among the national sample is plus or minus 3.4 percentage points at the 95% confidence level. The margin of sampling errors for the California and Texas samples are plus or minus 5.0 and 5.2 percentage points, respectively. The margin of error takes into account the design effect, which was 1.23 for the national sample, 1.33 for the California sample, and 1.43 for the Texas sample. The margin of error is higher and varies for results based on sub-samples. In our reporting of the findings, percentage points are rounded off to the nearest whole number. As a result, percentages in a given table column may total slightly higher or lower than 100%. In questions that permit multiple responses, columns may total substantially more than 100%, depending on the number of different responses offered by each respondent.
For more information on this news release, please contact:
Mallory Newall
Director, U.S., Public Affairs
Ipsos
+1 202 420-2014
[email protected]
Kate Silverstein
Media Relations Specialist, U.S., Public Affairs
Ipsos
+1 718 755-8829
[email protected]
About Ipsos
Ipsos is the world's third largest Insights and Analytics company, present in 90 markets and employing more than 18,000 people.
Our passionately curious research professionals, analysts and scientists have built unique multi-specialist capabilities that provide true understanding and powerful insights into the actions, opinions and motivations of citizens, consumers, patients, customers or employees. We serve more than 5000 clients across the world with 75 business solutions.
Founded in France in 1975, Ipsos is listed on the Euronext Paris since July 1st, 1999. The company is part of the SBF 120 and the Mid-60 index and is eligible for the Deferred Settlement Service (SRD).
ISIN code FR0000073298, Reuters ISOS.PA, Bloomberg IPS:FP www.ipsos.com