Parents do not expect it to be safe to send kids back to school until 2021
New Washington Post/Schar School poll by Ipsos finds that American parents supportive of local schools, but concerned about the coronavirus pandemic's risk to their children
Washington, DC, August 6, 2020
New research among American parents of school-aged children from the Washington Post/Schar School, conducted by Ipsos, finds that American parents remain highly concerned about 'back to school' this year and oppose efforts to have full re-openings. This stems from 63% of these parents believing it will not be safe for children to be back in school until 2021. However, despite concerns about the negative impact continued distance learning will have on their children's development, most parents appreciate the jobs their local schools are doing.
Detailed findings
1. Parents are very worried about the risk the pandemic poses to their children and families.
Almost three quarters of parents (73%) are concerned about catching the coronavirus.
Over half, 56%, of parents say it is not safe to send kids back to school this fall. When asked when they thought it would be safe, a majority, 63%, said not until 2021.
Almost all parents are concerned that returning to full in-person schools will increase the spread of coronavirus in their community (79%), lead to their child getting sick (77%), or lead to teachers getting sick (80%).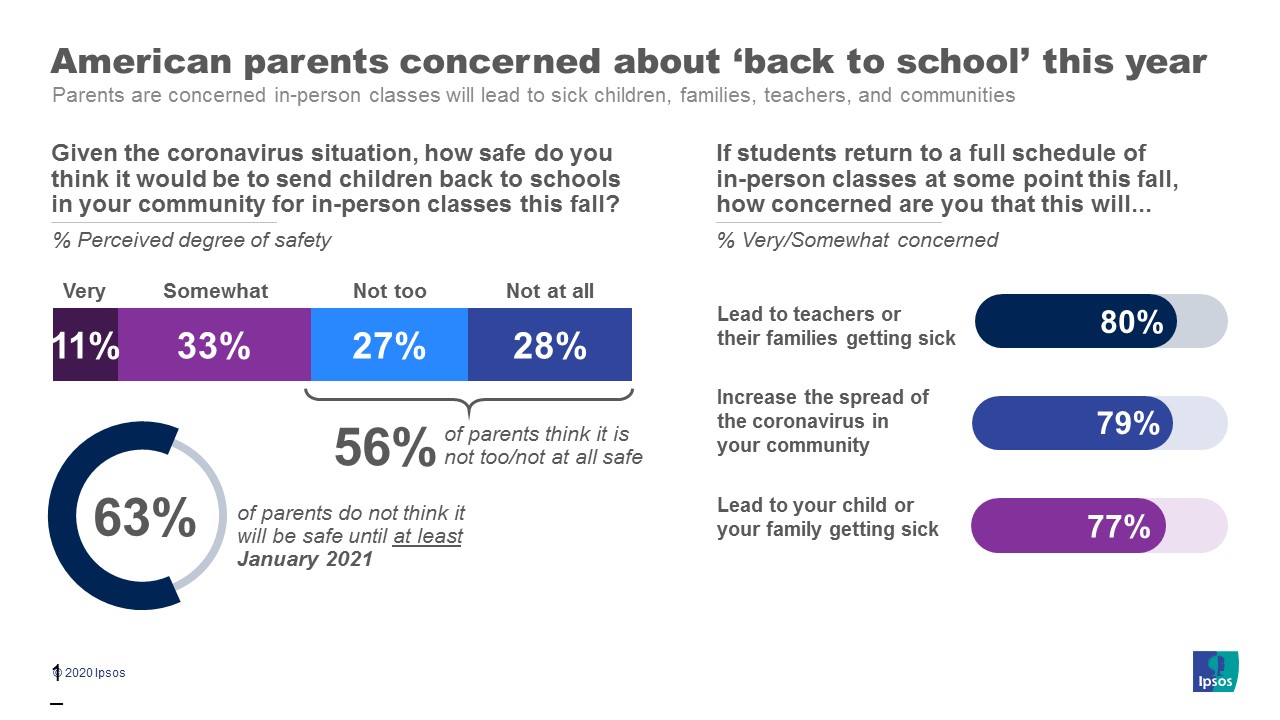 2. Most support a mix of online and in-person learning but fear it will damage their kids' education. Additionally, many parents are concerned with the ability to juggle work and childcare.
More parents (44%) support a mix of in-person and online instruction with a third (39%) supporting all online. Only 16% of parents support all in-person classes.
Parents appear to be most concerned with situations that put their children in close contact with large groups. Over two-thirds of parents (71%) are uncomfortable with the idea of their children learning in full classrooms, almost two-thirds are uncomfortable with participation in organized sports (63%) or riding the bus (64%). Only half (49%) are uncomfortable with half-full classrooms.
However, less than half (46%) of parents expect distance learning to be better than (12%) or about the same as (34%) in-person classes. Most (54%) feel distance learning will be of worse quality than in-person classes.
Two-thirds (68%) of parents are worried about their children falling behind in their education if their school only offers distance learning. Only a quarter (26%) are concerned with the ability to find child care.
Among working parents, 44% say their child staying home in the fall with distance learning would make working harder but not impossible, 6% say it would make working impossible.
3. Parents are generally supportive and appreciative of local schools and are not in favor of mandates for reopening from Washington.
Four in five parents (79%) say their children's schools did an excellent (26%) or good (53%) job handling the outbreak in the spring and over half (61%) rate the distance learning provided in the spring as excellent (12%) or good (49%).
Looking forward, two-thirds (65%) are confident that school officials will take appropriate precautions to limit coronavirus.
Most parents support the idea of mandated mask wearing for teachers (85%) and children (78%).
However, the large majority (66%) oppose requiring all schools to open for in-person classes five days a week and a similar amount, 63%, disapprove of the Trump administration's handling of school re-openings.
The Washington Post story can be found here. 
About the Study
This poll was jointly sponsored and funded by The Washington Post and Ipsos. The poll was conducted July 24-31, 2020 and includes a random sample of 1,185 parents of children entering kindergarten through 12th grade this fall, as well as a separate a random sample of 1,018 adults in the United States. Interviews were conducted in English and Spanish.
The questionnaire was administered with the exact questions in the exact order as they appear in this document. Demographic questions are not shown. If a question was asked of a reduced base of the sample, a parenthetical preceding the question identifies the group asked. Phrases surrounded by parentheticals within questions indicate clauses that were randomly rotated for respondents.
Ipsos conducted sampling, interviewing and tabulation for the survey using the KnowledgePanel, a representative panel of adults age 18 and over living in the United States. KnowledgePanel members are recruited through probability sampling methods using address-based sampling. Panel members who do not have internet access are provided with a tablet and internet service.
This survey uses statistical weighting procedures to account for deviations in the survey sample from known population characteristics, which helps correct for differential survey participation and random variation in samples. The general population sample was weighted to match the demographic makeup of adults age 18 or older in the U.S. by gender, age, race/ethnicity, education, household income, Census region, and metropolitan status according the Census Bureau's March 2019 Current Population Survey. The sample of parents was weighted to match the demographic makeup of parents ages 18 or older of children ages 4 to 18 by gender, age, race/ethnicity, Census region, education, household income, language proficiency and number of children ages 4 to 18 in the household according to the Census Bureau's 2018 American Community Survey. An additional adjustment for the metropolitan status of parents was made according to benchmarks from the Census Bureau's March 2019 Current Population Survey. 
The margin of sampling error for the general population sample of adults in the U.S. is plus or minus 3.5 percentage points, and the error margin for the sample of parents is plus or minus three percentage points. For results based on other subgroups, the margin of sampling error may be higher. Note that sampling error is only one of many potential sources of error in this or any other public opinion poll.
All error margins have been adjusted to account for the survey's design effect, which is 1.2 for the sample of parents in this survey and 1.2 for the sample of U.S. adults overall. The design effect is a factor representing the survey's deviation from a simple random sample and takes into account decreases in precision due to sample design and weighting procedures. Surveys that do not incorporate a design effect overstate their precision. 
For more information on this news release, please contact:
Chris Jackson
Senior Vice President, US
Public Affairs
+1 202 420-2025
[email protected]
Kate Silverstein
Media Relations Specialist, US
Public Affairs
+1 718 755-8829
[email protected]    
About Ipsos
Ipsos is the world's third largest market research company, present in 90 markets and employing more than 18,000 people.
Our passionately curious research professionals, analysts and scientists have built unique multi-specialist capabilities that provide true understanding and powerful insights into the actions, opinions and motivations of citizens, consumers, patients, customers or employees. We serve more than 5000 clients across the world with 75 business solutions.
Founded in France in 1975, Ipsos is listed on the Euronext Paris since July 1st, 1999. The company is part of the SBF 120 and the Mid-60 index and is eligible for the Deferred Settlement Service (SRD).
ISIN code FR0000073298, Reuters ISOS.PA, Bloomberg IPS:FP www.ipsos.com
Download