Do Suppliers Have a Responsibility to Recycle Packaging? Many Americans Think So
Who has more of a responsibility to cut back on plastic packaging and waste: manufacturers, or consumers? How you answer that question may depend on the country you are from.
According to an Ipsos poll, 76% of Americans believe that manufacturers have a responsibility to find ways to recycle and reuse the packaging they produce. Worldwide, 80% of respondents said that manufacturers have a responsibility to help dispose packaging material in an environmentally sustainable way.
While there seems to be global consensus on brands' responsibility to help create a more sustainable future, consumers in different countries are less inclined to agree about what they are willing to do to reduce waste.
Overall, 63% of people worldwide would be willing to change where they shop if it meant they used less packaging. In the United States, just half of respondents said they were open to doing the same.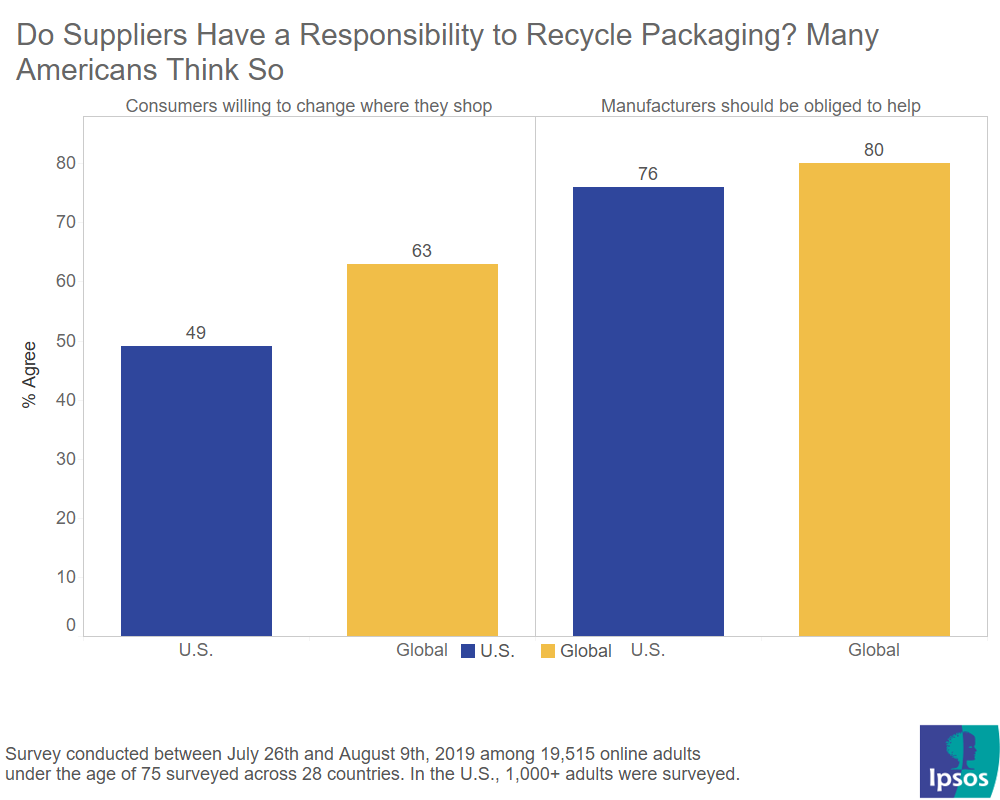 Though Americans are more skewed in favor of putting the onus on brands (rather than consumers) to reduce packaging material waste, their views are not actually that far off from the rest of the world. There is a 17-point difference globally in support for manufactures reducing waste (80%) and consumers changing their shopping habits to cut back on waste (63%). In America, that difference is 27 points.
While this stance might seem hypocritical on the part of the individual consumer, the reality is that brands can make a much more dramatic impact on sustainability by changing their packaging generation and disposal processes than individual households ever could.
Coca-Cola produces 3 million tons of waste from plastic packaging per year, according to the most recent report from the New Economy, the MacArthur pact formed in cooperation with the UN Environment Programme. By comparison, the average person in the United States generates about 0.8 tons of waste per year. To put it in more concrete terms, the amount of waste that Coca-Cola produces through plastic packaging alone is roughly commensurate to the waste generated by the entire city of Chicago, the third largest urban center in America.
The good news for companies is that waste-reducing measures aren't always as painful as they might seem at first glance. There can be benefits to a company's bottom line and reputation if they roll out environmentally friendly programs.
Approximately three in four global consumers – along with seven in ten Americans – said they feel better about brands that make changes to achieve better environmental outcomes. The gains are not just reputational: a combination of utilizing best practices in package design and recycling instead of disposing of waste in incinerators or landfills is estimated to save $2-3 billion annually across OECD countries.
As the season of giving (and shipping) ramps up, manufacturers should keep in mind that consumers are paying attention to everything that goes into their box, not just their purchase.