[WEBINAR] ESG Excellence: Drive trust, competitive advantage and business results
Join us as we walk you through the strategic insights from Ipsos' inaugural ESG Council Report. An output of Ipsos' discussions with 35 executives with sustainability roles and responsibilities in the world's largest companies, the report explores the evolving role of the Chief Sustainability Officer; the relationship between ESG, corporate reputation, and business performance; emerging risks and trends in ESG and more.
Our experts – Ipsos Corporate Reputation Chief Research Officer, Trent Ross, Ipsos US Head of Corporate Reputation, Jason McGrath, and Andre Galiano, Partner at Ipsos Strategy3 – will share these findings alongside Ipsos' recently released Ipsos Global Reputation Monitor study, and offer practical guidance for companies looking to proactively manage ESG risk in their business, drive competitive edge and stakeholder value. 
Attendees will hear more about:
What citizen consumers expect most from multinational companies across the spectrum of Environmental, Social and Governance issues
How those demands shift by sector and market
How companies can draw a throughline from ESG strategy to reputation performance and ultimately, business impact 
What top ESG-focused execs say the issues to watch are, and how they're designing their teams in anticipation of the future landscape
What research and decision-making frameworks --according to leading ESG execs, and Ipsos' experience counseling leading brands and businesses-- lead to ESG approaches that drive positive business outcomes AND gain the trust of stakeholder groups like employees, investors, media, and consumers 
Where to start when looking to diagnose your company's ESG risk landscape and set ESG priorities
This session will be relevant to professionals in communications and marketing, ESG, human resources / talent, public and government affairs, as well as policy makers and influencers, advocacy groups, and academics. 
Register today. Registering will also ensure you receive a direct link to the recording once published, and notification of future events or Ipsos thought leadership on this topic. 
About the studies featured:  
The Ipsos ESG Council Report: The inaugural report is the output of 35 in-depth interviews were conducted with ESG Council members between Nov 2022 – April 2023, either in person, by telephone or video call. Data may not total 100% due to rounding. A list of participating companies can be found in the report linked above.  
The Ipsos Global Reputation Monitor (IGRM) is a 27-country survey fielded semi-annually to explore trends in trust and reputation in multinational companies. The wave featured in this presentation was conducted in April 2023 via the Ipsos Online Panel system among 19,000 adults aged 18-74 in Canada, Israel, Malaysia, South Africa, Turkey and the United States, and 16-74 in all 20 other countries.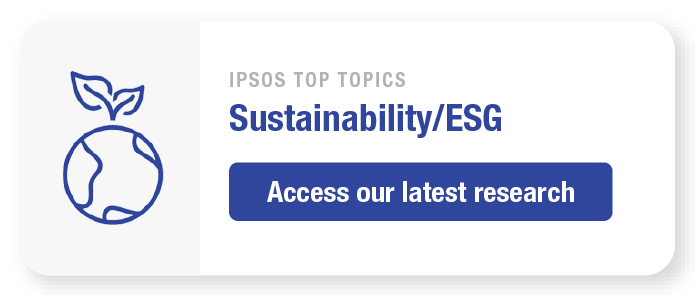 Speakers :
Trent Ross, Chief Research Officer, Ipsos Corporate Reputation

Jason McGrath, Executive Vice President and US Head, Ipsos Corporate Reputation

Andre Galiano, Partner, Ipsos Strategy3