2017 French Election: Our Highly Accurate Estimations
For the first (23 April 2017) and the second-round (7 May 2017) of the 2017 French presidential election, Ipsos and Sopra Steria teams have announced live to their media partners their very precise estimations. Together with the opinion polls published during the whole election campaign, Ipsos succeeded in demonstrating both the reliability of its tool and to what extend it gives a trusted insight on the dynamics of the election.
First-round – 23 April 2017
During the election night of the 1st round, Ipsos released 3 waves of estimations from 8pm to 9:47pm for the 11 presidential candidates.
It was a real race against the clock since the polling stations closed at 7pm instead of 6pm, which only gave 20 minutes to our pollsters to announce the voting estimate. Additionally, France had 4 top candidates, each of whom had a plausible chance of moving into round two: the far-right leader Marine Le Pen, the centre-left candidate Emmanuel Macron, the far-left candidate Jean-Luc Mélenchon, and the conservative candidate François Fillon.
According to our final estimation, Emmanuel Macron was leading by 23,9%, followed by Marine Le Pen (21,7%), François Fillon (20,0%) and Jean-Luc Mélenchon (19,2%).
This marked a great success for us as our released scores were very close to the official ones published on Monday morning by the Interior Ministry of France: Macron (24,0%), Le Pen (21,3%), Fillon (20,0%), Mélenchon (19,6%).
At the end of the election night, Ipsos was also able to release the results of the poll for the second round: 62% for Macron and 38% for Le Pen.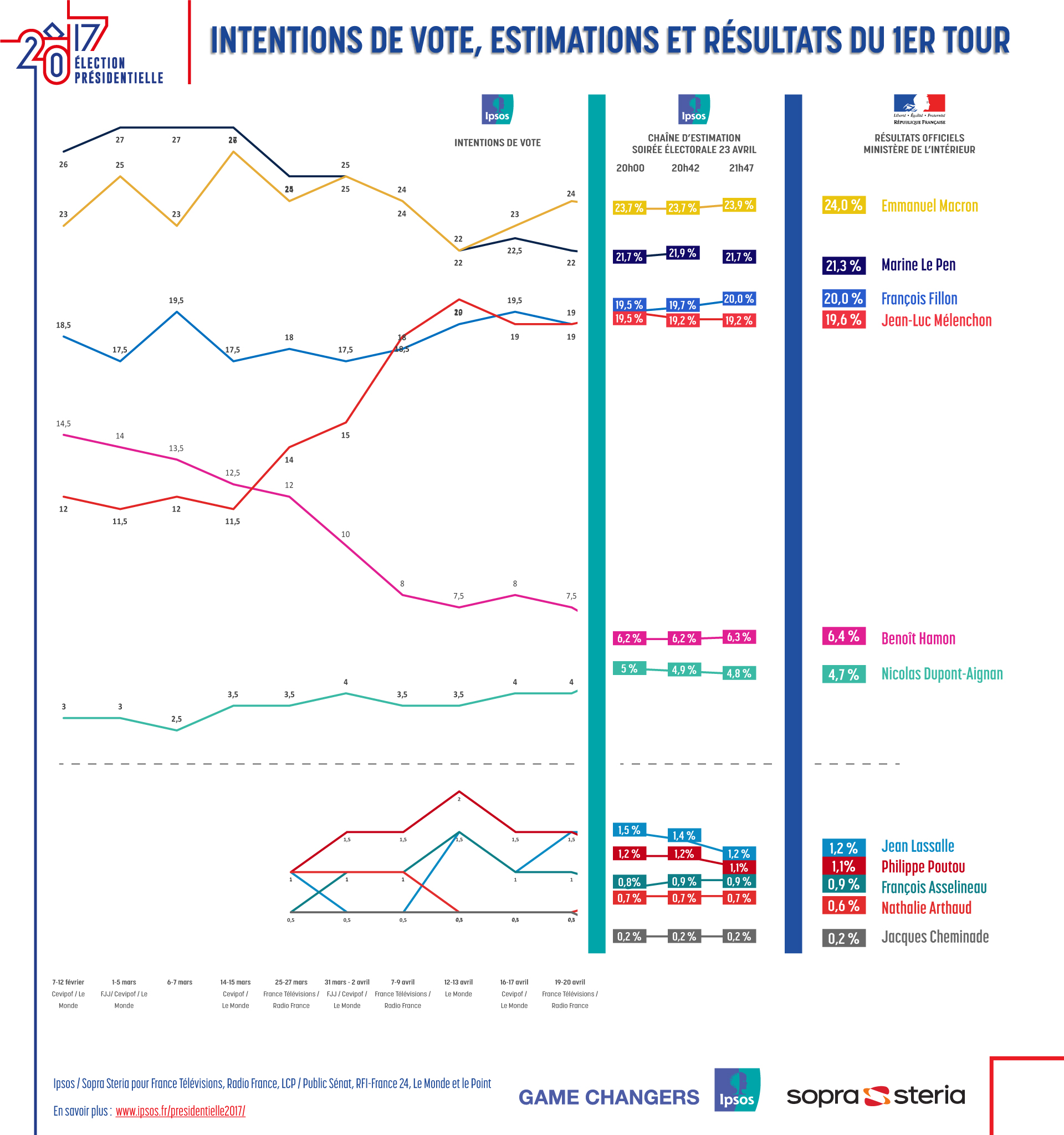 Second-round – 7 May 2017
Last Sunday, Emmanuel Macron was elected the new French President. He has become France's youngest-ever president after 66,1% to 33,9% victory in the second-round run-off against Front National's right-wing leader Marine Le Pen (vs our final estimations: 65,8% to 34,2%).
Thanks to the French Ipsos Public Affairs team, led by Brice Teinturier (Deputy CEO, Ipsos in France) and Jean-François Doridot (BU Manager, Ipsos Public Affairs in France), Ipsos was once again able to announce a score close to the official one.
The abstention was higher on the 2nd round than on the 1st one (25,4% vs 22,2% on the 1st round). A historical high number of blank and null votes was recorded: 8,6%, which equates to 4 068 million people (the highest score was 4,7% in 1995).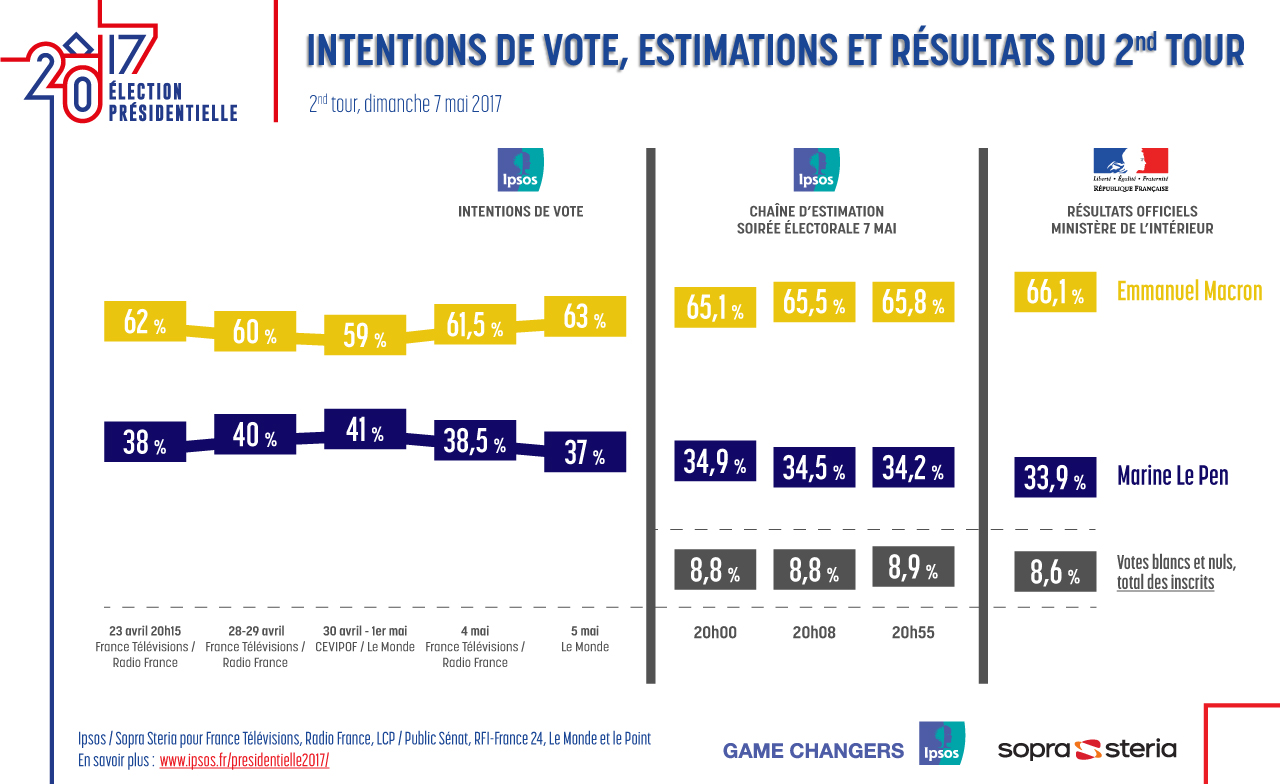 Our expertise
Ipsos' great performance and reliability are due to extensive and technical surveys deployed with the Cevipof panel of 24,000 voters in 20 waves, with a series of thematic surveys.