The results are based on a sample of 1,509 registered voters, aged 18+, with interviews conducted online between 12 – 13 April, 2017.
22% (-2 points each vs the previous wave conducted on 7-9 April, 2017) of likely voters say they support the National Front Party candidate or Emmanuel Macron, followed by Jean-Luc Mélenchon (20%, +1,5 point). François Fillon trails with 19% (+1 point) of likely voters.
Intention to vote
Nearly two in three (66%) of the French people report that they intend to vote in the first round of the election, when turnout is traditionally highest.
First-round
Uncertainty remains high: 34% (- 6 points) of likely voters report that they could still change their mind about who to vote for. This is most likely for supporters of Hamon (43% not definite) Macron (32% not definite) and Mélenchon (34% not definite). In contrast, Fillon's and Le Pen's supporters are more confident in their choices with just 20% and 15% respectively reporting that their choice isn't definite.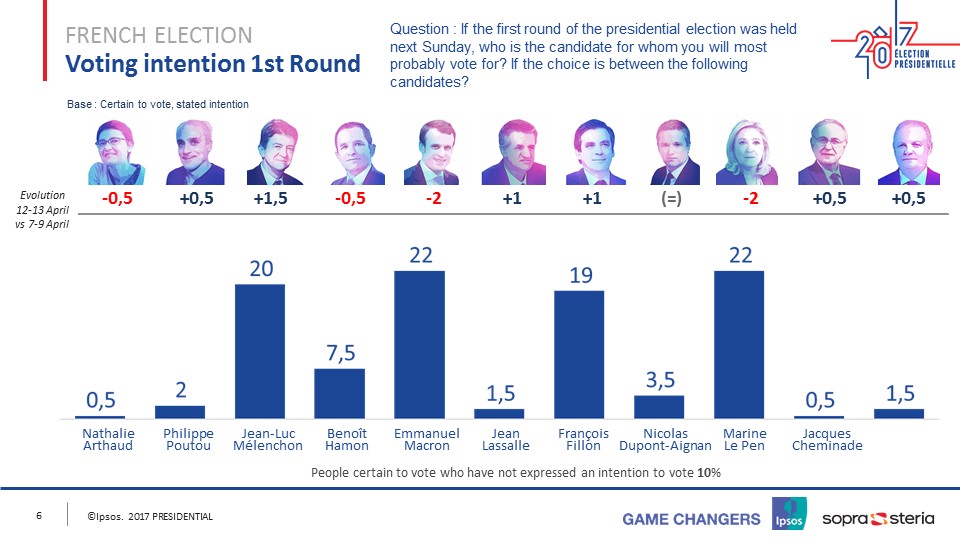 Second-round
With these results, the second-round vote would see Macron opposing Le Pen, Macron opposing Fillon, Fillon opposing Le Pen, Mélenchon opposing Macron, Mélenchon opposing Le Pen and Mélenchon opposing Fillon. For more information, download the following report.