How research can help understand and close the gap in inequality
In our latest white paper 'More equal than others', we delve into the challenges posed by inequality, highlighting its various dimensions and shedding light on the imperative for proactive efforts to address it head-on.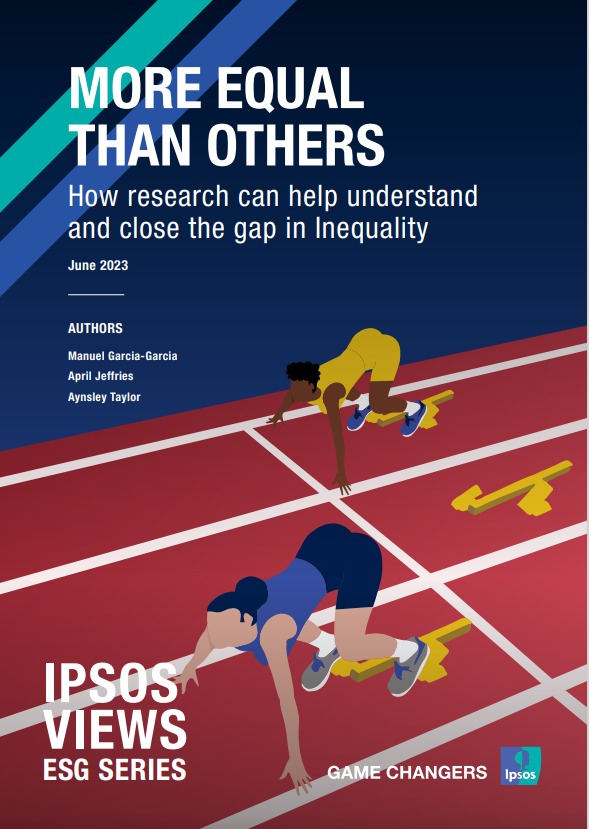 Inequality is a pervasive issue hampering societies all around the world, and it demands immediate attention. At Ipsos, we recognize the expanding nature of this problem and the far-reaching impact it has on individuals, communities, businesses, and governments. In this paper, we delve into the challenges posed by inequality, highlight its various dimensions, and shed light on the imperative for proactive efforts to address it head-on.
As we step deeper into the 21st century, it is increasingly evident that inequality is becoming more pronounced within countries, and is now arguably more significant than the disparities between them. And even though there is consensus that inequality is harmful, it continues to widen in many major markets, presenting a major and multifaceted challenge.
Inequality robs us of the best thinking and diverse approaches to solving problems. When the playing field is fair and even, organisations can thrive and move confidently into the future.
From racial and gender inequity to disparities based on social class, age, disability, and more, inequality manifests in various forms, impacting financial outcomes, access to resources, and overall success. These injustices hinder progress not only for individuals but also for companies and nation states. So, it is crucial that we forge a clear path towards greater equality.
There is mounting evidence of the dangerous repercussions of inequality. It erodes trust, undermines social cohesion, and adversely affects health and well-being. Conversely, there are numerous benefits to closing equality gaps, including improved consumer confidence – our own research has shown a clear relationship between high levels of interpersonal trust and consumer confidence. It is imperative that companies, governments, and brands take heed of these far-reaching implications.
Recent Ipsos data paints a clear picture of the growing concern surrounding inequality. In April 2023, our What Worries the World survey found over 30% of respondents identified inequality as one of their primary concerns, second only to inflation. Furthermore, a staggering 86% of individuals worldwide expressed their desire for a more equitable and sustainable world. This global reckoning underscores the need for concerted action across all sectors.
Many argue that business, even more than government, has the opportunity to make meaningful societal change.
A notable generational divide is emerging, highlighting contrasting views on equality. Younger generations are more likely to view inequality through an identarian lens, emphasizing racial and gender disparities. These growing expectations gap between the young and their predecessors demand attention. For organisations and brands, bridging this gap requires aligning with evolving values and acknowledging the unique perspectives of each generation.
Strategies for change
Addressing inequality necessitates a comprehensive approach. In this paper we recommend key strategies for organisations to create lasting change. These include:
Robust Measurement
Uncover discrepancies through data analysis and embrace non-traditional lenses to identify unequal practices within organizations.
Equality vs. Equity
Level the distribution of opportunities and address unconscious bias in evaluation and advancement processes.
Inclusive Conversations
Engage in surveys and qualitative communities to understand experiences related to diversity and inclusion.
Strategic Priority
Develop tailored interventions and set clear goals to close gaps and foster a culture of equality.