March 2020: Consumer confidence still holding up globally, but expectations are down
Two months after the first coronavirus outbreak reports, China loses its status of consumer sentiment champion to Saudi Arabia while Italy, Japan, South Korea, Mexico and the United States see a notable drop in their expectations Index since February.
At 48.5, March 2020's Ipsos Global Consumer Confidence Index, measuring consumer sentiment across 24 world markets, remains unchanged against last month and virtually unmoved since the beginning of the year (48.7). However, the Expectations Index (56.5), reflective of consumers' outlook on employment, their financial situation and their local economy is down 0.4 points vs. last month, and 0.5 points since the beginning of the year globally.
For the first time since May 2017, mainland China no longer holds the highest National Index score: at 64.1, it is now almost six points lower than it was in January. Saudi Arabia now leads all countries surveyed in the National Index (65.1) as well as in the Expectations Index and in the Investment Index, indicative of consumer views about their current and future personal financial situation and their purchasing and investment confidence.
Similar to last month, the stability of the Global Consumer Confidence Index (the average of all countries' National Index scores) masks a combination of notable increases in several markets and drops in others. Between last December and March, six countries have seen large upticks in their National Index: Great Britain (+5.3), Argentina (+4.5), Spain (+3.3), Sweden (+3.0), Saudi Arabia (+2.2), and Turkey (+2.1). During the same three-month period, in addition to China (-5.0), four markets have experienced notable drops: Hungary (-3.4), India (-3.4), Mexico (-3.0), and Israel (-2.5).
Looking only at changes vs. February, four other countries show a drop in their National Index and a larger one in their Expectations Index: Japan (-1.9 and -2.7, respectively), South Korea (-1.6 and -2.2), Italy (-1.3 and -2.7) and the U.S (-1.2 and -1.7), in addition to Mexico (-1.5 and -1.8).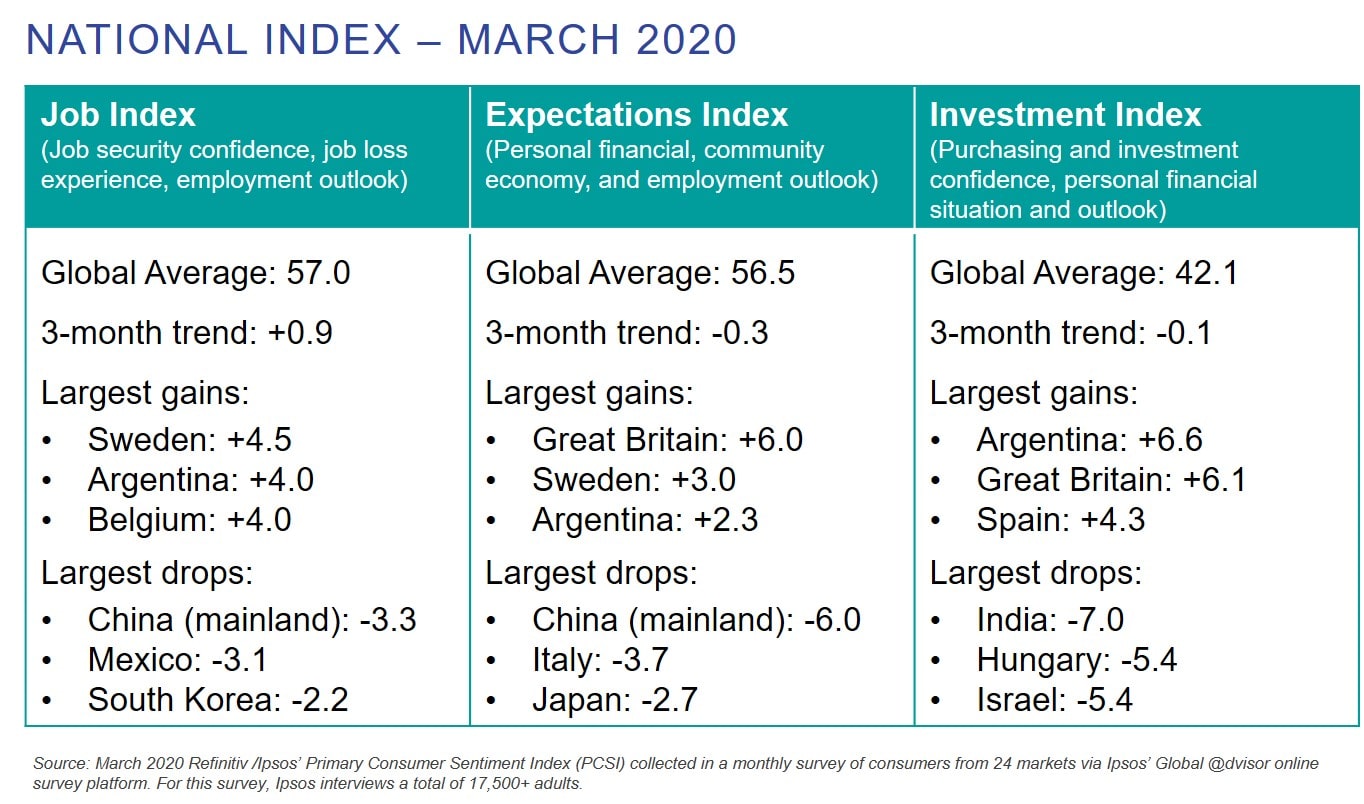 Visit our interactive portal, Ipsos Consolidated Economic Indicators for graphic comparisons and trended data pertaining to the Ipsos Global Consumer Confidence Index and sub-indices -- and all the questions on which they are based.
These findings are based on data from Refinitiv /Ipsos' Primary Consumer Sentiment Index (PCSI) collected in a monthly survey of consumers from 24 markets via Ipsos' Global @dvisor online survey platform. For this survey, Ipsos interviews a total of 17,500+ adults aged 18-74 in the United States of America, Canada, Israel, Turkey, South Africa; and age 16-74 in all other markets each month. The monthly sample consists of 1,000+ individuals in each of Australia, Brazil, Canada, China (mainland), France, Germany, Italy, Japan, Spain, Great Britain and the USA, and 500+ individuals in each of Argentina, Belgium, Hungary, India, Israel, Mexico, Poland, Russia, Saudi Arabia, South Africa, South Korea, Sweden and Turkey.