Oncology: the power of holistic insights
Understanding why real-world treatment in oncology can be sub-optimal – and what can be done about it.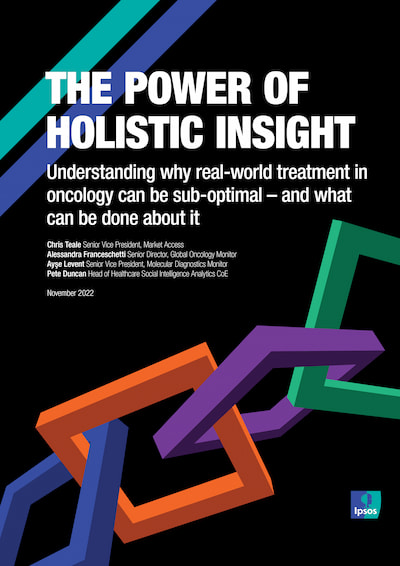 Traditionally, research into the treatment of patients focuses purely on the healthcare professional perspective – but, crucially, this does not always reflect treatment in the real world which is influenced by multiple stakeholders and myriad external factors…
In our paper and recent webinar, Ipsos uses multiple data sources to illustrate why the treatment of breast cancer in the real world may deviate from current treatment guidelines. Specifically, we draw on:
Physician insights
Real-world evidence (RWE) from doctors treating breast cancer
Pathologist insights
Perspectives on biomarker testing in breast cancer
Patient insights
Social intelligence analysis of breast cancer patients' attitudes and unmet needs
Payer insights
Expert guidance from Ipsos' market access team on the payer perspective
We go on to explore the different approaches and frameworks that can enable the integration of these insights and generate a holistic view – and, ultimately, hypothesise on why these disparities may exist and what can be done about it.
Watch the webinar