Taking a stand in the age of COVID-19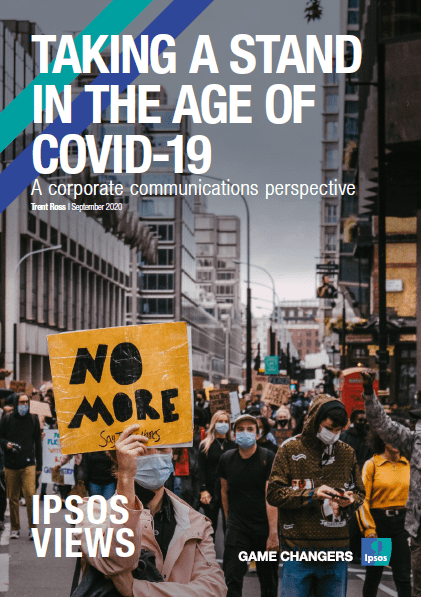 Companies will be an integral part of the recovery process of the crisis the world finds itself in today. But, in communicating in this environment, particularly in relation to broader business objectives, companies must be careful to select activities that are authentic, credible and effective. Those that do this are the most likely to see reputation gains, while at the same time have the greatest impact on the community.
Speaking out carries risks for companies and can be divisive, but if it genuinely reflects the social purpose and values of the business, and is backed up with evidence of action, the reward can be a powerful and positive impact on reputation and relationships.
Featuring case studies from France, Japan and the US, this new Ipsos Views paper from our Corporate Reputation team explores the perception of companies within the context of the current global pandemic.
With people relying on companies to contribute to the recovery, we also set out some specific suggestions for companies taking a stand:
Above all, be relevant and authentic: a stance which is aligned with a strong social purpose that is true to your values can bring benefits beyond the purely altruistic – creating a real connection with customers, helping to attract the best talent and leading to better engagement with influencers.
Practice what you preach: any stance will lack credibility if the business cannot show a track record of action. If you are taking a stand on diversity, you must be sure you measure up within your own business.
Understand the risks: even in the best of times, taking a bold stand will be inherently divisive and can be a bruising experience that carries risks. But if an issue lies at the heart of your corporate purpose, and the expectations of your stakeholders, then not speaking out may be the bigger risk.