"What Worries the World?": COVID-19 is the biggest concern for the sixth successive month
Throughout the pandemic, we have been reporting that Coronavirus has claimed the title of the world's greatest concern in our 27-country What Worries the World survey. Since we began tracking public anxieties of the virus against 17 other issues in April 2020, it has maintained its top position month after month.
The same is true for September's results: 45% of people globally say that COVID-19 is one of the biggest issues facing their country today.
Looking back on 6 months of data, we can see some trends emerging from today's unstable reality.
The onset of Coronavirus – added to the survey for the first time in April – caused a divergence among our survey's historical top 5 issues. It dominated the leader board for the first couple of months but, as COVID-19 concern began to fall to (comparatively) more moderate levels, some issues have begun to move back towards their pre-COVID levels (such as Poverty & social inequality), even if it is too early to feel we can see what the "new normal" settling might look like.
Unemployment concern is now at a higher level than we've been seeing over the last 12 months, with an average of four in 10 across the 27 countries being worried about joblessness. Meanwhile, worries about Crime & violence are climbing, in what might indicate a new trend.
The top 10 countries currently most concerned about Unemployment are:
South Africa (63%)
Spain (61%)
Italy (59%)
India (53%)
South Korea (51%)
Chile (50%)
Malaysia (50%)
Australia (49%)
Mexico (48%)
Peru (43%)
Coronavirus concern
In 14 of the 27 countries, COVID-19 is the top concern – the same number as last month. The 14 now includes Israel, South Korea and Turkey, while Belgium and Germany have Poverty & social inequality move into their top spot and Brazil's main worry splits between Coronavirus and Healthcare.
Nations in the Asia-Pacific region appear to be most concerned about Coronavirus. The top 10 in September are:
South Korea (72%)
Australia (63%)
Japan (60%)
Malaysia (58%)
Spain (58%)
Great Britain (56%)
India (55%)
Peru (55%)
Saudi Arabia (54%)
The US (54%)
How do we feel about the future?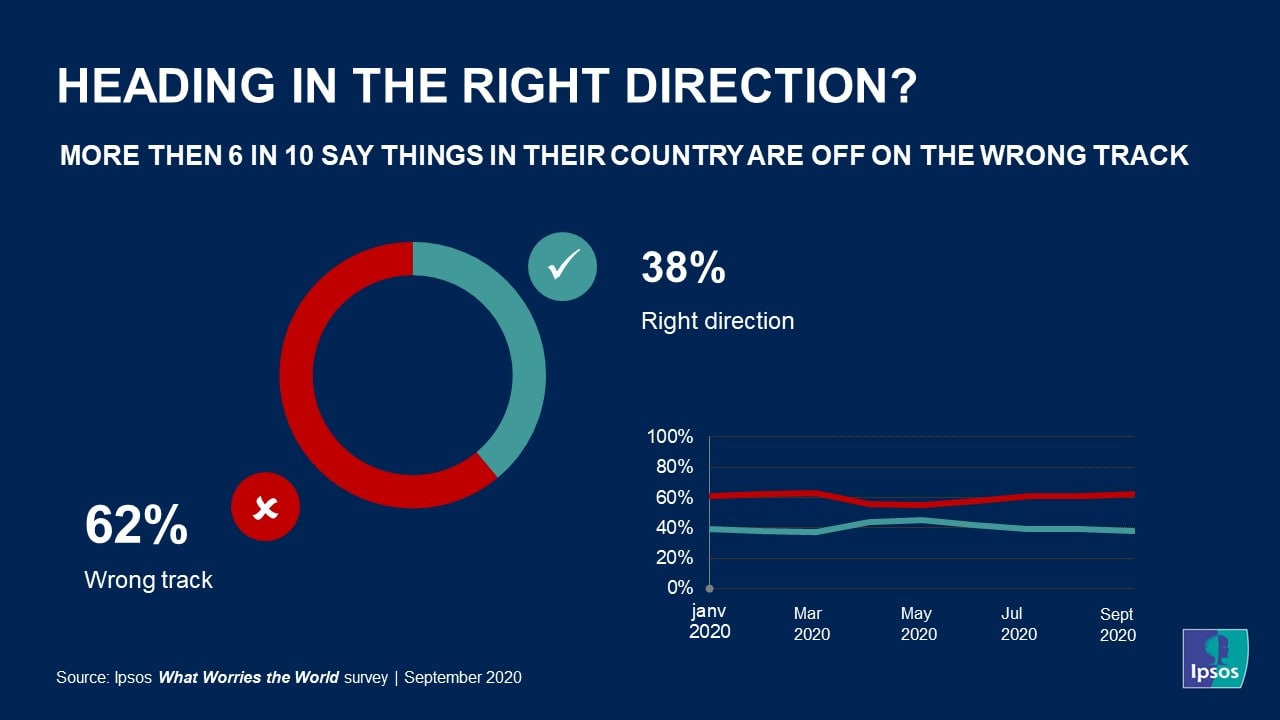 Across the 27 nations, more than six in ten (62%) say that things in their country are on the wrong track. The countries where larger majorities are concerned about where things are heading are South Africa (86%), Belgium (78%), Chile (76%), Spain (74%) and France (73%).
We have seen the greatest increases on this "wrong track" measure in Great Britain (+8), Italy (+6), Argentina (+5) and Spain (also +5) since last month.
The survey was conducted in 27 countries around the world via the Ipsos Online Panel system. The 27 countries included are Argentina, Australia, Belgium, Brazil, Canada, Chile, France, Great Britain, Germany, Hungary, India, Israel, Italy, Japan, Malaysia, Mexico, Netherlands, Peru, Poland, Russia, Saudi Arabia, South Africa, South Korea, Spain, Sweden, Turkey and the United States of America.
20,085 interviews were conducted between August 21st 2020 and September 4th 2020 among adults aged 18-74 in the US, South Africa, Turkey, Israel and Canada and age 16-74 in all other countries. Data are weighted to match the profile of the population.