Ipsos MORI Research Highlights - October 2019
This month's Ipsos MORI research highlights include net satisfaction with how the government is running the country now stands at minus 67, the public are still divided on Brexit and we explore how British attitudes to moral and social issues have become significantly more liberal.
British public continue to be more satisfied with Johnson's approach to Brexit than Corbyn's
As the uncertainty continues, public satisfaction with Johnson's approach to Brexit has shown small signs of improvement since August and his net satisfaction rating has improved from -15 to -9. Meanwhile, 7 in 10 (72%) are dissatisfied with Corbyn's approach, with just 15% satisfied, representing a net satisfaction rating of -57. While the public remain divided over their preferred Brexit outcome.
British attitudes to moral and social issues have become significantly more liberal in the last 30 years
Society today is far more tolerant on issues including illegal drug use, homosexuality, abortion, depictions of violence and many aspects of sex in popular culture. In 1989, 40% of British adults believed that homosexual relationships were morally wrong, but today that number has fallen by two thirds to just 13%. Meanwhile, the proportion of the public who think abortion is immoral has halved in the last 30 years from 35% to 18%.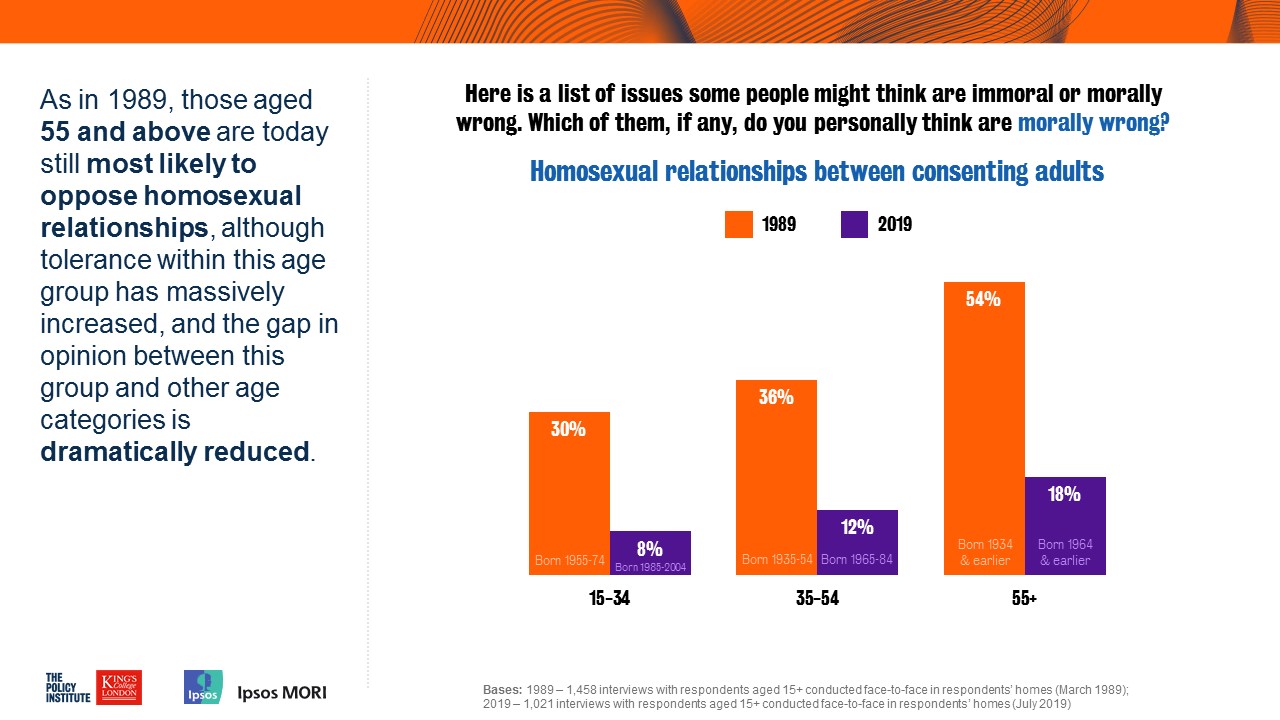 8 in 10 dissatisfied with how the government is running the country
Although his satisfaction ratings regarding his handling of Brexit have improved slightly Boris still faces an uphill battle as net satisfaction with how the government is running the country now stands at minus 67.  The only governments to ever achieve lower ratings were John Major and Theresa May. Boris Johnson can be reassured by the fact he still seen as a more capable Prime Minister than Jeremy Corbyn (50% to 29%).
Four in five say mental health as important as physical health
Research with King's College London for World Mental Health Day shows just one in five (20%) Britons think the health system prioritises mental health to the same extent as physical health, despite four in five (82%) saying the two are equally important.  Britain appears to be the most tolerant when it comes to mental health, as just over three-quarters (76%) of the British public think mental illness is an illness like any other – the highest of all the countries polled.
The State of the State in 2019
We took a closer look at attitudes to some of the key challenges facing the public sector for Deloitte LLP. Most people say they are ready to accept higher taxes in return for extended public services – a picture that's remained broadly consistent since 2016. With regards to public services three in five (60%) want to see more local control. 
Is a lack of understanding the crux of the sexual harassment dilemma?
less than a third (30%) of people in Britain think that nowadays, reports of sexual harassment are generally ignored. But is this really the case? Ilya Cereso reflects on a widespread lack of understanding around what constitutes sexual harassment, and its prevalence.
In other news
The 2019 Young People & Gambling survey found that 11% of 11-16-year olds say they spent their own money on gambling in the seven days prior to taking part in the survey, compared with 14% who reported gambling over the same period in 2018.  
Following our The Brand Builders Fight Back event earlier in the year, our latest thought piece by Jon Harper explores the value of brand building. Read about how long term brand building supported by strong creative and great customer service can cause your brand to be thought of at the moments that matter.
Digital-only banks seem to be winning over more UK consumers as 13% of new current accounts opened in the UK from Jan-June 2019 were digital-only fintech banks. Katie Hawkins explores UK attitudes and behaviours to payments, the rise of digital-only banks and the advent of Open Banking. 
As ever, please do let us know what you think and I hope you find something to interest you.
Ben Page
Chief Executive, Ipsos MORI
ben.page@ipsos.com