The jury is out on the Independent Group but can they fill a gap in British politics?
New research from Ipsos MORI shows the Independent Group drawing approval from liberal minded, graduate Remainers but many Brits have yet to form an opinion on the group.
One in four Brits are favourable towards the Independent Group – they tend to be graduates and pro Remain.
 Yet, one in four are unfavourable and almost half have yet to form a view.
Those favourable to TIG hold policy views similar to those that currently feel close to the Lib Dems, Labour and the Greens (although they are slightly more to the centre on some issues).
On the other hand, those who do not feel close to any existing party are more likely to hold conservative views on immigration, foreign aid and prisons than the general public.
Since the emergence of the Independent Group a few weeks ago, there has been much debate about their level of potential support and where it may come from. New research from Ipsos MORI, among online GB adults aged 16-75, shows that one in four Brits (25%) are favourable towards The Independent Group, with a similar number unfavourable (27%) and approaching half yet to make up their mind (48%). That the jury should be out at this early stage is perhaps not surprising when we consider that only 15% are following the story 'very closely' and 44% and 49% respectively cannot name a single Labour or Conservative MP who defected to join the group (although 43% could name Chuka Umunna and Anna Soubry).

When we look at where TIG's future support might come from a clear picture emerges. Those favourable towards them tend to be Remain supporters (35%), graduates (32%) and likely to have voted Lib Dem (48%) at the 2017 General Election. That said, one in four (24%) Conservative voters and almost three in ten Labour voters (29%) from 2017 are also favourable towards the group too, so there could be some potential for TIG to draw support from each of the main established parties. Though it should be said that 41% of 2017 Conservative voters and 28% of 2017 Labour voters are unfavourable towards the group.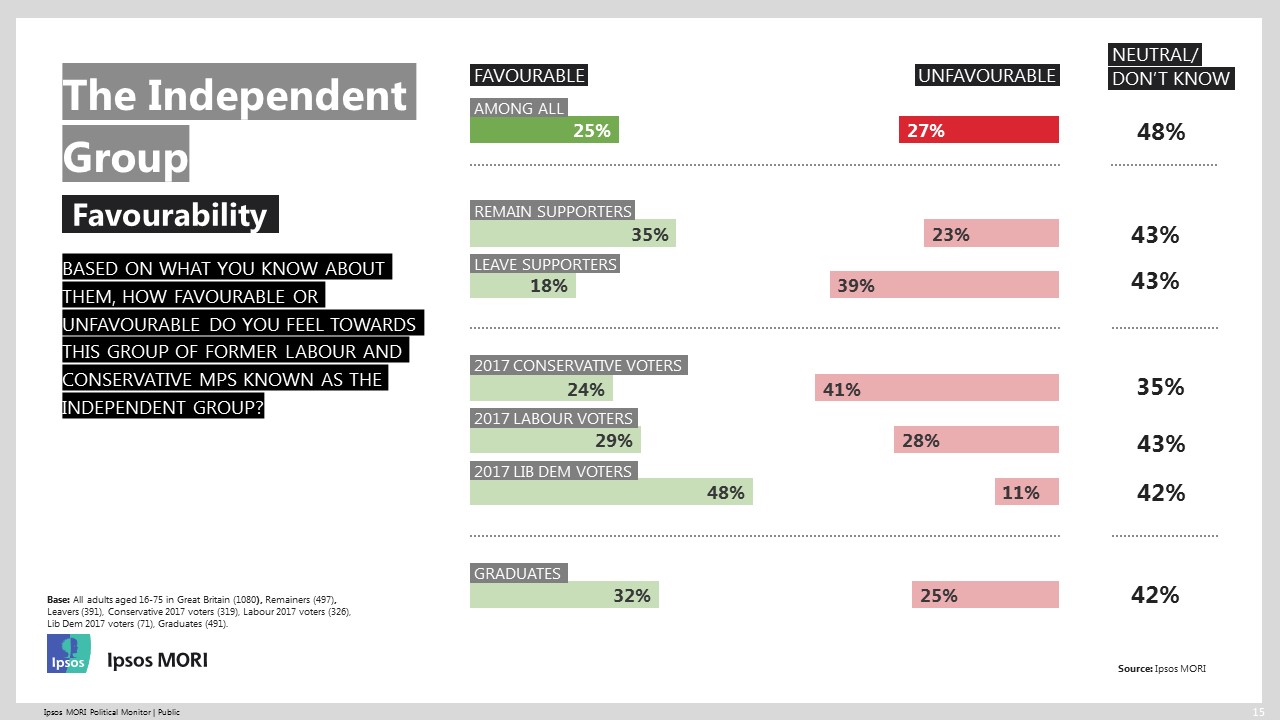 Much has been made of the prospect of a new 'centrist' party and whether the Independent Group can fill such a void (if one exists). These discussions are problematic because the definition of what 'the centre' is can be difficult to judge. To shed light on this issue, Ipsos MORI asked Britons to choose between several pairs of policy statements so that we could plot where different audiences stand on policy. The chart below shows abbreviated versions of these statements, with data plotted for GB adults aged 16-75 overall (among all), those feeling favourable towards TIG and those who do not feel close to any political party at all.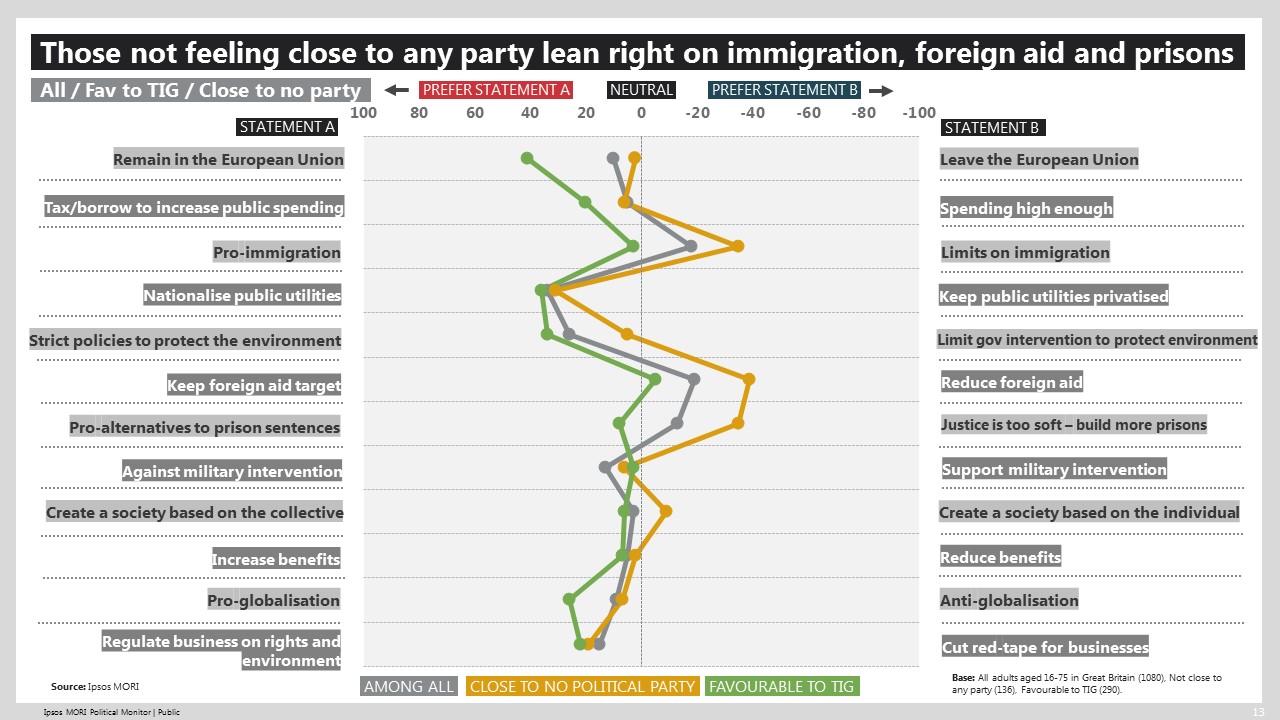 Our findings show, as we might expect, that the public leans 'left' overall on some issues and 'right' on others. For example, on balance Brits tend to favour policies such as nationalising public utilities, strong action to protect the environment and opposing military action abroad, whilst also favouring stricter limits on immigration, building more prisons and reduced spending on foreign aid. Those favourable towards the Independent Group tend to be found on the more liberal end of the scale in policy terms. They are very pro Remain, more comfortable with globalisation than the general public and prefer more liberal policies on immigration, public spending, foreign aid and prisons. Interestingly, those not close to any political party stand out as holding particularly conservative views on immigration, foreign aid and building more prisons when compared to the general public. This suggests, as other research has shown, that the biggest 'gap' in British politics may not be where the Independent Group hopes it is.

So is there space for TIG as a so-called 'centrist' party? When we plot the policy preferences of those favourable towards the Independent Group versus the established national parties an interesting pattern emerges. First, those favourable towards TIG tend to be much closer in policy terms to parties on the left than parties on the right. However, they also tend to hold slightly more 'moderate' views than those who feel close to Labour, the Greens or the Lib Dems across most policy areas. This data suggests that those currently feeling warm towards TIG do indeed think somewhat differently in policy terms than those who feel close to more established parties on the left. Of course, how effective the Independent Group is at articulating such differences in the future (and whether they can profit politically) is an open question.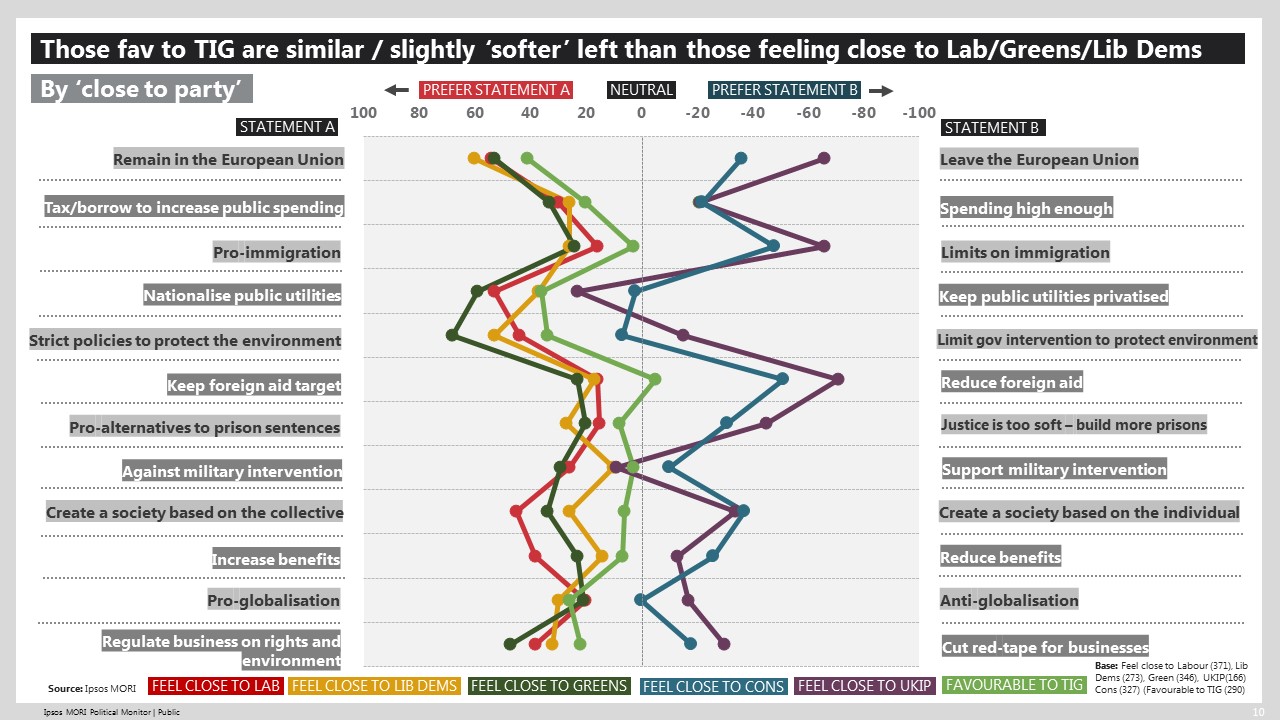 In conclusion, with almost half of the public neutral or undecided on TIG to-date and obvious barriers to success presented by Westminster's First Past the Post electoral system, the new group faces significant challenges in establishing itself as a viable political party. However, there are some early signs of a small pool of potential support in the country and the data shows a clear policy direction to take in order to appeal to these people. Whether or not the Independent Group is able to capitalise remains to be seen. 

Keiran Pedley, Research Director at Ipsos MORI said:
Our research shows that the Independent Group does have a receptive audience among Remainers, graduates and those on the more liberal end of the British political spectrum. However, whether or not they can convert this audience into votes and seats in parliament remains to be seen.  The general public are not paying close attention to them right now and they will face intense competition for votes from more established political parties. That said, they will not have to take many votes at the next General Election in order to have a big say in the result
Technical note
Ipsos MORI interviewed 1,080 British adults aged 16-75 online between Feb 22-26 2019. Data were weighted to be representative of the GB population. Where percentages do not sum to 100 this may be due to computer rounding, the exclusion of "don't know" categories, or multiple answers.Full data tables can be found below.