Public Attitudes Towards Online Targeting
New Ipsos MORI research for the Centre for Data Ethics and Innovation (CDEI) shows strong public support for greater regulation of online platforms.
Ipsos MORI was commissioned by the Centre for Data Ethics and Innovation (CDEI) and Sciencewise to conduct a programme of public engagement research to explore attitudes towards Online Targeting. Findings from the research have been used to inform the CDEI's Review of Online Targeting and their recommendations to government.
Data-driven online targeting is a new and powerful application of technology. Using machine learning, online targeting systems predict what content is most likely to interest people, and influence them to behave in particular ways. However, given that public awareness of online targeting technology was low, a deliberative public dialogue approach was critical in enabling members of the public to develop informed views about the benefits and harms to individuals and wider society.
The dialogue engaged 147 participants aged 16+ in two days of discussion across seven locations in Great Britain over June-July 2019. A small number of follow-up in-depth interviews were conducted to help explore a number of issues highlighted in the dialogue in more detail. An online survey was also commissioned to further supplement the analysis in specific areas.
Overall, it was clear from the dialogue and survey research that the public do see significant value in online targeting in both the private and public sector; however, almost all participants advocated that some form of change was required to improve the way in which online targeting currently operates.
Perceived harms of online targeting demonstrated a concern beyond issues of data protection. There was greatest concern that online targeting systems could exploit people's vulnerabilities, erode their autonomy, and amplify inappropriate content.
Participants called for action from government, industry and users to improve transparency, increase accountability, and empower users. Though no one actor bore sole responsibility, there was a clear expectation in both the dialogue and survey research that the government should play a greater role in protecting the interests of users than they currently do. For example, respondents to the survey overwhelmingly favoured an independent regulator having oversight of the way in which organisations personalise content and target adverts, rather than letting industry take responsibility for improving the system (61% vs 17% respectively).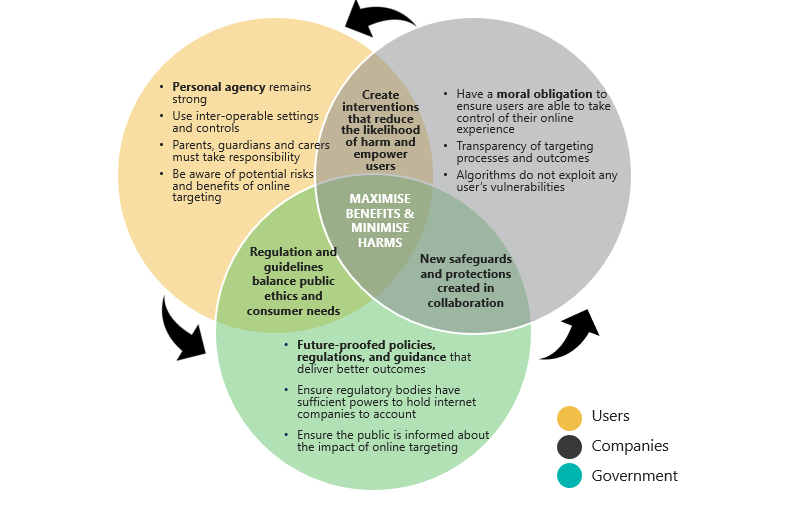 Furthermore, the research generated valuable insight into how an informed public trade-off some of the tensions presented by online targeting systems. Through their deliberations, dialogue participants provided policymakers with a number of clear priorities and principles for how best to ensure online targeting works for the benefit of users and wider society.
A copy of the full research report can be found below. Materials from the workshops are available in the Annex, alongside a the full survey questionnaire.