Public unsure of 'Project Speed' in infrastructure if it means they have no voice
A new Ipsos MORI survey shows more of the public favouring circumspection rather than speed in delivering infrastructure and also a preference for 'repair, repair, repair' over 'build, build, build'.
The new Ipsos MORI research comes shortly after the Prime Minister announced a new Infrastructure Delivery Taskforce, named 'Project Speed', to ensure Britain is "building the right things better and faster than before"  and before news of an overhaul of the planning system. Ipsos MORI asked Britons to choose between four pairs of policy statements in a survey undertaken between 10-13 July.
While three in ten, 31%, favour avoiding any delay to tackling infrastructure problems, even if it means the public's views cannot be heard properly, more, 37%, favour delay so that the public's views can be heard properly even if this means that infrastructure problems are not tackled when they need to be. This leaves 32% unsure one way or the other.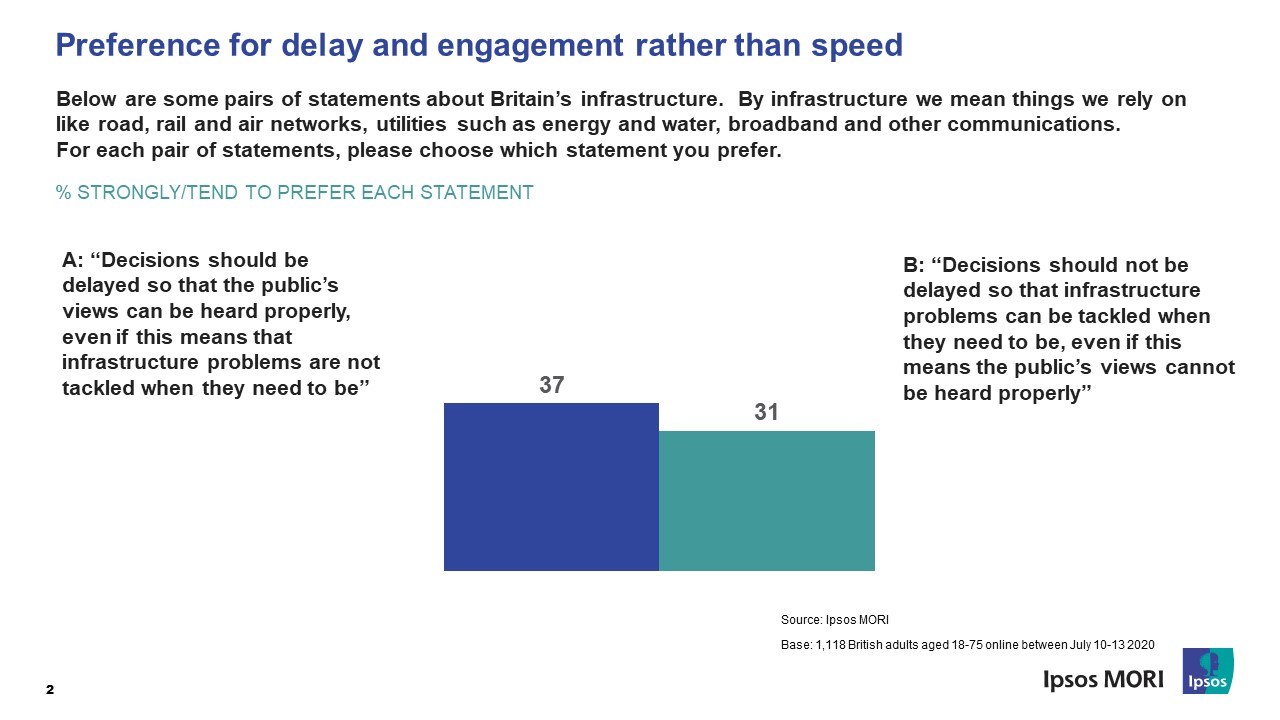 The public are also more inclined to prioritise maintaining and repairing existing infrastructure in Britain before spending on new infrastructure, chosen by 56%, more than three times the 16% tending towards the opposite view.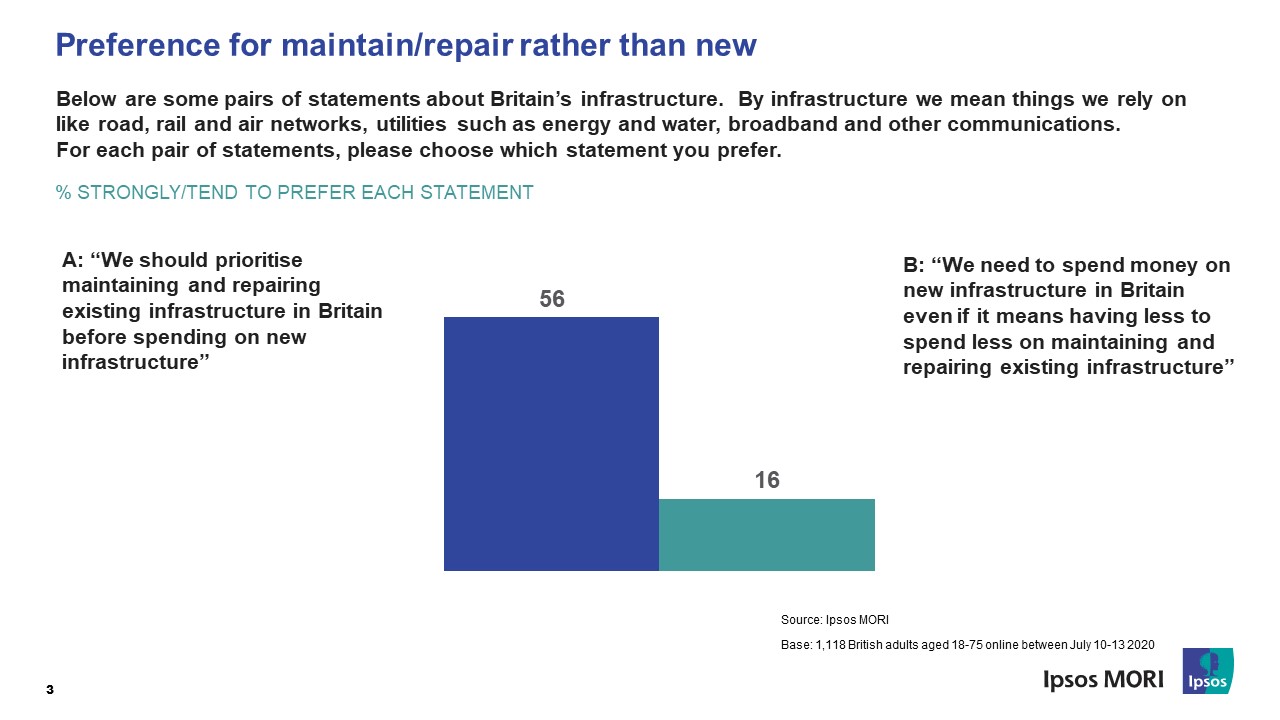 The survey was undertaken following recent controversy about the involvement of Huawei in Britain's 5G telecoms network. By a margin of two to one, Britons think we should discourage foreign investment in infrastructure to better support British business and workers rather than opening-up to foreign investment to make infrastructure better (48% against 24%).
By a slightly slimmer margin the public think it better to improve Britain's roads and motorways including building more where these are needed, rather than actively discouraging people from using their cars through taxation and improving public transport. Road improvement is favoured by 44% while 28% would opt for a shift towards public transport.
Not everyone sees these issues the same way. For example, London is relatively more likely to think we should discourage car use but also to favour speed in delivery. By contrast, those living in the North of England are more likely than those in the capital to want to improve the roads, and to ensure that the public's views can be heard properly.
Younger age groups are relatively more open to foreign investment than older ones, to favour new infrastructure and to eschew speed to allow the public's views to be heard.
The same is true of those who voted Labour at the last general election who are also cooler on the idea of improving roads and motorways than Conservative voters.
Across the four statements, Conservative voters are attitudinally closer to the wider population than Labour voters are, and also to those who consider their views to be in the centre ground of politics (who are 34% of the population).
Commenting on the findings, Ben Marshall, Research Director for Transport and Infrastructure at Ipsos MORI, said:
At the heart of the Prime Minister's recent 'build, build, build' speech was an impatience with delays, red tape, even 'newt-counting'. But last week the Public Accounts Committee said that big projects need more local input.
The desire for urgency has echoes in public opinion; we have previously found a strong sense that we're not doing enough as a country to improve infrastructure seen as vital to our economic future.
This survey shows, however, that many people would rather a canter than a gallop. In their eyes, building better and quicker ought not to come at the expense of engagement with people. Nor should our urgency mean that key economic and employment benefits leave the country.
The public are also instinctively in favour of maintenance and repair rather than new projects. And possibly reflecting the past few months of COVID-19, more would prioritise improving roads than discouraging car use and boosting public transport.
Technical Note
Ipsos MORI interviewed 1,118 British adults aged 18-75, online, between July 10-13 2020.
Infrastructure was defined as; "By infrastructure we mean things we rely on like road, rail and air networks, utilities such as energy and water, broadband and other communications."
Data were weighted to be representative of the GB population.
Where percentages do not sum to 100 this may be due to computer rounding, the exclusion of "don't know" categories, or multiple answers.