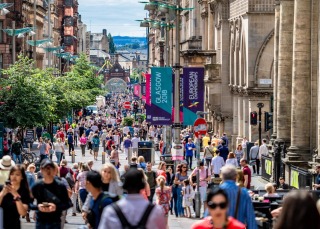 OUR SOLUTIONS
Ipsos MORI Scotland has been delivering quality market research and insight to our clients in Scotland since 1997. We specialise in public policy research for the public and private sectors, and charities.
Our Edinburgh-based team combine an in-depth understanding of the distinct needs of Scottish clients, with the technical resources and reach of an international company. Our social research ranges from small-scale, fast turnaround qualitative projects, to long-term, large-scale surveys and evaluations.
Our experts cover multiple policy areas, including business, children and families, crime and justice, education, energy and environment, health, housing, infrastructure, politics, and public sector reform.
Scottish Opinion Monitor
Our Scottish Opinion Monitor provides the ideal opportunity to understand how people in Scotland are feeling and behaving in these uncertain times. As a multi-client survey, it is an economical way of conducting research with the general public - administration and operational costs are shared between all the clients who buy space in the survey, but your results are exclusive to you.
It is one of the only public opinion surveys in Scotland which contacts people by telephone, rather than relying on opt-in online panels. As much of the sample is generated using Random Digit Dialling, the reach of the survey is extended – making it more representative of the Scottish general public than online surveys which require people to opt-in to panels.
Interviews are conducted with a representative sample of 1,000 adults (aged 16+) living in Scotland, with quotas set on gender, age, geographical region and working status.
Clients also benefit from the expertise and insight of the team who will be on hand to provide advice and guidance on the development of questions and the interpretation of results. It is also possible to track change over time by opting into subsequent survey waves.
Timings and costs:
Next wave running from 1 June, with results available by 11 June, opt in by 20 May
Costs start from £600 per question (excluding VAT) and include: questionnaire design advice; 1,000 telephone interviews with a representative sample of Scottish adults; and data tables
Other outputs, such as SPSS data, a Word or PowerPoint report, infographic or additional analysis can be provided at an additional cost.
For more details, please contact Melissa Behm (020 7347 3815).
Omnibus Survey of Scottish Parents
Do you need data on the views and experiences of Scottish parents? How has lockdown affected their family? What hopes and concerns do they have for the future? Are parents aware of any comms messages you've aimed at them? What information and support do they need? Ipsos MORI's Parents Omnibus is a cost-effective way of reaching a representative sample of parents across Scotland.
Cost-effective approach to surveying parents across Scotland
What does the survey offer you?
A unique opportunity to explore the views of parents of children aged 0-18.
High quality and robust research with a representative sample of parents. Interviews conducted by telephone.
Expert advice on questionnaire design from Ipsos MORI specialists.
Free demographic questions (e.g. family structure, household income, urban/rural category) included as standard. Topline data, detailed results tables, a summary of methods and guidance on interpreting data are all included in the costs.
Survey Details
A sample of 1,000 – 1,200 parents.
Confirmation required by 20 August 2021, with data available in October / early November 2021.
Costs start from £4,250 per minute of questions.
For more details, please contact Maggie Pollok (07853) 127417.