[EVENT] Better Decisions Breakfast Sessions - June edition
You will receive the location after registration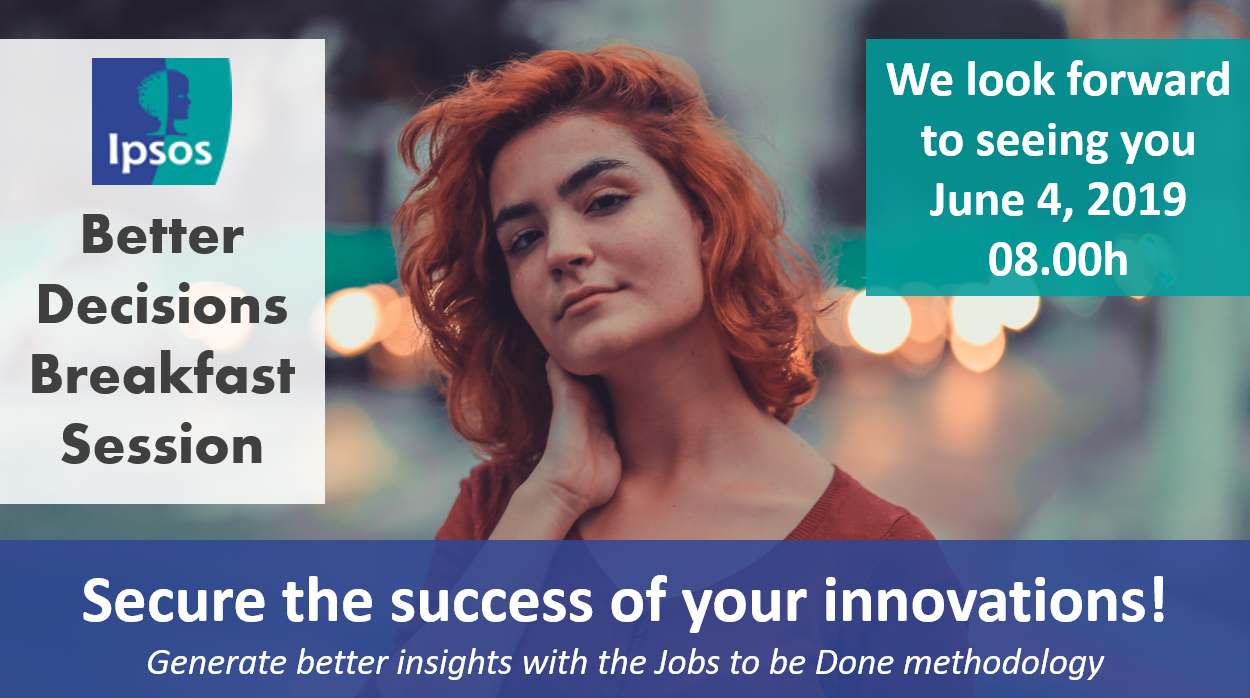 Register now*   
Ipsos' innovation experts Cher and Johannes will share their knowledge and experience with Jobs to be Done during this breakfast session. Jobs to be Done is a methodology to connect the right 'Jobs' with the right solutions. Jobs are actions that are needed to book progress. According to the philosophy of Jobs to be Done people are looking for products in their life the same way a company looks for a new employee. In contrary to the mainstream approach, in which unfulfilled needs are searched within a product or a category. 
In addition to the presentation there will be a Q&A ánd together we are making a start with applying Jobs to Done to your own business challenge. You will leave this session inspired and with concrete ideas how Jobs to be Done can help you get one step closer towards successful innovations. 
Want to know more about Jobs to be Done? Read this blog with Ipsos' innovation experts Johannes and Cher talking about their experience with Jobs to be done. 
Program
08:00 - 08:30AM
Walk-in including breakfast
08:30 - 09:30AM
Presentation 'Secure the success of your innovations!' 


Generate better insights with the Jobs to be Done methodology 

09:30 - 10:00AM
Possibility for Q&A and working with Jobs to be Done 
10:00 - 10:05Am
Closing off the morning
10:05 - 10:30AM
Networking with coffee & thee (optional)
Presenters
Johannes Hartmann - Brand Strategist and Business Humanizer
[email protected] | +31 20 6070 819
Johannes has worked in the consumers goods industry for over 25 years now. He has served in teams at Unilever (as Global Vice President Consumer Insight Foods) and the Estée Lauder Companies (as SVP Consumer Insights) across the globe representing the consumer in business decision processes. Johannes worked with multi-functional teams, teaching the concepts, facilitating team processes and doing JTBD research, establishing specific protocol and methods, guiding insight into action and strategy.

Cher Pietersz - Associate Research Director
[email protected] | +31 20 6070 878
Cher has 20+ years of experience in conducting qualitative research. She is an expert in uncovering deep consumer' needs and emotions and translate these into strategy and innovation. Her entrepreneurial spirit led her to start her own business a couple of years ago. She is now phased out to have a full focus on her role as an innovation expert at Ipsos NL, successfully serving and advising key accounts. 
Participation is free, but there are limited seats available.
Register 4 June latest via this link or the below button.* 
 - - -

 Register here* 

- - - 

*As spaces are limited we reserve the right to give priority to attendees who fit the profile of the event.