3 in 10 Britons are worried about paying their rent or mortgage
More are dipping into their savings or spending on credit cards due to the coronavirus outbreak
In a new survey by Ipsos, 3 in 10 Britons say they are concerned about paying their rent or mortgage at the moment (30%), and a similar proportion (31%) are worried about these payments in 12 months' time.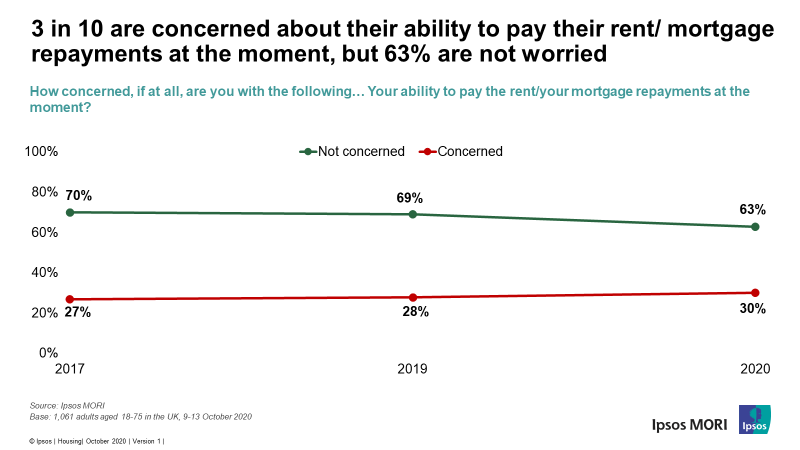 While a majority are not concerned about their housing payments at the moment (63%), this has fallen from 69% last year and a similar level in 2017. At the same time, lack of concern about payments in 12 months' time has fallen from 67% in 2019 to 60% now. 
Levels of concern are highest amongst private renters, 43% are very or fairly concerned about paying their rent now, compared to 39% of social renters and 35% of mortgage-holders. There are though similar levels of worry about paying housing costs in 12 months' time; this rises five points among those with a mortgage to 40% and is 39% among social renters, 41% of private renters. 
Reflecting patterns in tenure, concern is highest in London. Around 4 in 10 in the capital are worried about making payments, 39% at the moment and 38% in 12 months. Those in Wales and the Midlands are least concerned currently (23% and 25% respectively) and for the future (25% and 27%). 
The survey also found half of Britons saying they are spending less money overall (51%), however this has dropped 12 percentage points since April, perhaps due to the lifting of the national lockdown in May and more opportunities to spend. But while four in ten (38%) say they have saved more money generally – up 6 percentage points since April – almost a quarter (23%) have accessed money from their savings (up from 14% 6 months ago). Sixteen per cent are spending more money using a credit card, an increase from 11%.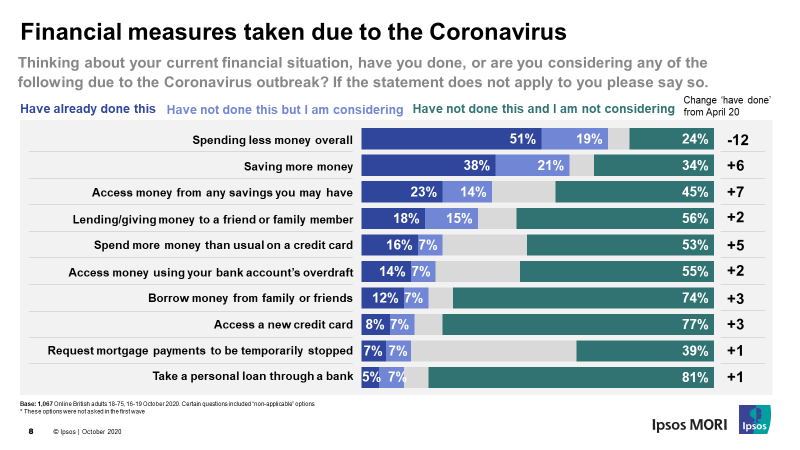 Almost 6 in 10 (58%) across Britain are in favour of extending the Government's mortgage holiday scheme, while in England and Wales 54% want to reintroduce the Government's ban on renters being evicted, which ended in September.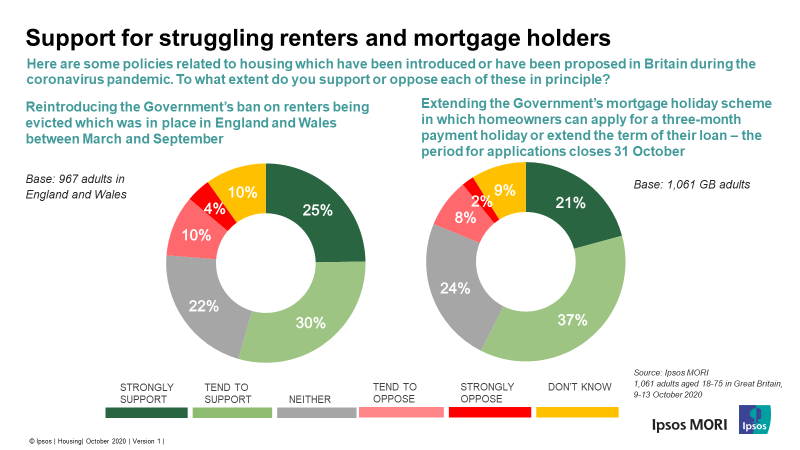 Ipsos's Ben Marshall (Research Director) said:
Previous Ipsos research has shown younger age groups and private renters have had an especially tough time during Covid. This is further underlined in our latest survey with renters more worried about falling behind on housing costs than mortgage-holders in the short-term.
In August we found national opinion split on whether it was right to end the furlough scheme in October. Now, against a backdrop of tightening restrictions and further economic shocks, most people support the reintroduction of protection for private renters from eviction and extending the mortgage holiday scheme too.
Technical note: 
Ipsos interviewed a sample of 1,061 adults aged 18-75 in Great Britain using its online i:omnibus between 9th and 13th October 2020. This included 283 mortgage-holders, 235 social renters and 208 private renters.
Data has been weighted to the known offline population proportions for age, working status and social grade within gender, government office region and tenure.  All polls are subject to a wide range of potential sources of error. For more information please contact the team at https://www.ipsosomnibussurveys.com/ 
 
Download