58% think Keir Starmer should resign if fined for Covid breaches but 6 in 10 think he should not resign if he is not
Andy Burnham tops the list of potential replacements with the public but few alternatives stand out
The latest Ipsos Political Monitor, taken May 11-17th, shows 58% of Britons think Labour leader Keir Starmer should resign if he is issued with a fixed penalty notice for breaking Covid laws. However, if he is deemed to have broken Covid guidelines and regulations but not fined, 61% think he should not resign.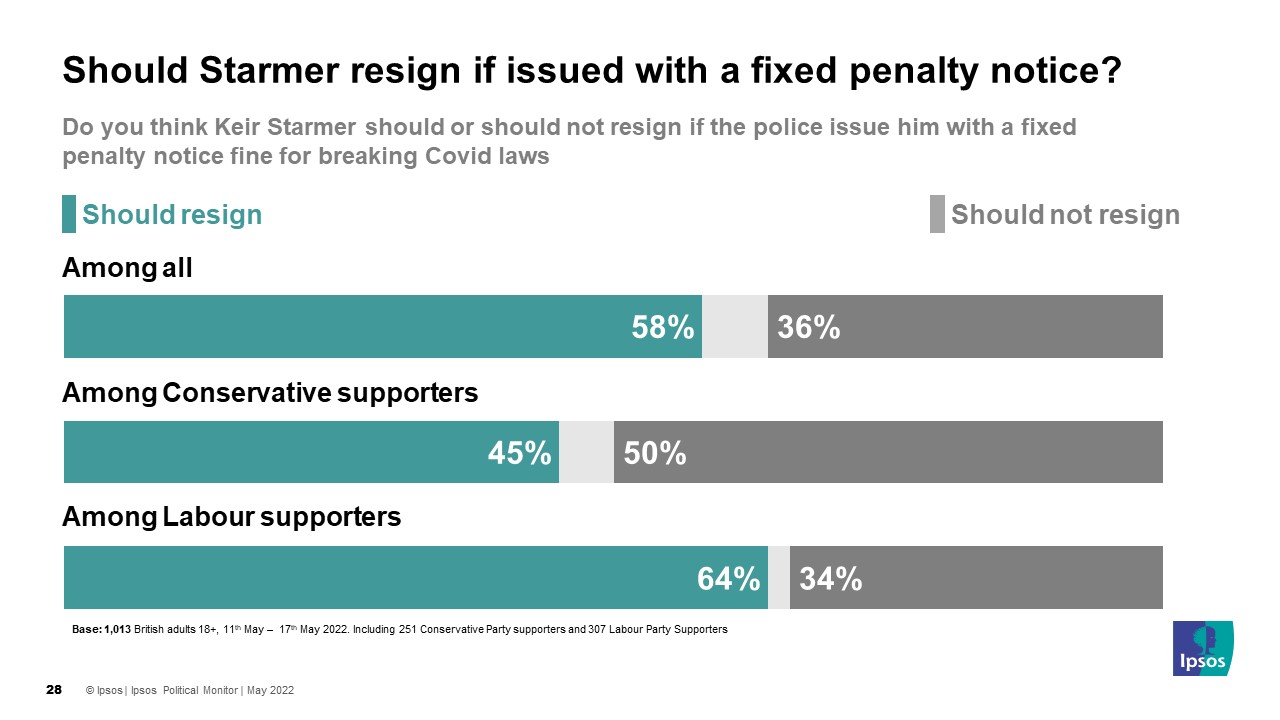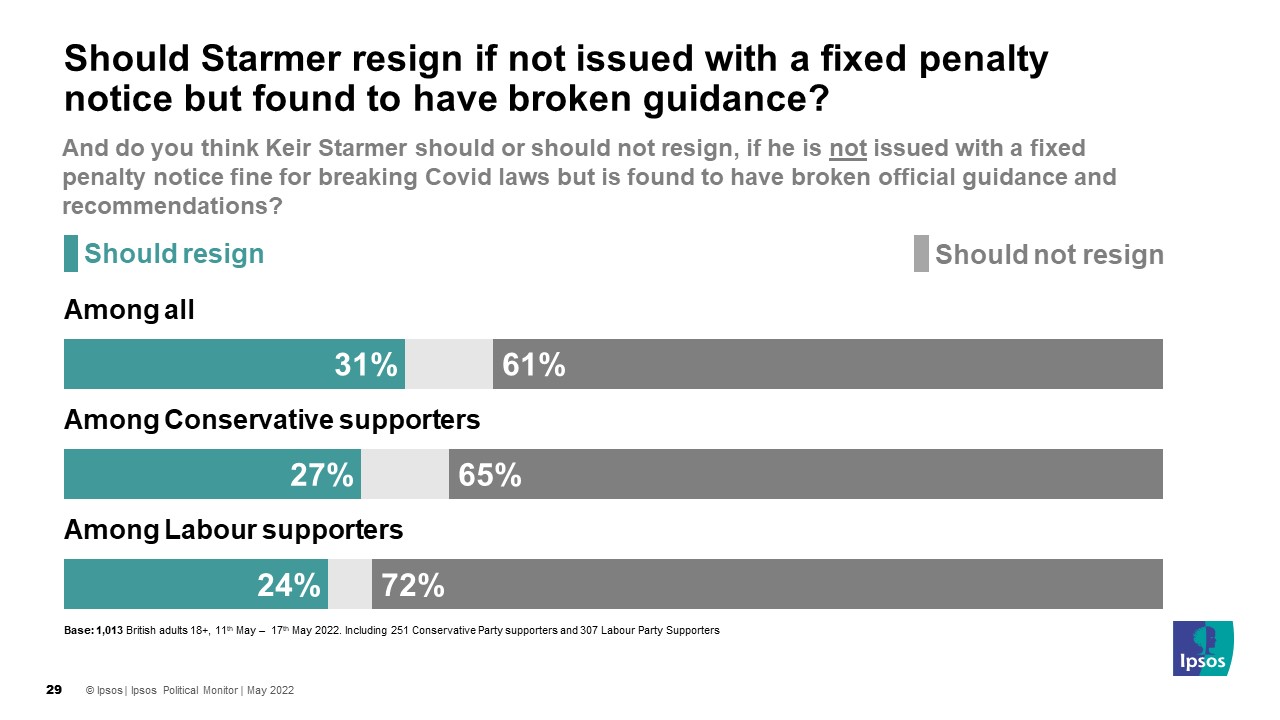 When asked more generally if Labour should change their leader before the next General Election, 37% agree they should (+1 pt from April and unchanged from January this year), 33% disagree (down 2 points from April and down 5 points from 38% in January. The highest score recorded by Keir Starmer on this measure was 50% in June 2021. Starmer's predecessor Jeremy Corbyn recorded a high of 66% agree in July 2016 and a low of 42% agree in October 2015.
Meanwhile, 55% of Britons think the Conservatives should change their leader before the next General Election and 24% disagree. This is similar to the 55% agree and 26% disagree scores last month. However, in January 61% agreed the Conservatives should change their leader before the next General Election and 23% disagreed. The level of agreement at that time being the highest recorded by Johnson in his time as Prime Minister.
Who might replace Starmer?
When the public are asked who should replace Keir Starmer if he does resign there is no runaway leader with the public. 17% choose Mayor of Greater Manchester Andy Burnham and 12% choose deputy Labour leader Angela Rayner. More than two in five say none of these or don't know.
Among Labour supporters Burnham and Rayner are neck and neck but among non-Labour supporters Burnham leads alternatives (although two in five say none of these or don't know).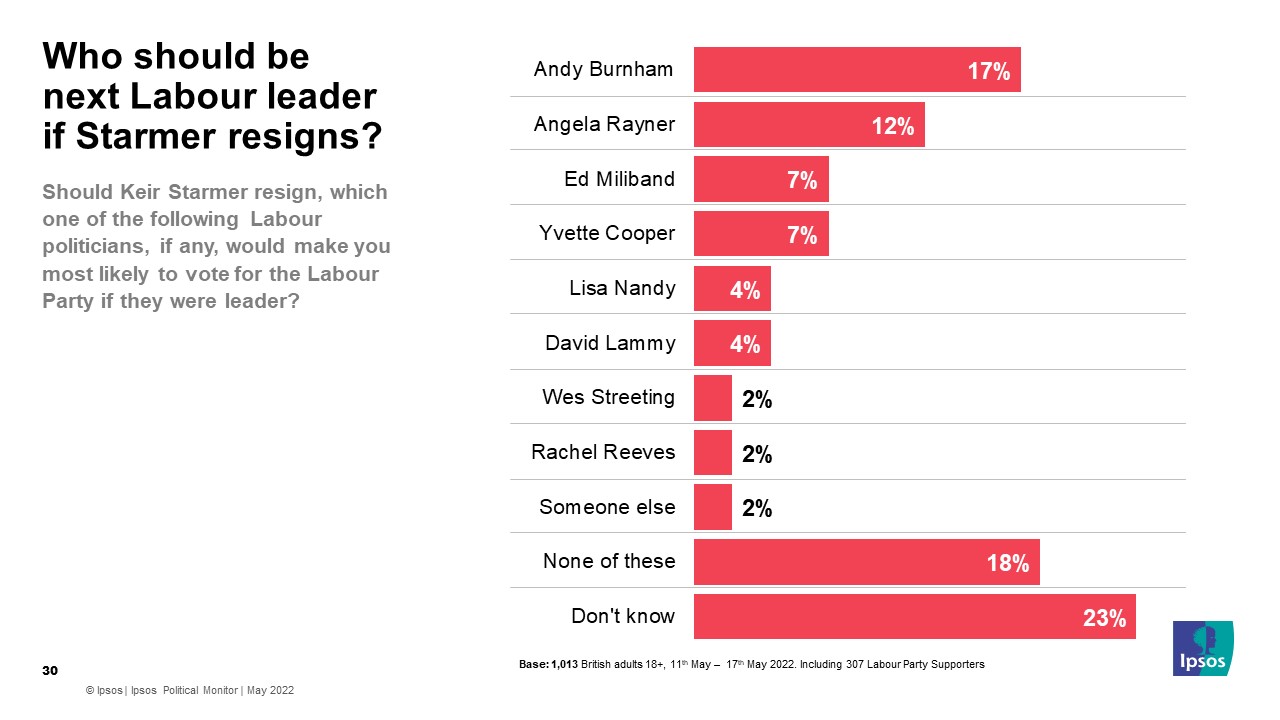 Gideon Skinner, Head of Political Research at Ipsos, says of the findings:
As far as the public is concerned, whether or not Keir Starmer receives a Fixed Penalty Notice will be crucial to if they think he should resign, but otherwise the 'beergate' story has not seen an increase in the numbers who want him to go this month (and are still lower than those for Boris Johnson). That may partly reflect that there is not an obvious Labour successor in the public's eyes (although Andy Burnham has the highest profile), but we also know that this is not the top issue by which voters are judging the leaders – their policies to deal with the cost of living are more important.
Technical note
Ipsos interviewed a representative sample of 1,013 adults aged 18+ across Great Britain. Interviews were conducted by telephone: 11th to 17th May 2022. Data are weighted to match the profile of the population. All polls are subject to a wide range of potential sources of error. On the basis of the historical record of the polls at recent general elections, there is a 9 in 10 chance that the true value of a party's support lies within 4 points of the estimates provided by this poll, and a 2 in 3 chance that they lie within 2 points. This is especially important to keep in mind when calculating party lead figures.