Adult perceptions of shingles risk
New multi-country online survey conducted by Ipsos for GSK.
On behalf of GSK, Ipsos conducted a multi-country online survey with adults who matched various screening criteria (referenced in technical note below) and chose to take part. Results show that very few consumers surveyed felt they were at personal risk of getting shingles in the next 10 years with the main reasons stated linked to misconceptions on how you get shingles.
Results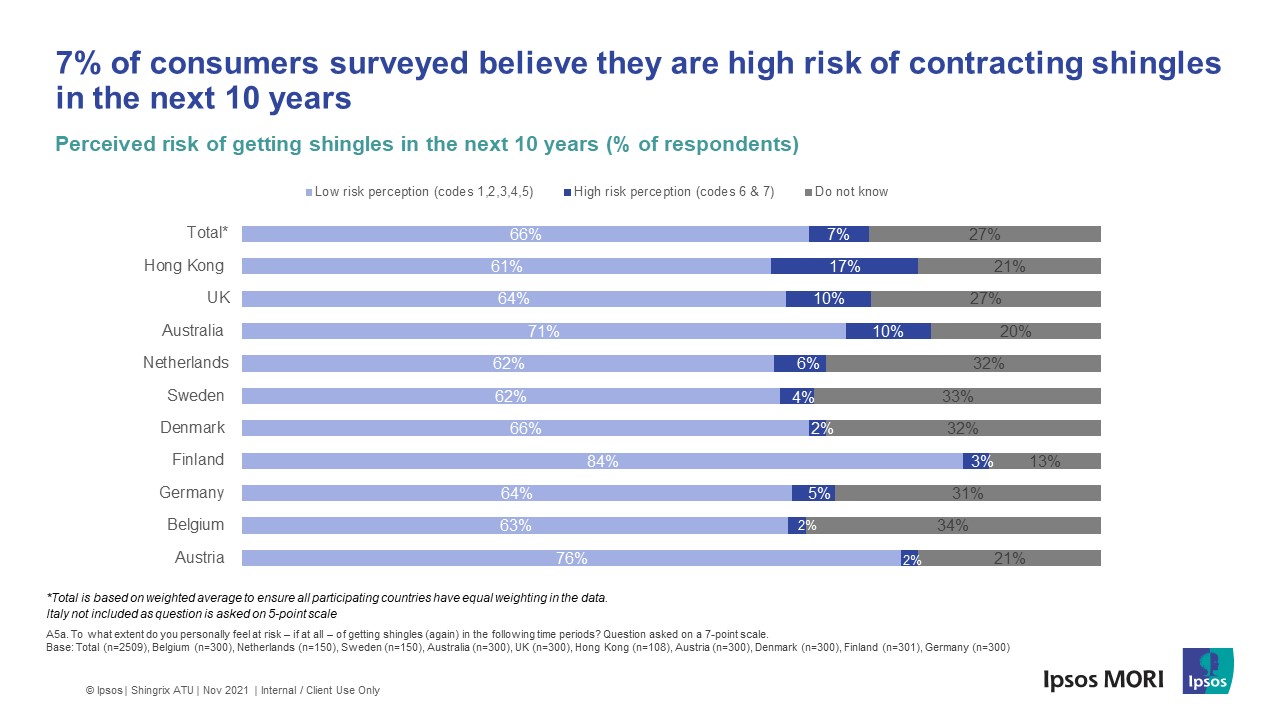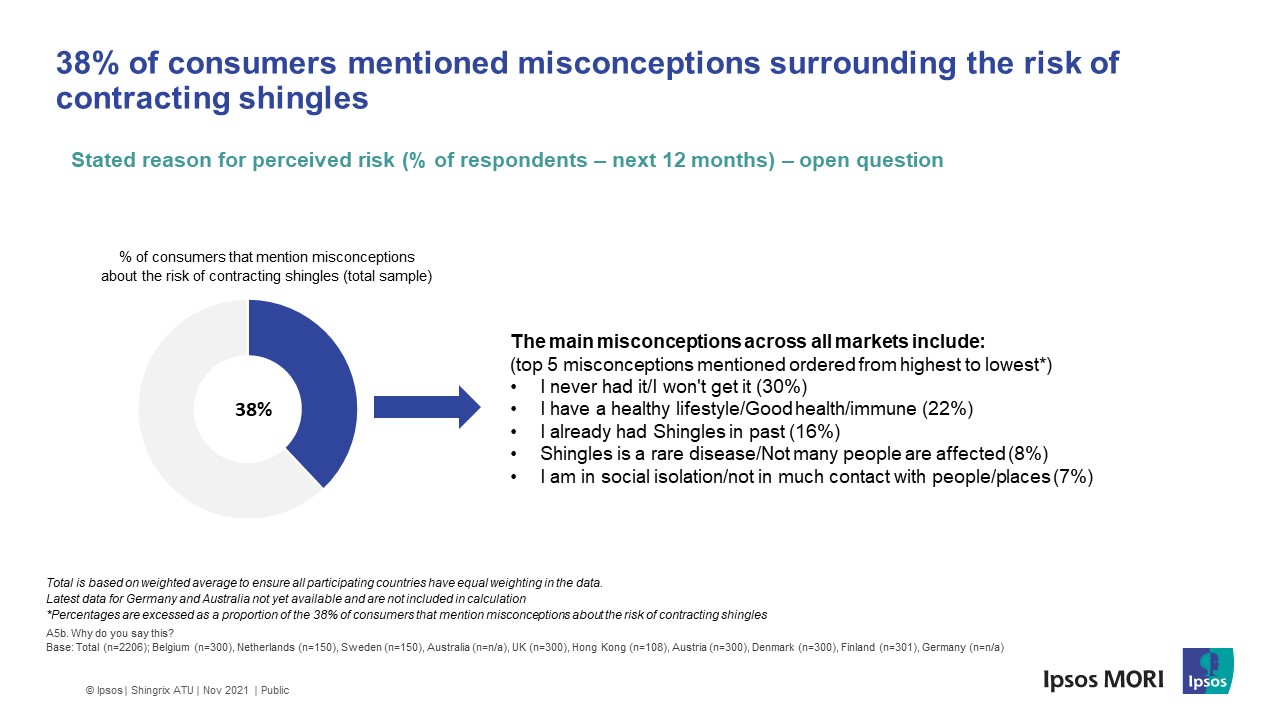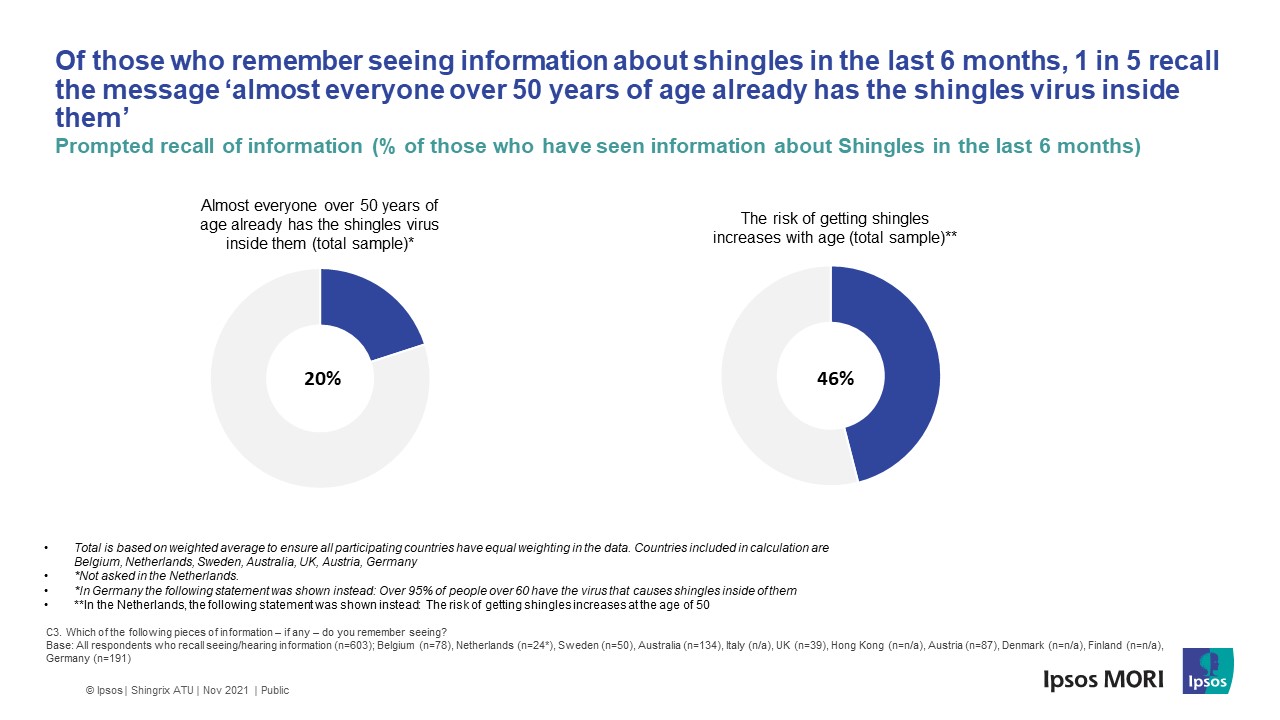 Technical note
On behalf of GSK, Ipsos conducted online surveys among 2806 participants who chose to take part in the survey (aged 50 years + in the Netherlands n=150, Sweden n =150, Austria n=300, Hong Kong n=108, Denmark n=300 Finland n=301; 50-79 years in the UK n=300 and Australia n=300; 65-75 years in Italy n=297 and in Germany aged 18 years + n=300) between April-October 2021. All participants who did not report their age were screened out of the survey. Participants in Sweden, Austria, Hong Kong, Denmark, UK and Australia were all screened for earning a minimum level of household income per month, after tax and other deductibles to be eligible to participate in the survey (*see below), all participants in these markets who did not report their working status or income were screened out of the survey. All participants had heard of shingles and are open to receiving vaccinations that help infectious diseases (except in Denmark and Netherlands where this question is not asked). All participants do not work in or have a close family member who works in either market research or the pharmaceutical industry. Participants in Italy were from Campania, Lazio, Toscana, Sicilia, Piemonte, Emilia Romagna, Liguria, Veneto, Basilicata, Lombardia regions only. Total data shown is weighted to country averages so each country has an equal weight.
* Minimum household income per month, from all sources after tax and other deductibles:
1500 euro
2500 AUD
14,000 HDK  
1300 GBP
20000 kr
| | | | | | | | | | | | |
| --- | --- | --- | --- | --- | --- | --- | --- | --- | --- | --- | --- |
| Country | Belgium | Netherlands | Sweden | Australia | Italy | UK | Hong Kong | Austria | Denmark | Finland | Germany |
| Wave number | Post launch- wave 2 | Post launch- wave 2 | Post launch- wave 2 | Post launch- wave 2 | Pre launch- wave 1 | Post launch- wave 2 | Pre launch- wave 1 | Pre launch- wave 1 | Pre launch- wave 1 | Pre launch- wave 1 | Post-launch wave 7 |
| Fieldwork date | July '21 | August '21 | April '21 | August '21 | April '21 | August '21 | April '21 | July '21 | August '21 | August '21 | October'21 |
| Base size | n=300 | n=150 | n=150 | n=300 | n=297 | n=300 | n=108 | n=300 | n=300 | n=301 | n=300 |