Almost half of Britons want teachers and nursery workers to be vaccinated next
Teachers, police officers and other emergency services are seen as most deserving of the next round of COVID-19 vaccines
In a new survey by Ipsos, 46% of Britons believe teachers and nursery workers should be next in line to receive the COVID-19 vaccine, after currently prioritised groups including care home workers, frontline health and social care workers, over-70s and those who are clinically vulnerable. A further 21% see them as their second priority. Over half of those aged 55-75 want teachers and nursery workers prioritised (54%); however, this falls to only a third (35%) of 18-34-year olds.
Emergency staff are also a priority for the public; 35% say police officers should be next on the list for the vaccine while 42% say other staff working in emergency services (e.g. fire) should receive it next. Other professions that are seen as a priority include those working in supermarkets and food shops (33%), frontline public-sector workers (not health/ emergency – 27%) and public transport workers (19%).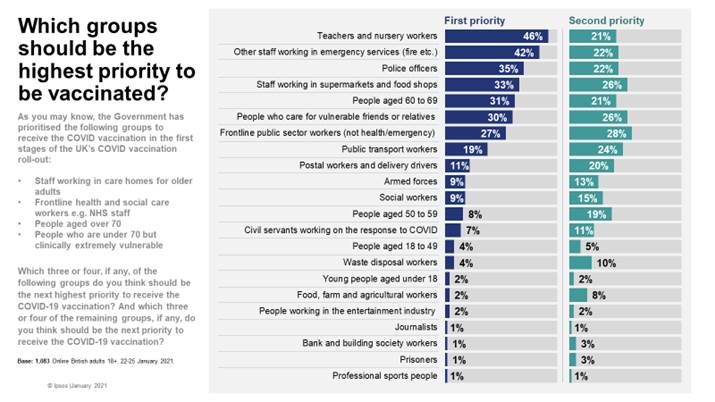 Three in 10 (31%) want to prioritise people aged 60-69 but there is less concern for lower age groups; only 8% want to prioritise the 50-59-year olds while 4% want those aged 18-49 to be the next group to get the COVID-19 vaccine. 
However, younger Britons are more likely to prioritise based on age.  Those aged 60-69 should be next to be vaccinated according to 34% among 18-34-year olds, making them the second highest priority group according to Gen-Zs and Millennials. Compared to their elders, those aged 18-34 are also more likely to want to prioritise 50-59-year olds and 18-49-year olds in the vaccination process.
Looking at other professional groups, around one in ten Britons want to see postal workers and delivery drivers (11%), armed forces (9%) and social workers (9%) vaccinated next. 
There is less concern for those in prison, professional sports people, banks and building society workers and journalists; only 1% say these groups should be next on the list for the vaccine. 
Kelly Beaver, Managing Director of Ipsos Public Affairs, said:
The prioritisation of who gets a vaccine is a tough choice for any Government who have to weigh up a range of issues when it comes to deciding who gets the vaccine and when. But the British public are clear that after the currently prioritised groups it's our teachers and emergency workers who should be next in line for the COVID-19 vaccine, even ahead of those aged 60-69.
Technical note:
Ipsos interviewed a representative sample of 1,083 Britons aged 18-75. Interviews were conducted online from 22nd – 25th January 2021. Data are weighted to match the profile of the population. All polls are subject to a wide range of potential sources of error.