Britons are split over Afghanistan military withdrawal
New Ipsos polling shows the public are split over the withdrawal of British troops from Afghanistan.
New polling shows that Britons are split on the British military withdrawing from  Afghanistan, with 39% of people saying it was the right thing to do and 40% saying it was the wrong decision.  The British public are more critical of the US withdrawing its troops, with 47% of people saying it was the wrong thing to do, however it is still not the majority of people. Nearer a third (31%) think the US made the right decision pulling their troops out of Afghanistan.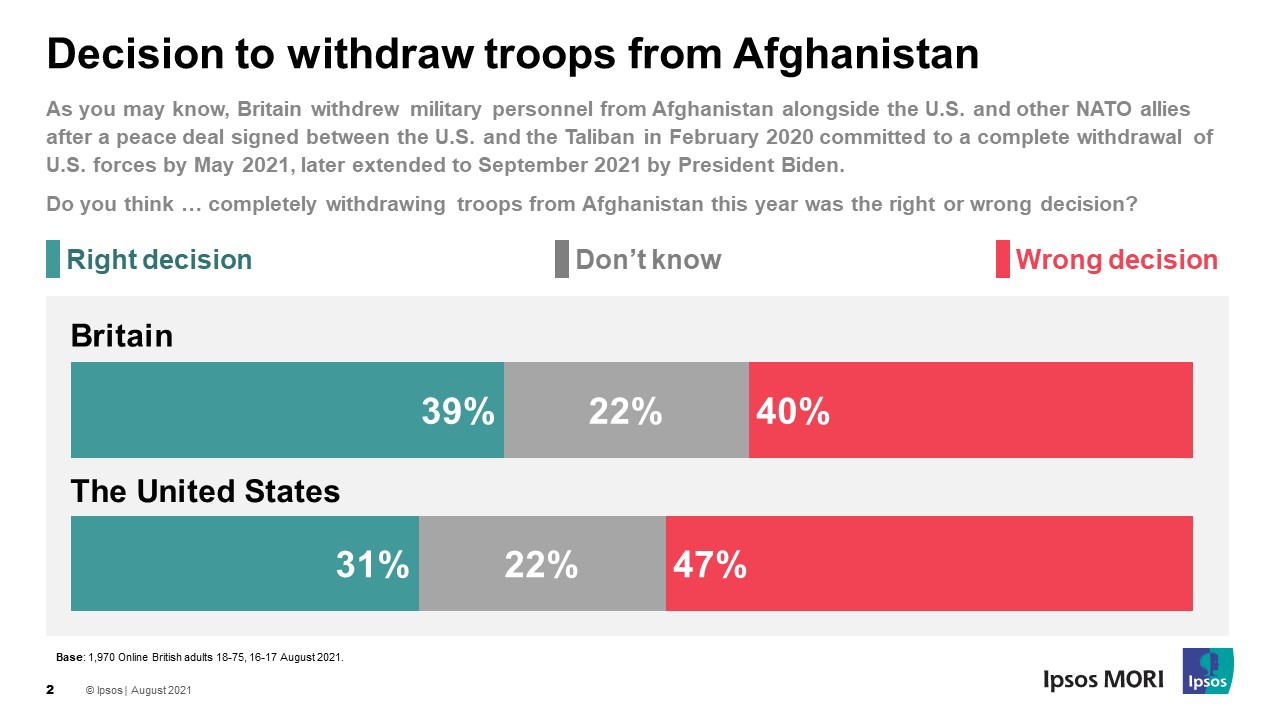 When it comes to future interventions, if the Taliban regime commits widespread human rights abuses or allows extremist groups to operate in Afghanistan, the most popular options are diplomatic/economic interventions (34%) and humanitarian interventions (32%), with the a third  agreeing with each  of these options.  One in five (22%) would support military interventions and a similar proportion (19%) think Britain shouldn't intervene at all.   There are, however, significant differences between Conservative and Labour voters, with Conservative more likely to favour military intervention (29% vs. 21% of Labour voters) whereas Labour voters would support an humanitarian intervention (25% vs. 42%).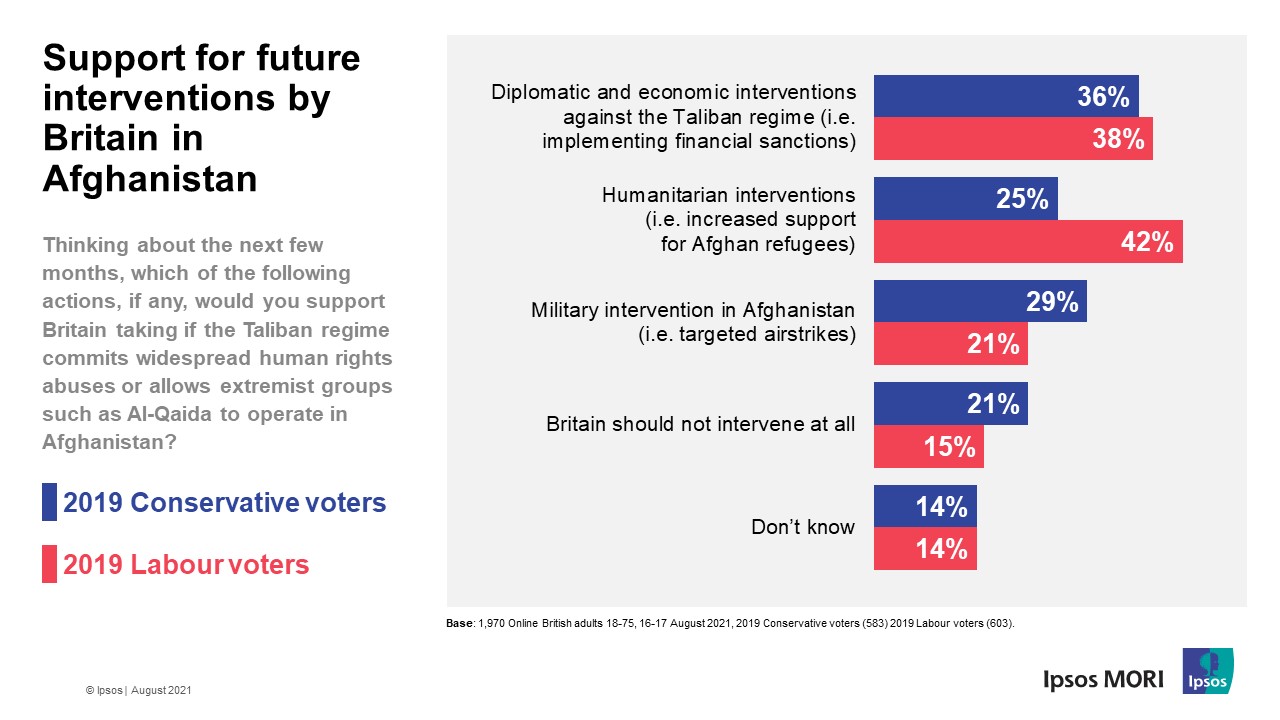 The majority of people (52%) don't think the British military campaign was effective in bringing stability to Afghanistan. Just one in three (34%) think it has been effective, which is down from 42% in 2015.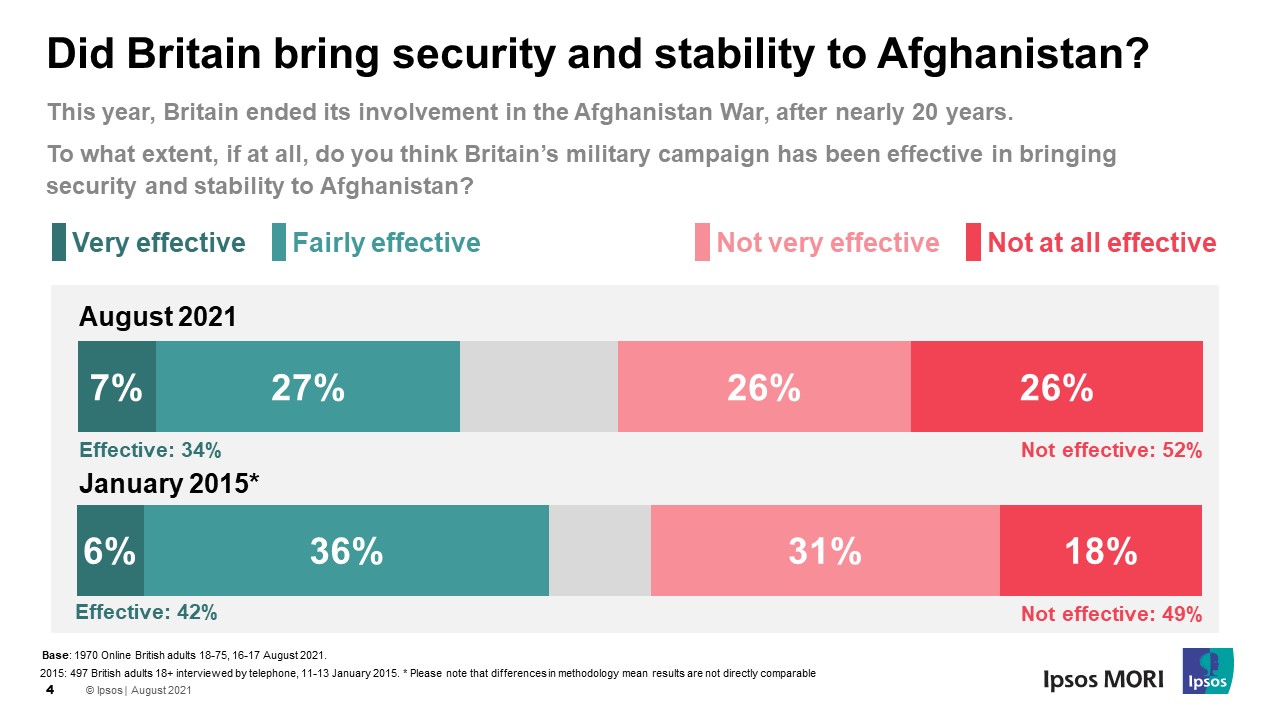 The public also remain split on whether the military campaign was successful in preventing Afghanistan from being used as a base for terrorists to attack British interests. Two in five (42%) think it was effective, whilst another two-fifths (41%) say it wasn't – this compares to 41% (effective) and 49% (ineffective) in 2015.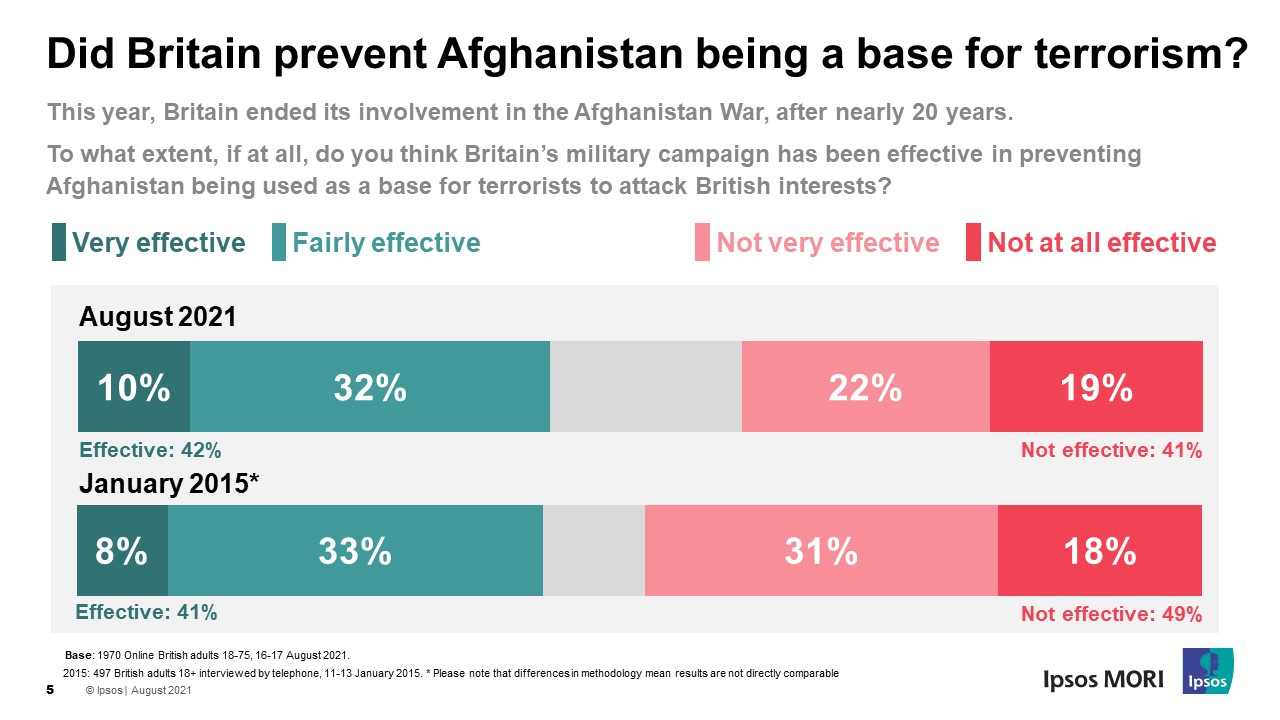 Ben Page, CEO of Ipsos, said:
The British public is divided over whether or not Britain was right to withdraw forces from Afghanistan, with 39% saying it was the right thing to do and 40% opposed. More feel America was wrong to withdraw, but even here not a majority (47%).   In terms of what happens next only 19% say we should do nothing; most want humanitarian measures and sanctions against the regime and humanitarian aid.
Technical note
Ipsos interviewed a representative online sample of 1,970 British adults aged 18-75 between 16th-17th August 2021. Data are weighted to match the profile of the population. All polls are subject to a wide range of potential sources of error.
Download